As with all displays we review, the Philips 272G was put through the DataColor Spyder colorimeter tests to measure its brightness, contrast, colour uniformity, gamma and accuracy, with the default out-of-the-box settings. We then calibrated and measured it again with the brightness set to 120 cd/m2.
From our testing of various displays, it's clear that panel quality has improved tremendously in the last few years, with both TN and IPS screens. Gamut results that show sRGB coverage of at least 95 per cent are now common, even on TN screens. As such, the standards for quality colour reproduction have never been higher.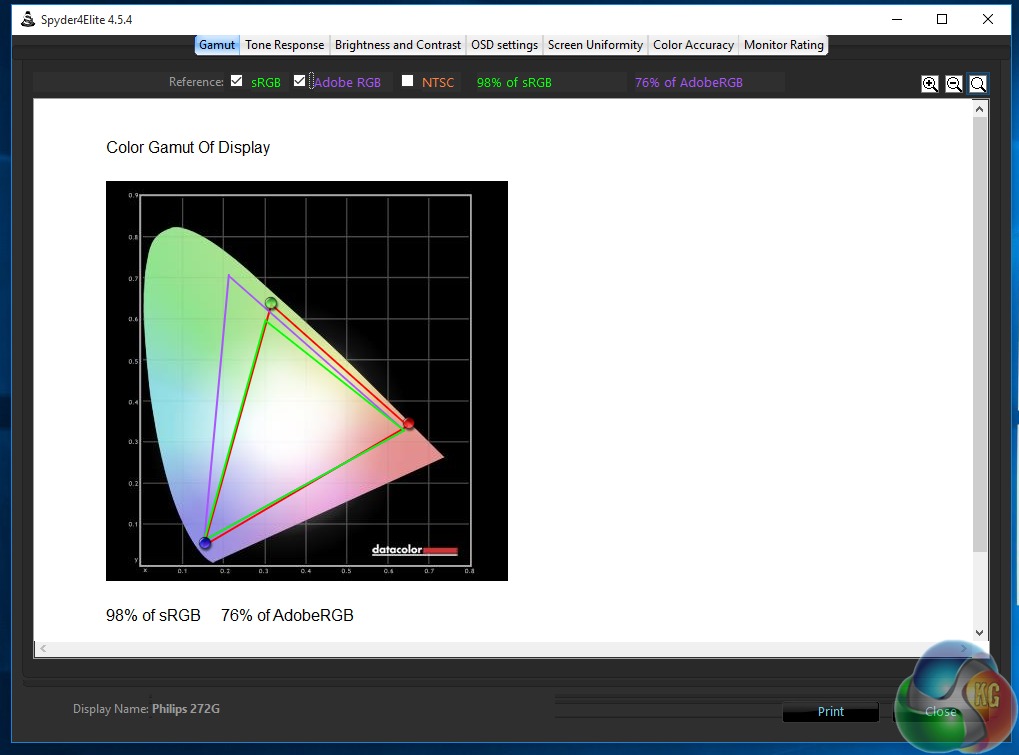 First off, the gamut results with coverage of 98 per cent sRGB and 79 per cent Adobe RGB are adequate, although not the very best results we've seen. The 272G is not really intended for colour-accurate work though.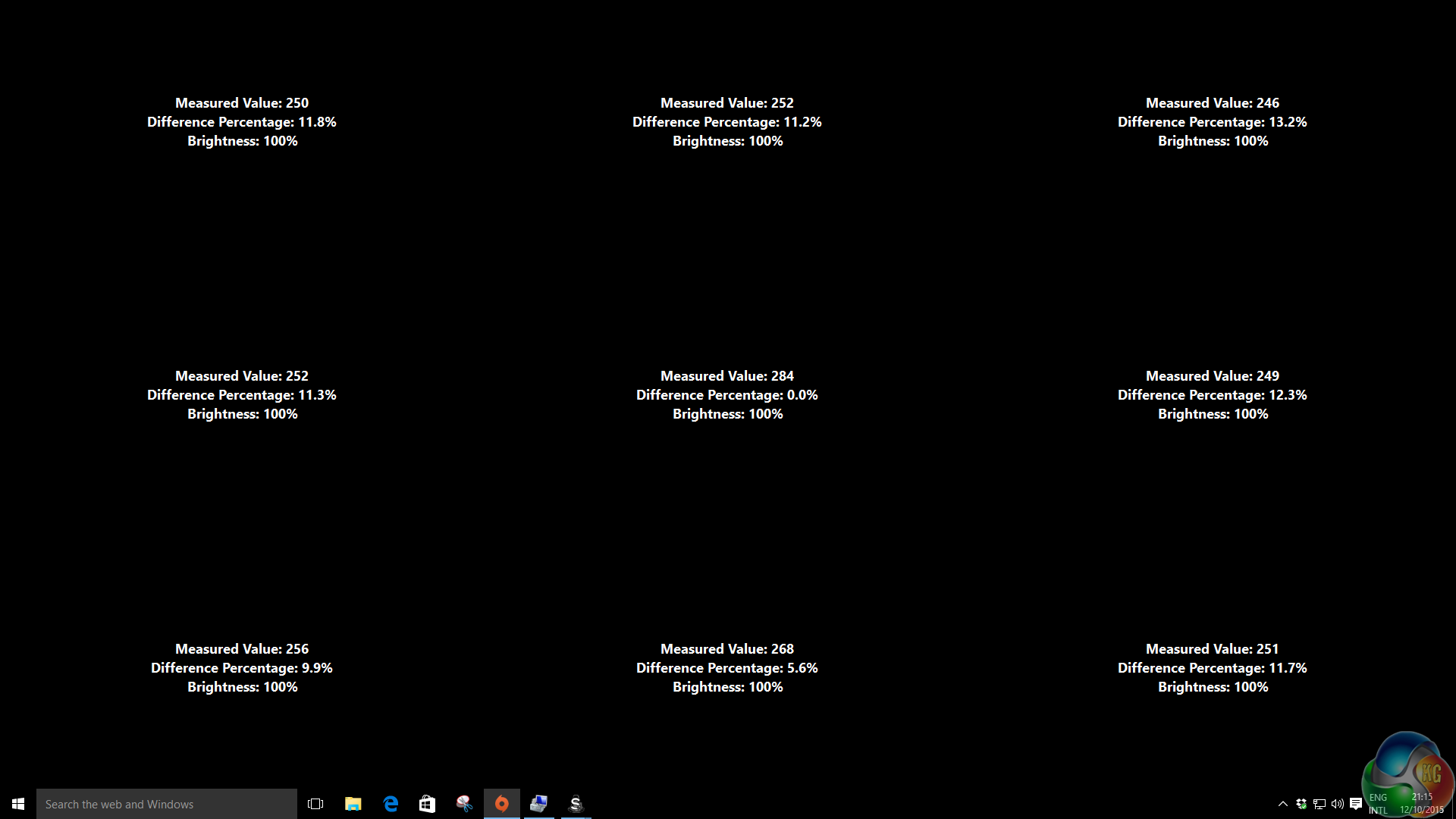 Brightness deviation across the panel is fairly pronounced, between 5.6 and 13.2 per cent.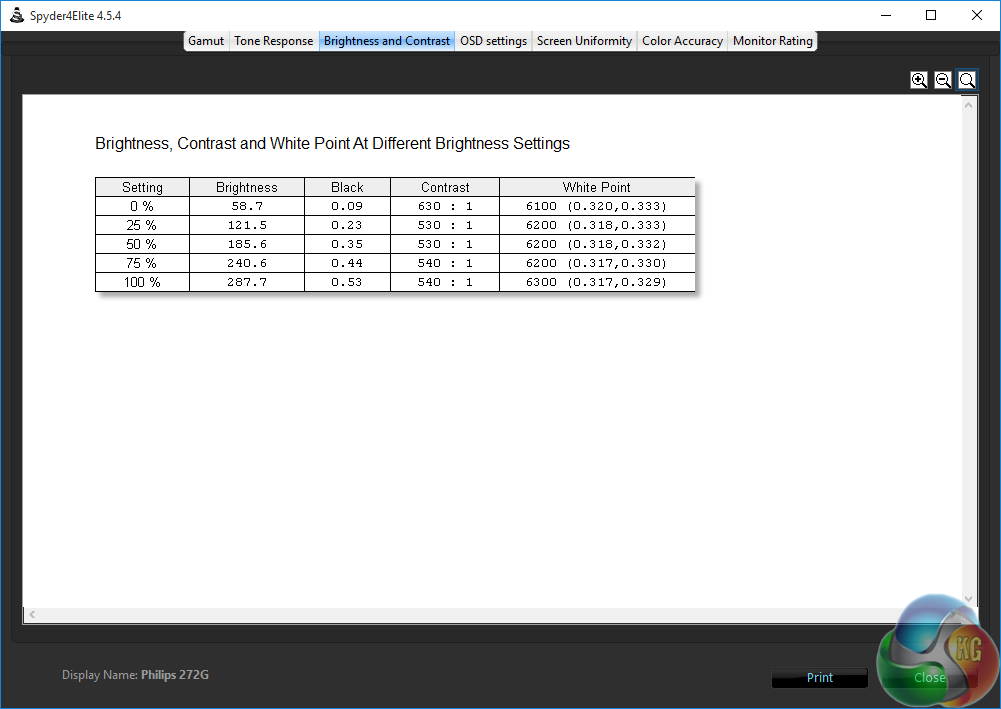 Contrast ratios between 630:1 and 540:1 at various brightness levels and a black point between 0.09 and 0.53 cd/m2 are competitive, and fine for a TN panel although not record breaking.

Brightness of 287.7 cd/m2 isn't the highest figure we've recorded either, but it's not especially low, matching more high-end gaming displays.
Lower gamma results are off by 0.1 while higher levels are just about spot on. A good result.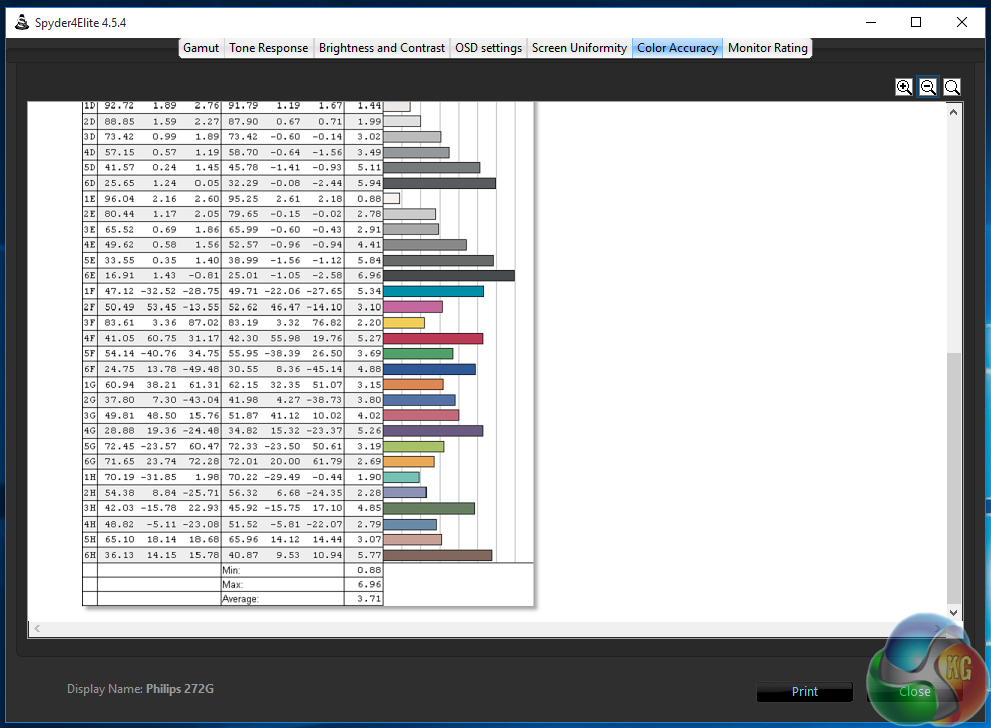 As expected for a TN gaming display, Philips has made no real attempt at out-of-the-box colour accuracy, with a Delta E result under 4, but this is not a major criticism of a gaming display.
After calibration, we got a few improvements to the picture quality as expected.
Brightness, contrast, white and black levels remain the same.
As does the gamma.
But we can see the Spyder colorimeter does the job it was intended for, with far better colour accuracy after calibration, bringing the Delta E result to a level under 2.
Lastly the power consumption figure at 100 per cent brightness of 34.2 watts is lower than other 27 inch displays we've tested with both TN and IPS panels. The Asus MG278Q and BenQ GW2765 both consume over 40 watts although this difference is explained because both have a 1440p native resolution, while the 272G is 1080p, with fewer pixels to illuminate.