Although the Philips 272G5DYEB is lighter on features than some G-Sync displays, it hits a lower price point than many, while incorporating a 144Hz panel. The use of this TN panel does mean worse viewing angles, and this is quite noticeable in use compared with an IPS screen, but you do get a lower 1ms response time.
Some of the gaming audience care less about picture quality and demand the fastest response times possible, although this is still what we would consider a niche market.
With G-Sync enabled the Philips 272G5DYEB works very well, and could be better than an IPS display with a lower refresh rate if you are really keen on getting lightning-quick kills in Call Of Duty, Counterstrike or other twitch-based FPS games. With currently available IPS technology the best response time you can hope for is 4ms, although we stress that not all people will spot any difference.
This panel is limited to 1080p, and although we think 1440p is generally a natural scaling for this screen size we used the Philips 272G5DYEB as our main display for a week and it was surprisingly enjoyable, even with the reduced resolution.
1080p gaming means only the fastest frame rates. You might be able to even hit 144fps with a mid-range graphics card at 1080p – a card that will not run smoothly at 60fps with a 4K G-Sync display.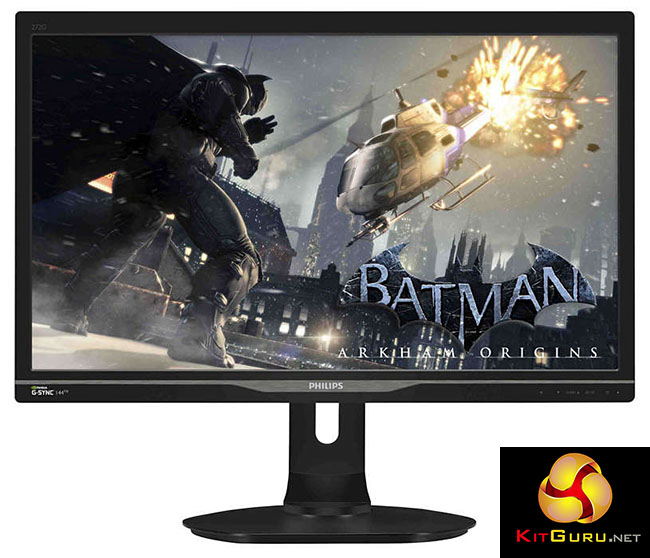 So fast refresh is the key feature here, but even then, besides the resolution and viewing angle the picture quality is mostly very good. It looks bright, the contrast is fine, and you should generally be happy with it.
Typically of Philips, there are plenty of ways to customise the picture, with different colour temperatures and gamma settings available.
The build quality is excellent too, with a chunky, solid feel to the bezel with materials and a stand that offers movement via tilt, pivot and height adjustment. The OSD caused us no problem either, with touch-sensitive buttons that work well (which is not always the case). It's great to see plenty of options to adjust the picture, with a range of gamma and colour temperature controls.
There is one unforgivable omission though – the lack of built-in speakers. Like HDMI, DisplayPort can carry an audio signal and although we suspect most serious gamers have their PC hooked up to a big set of speakers, built-in audio means added convenience. And another potentially missed trick is the lack of any audio passthrough for external speakers.
Aside from these points, there is plenty to like about the Philips 272G5DYEB. It's cheaper than most IPS G-Sync displays, it offers a good, if not amazing picture, and caters well for gamers who demand the fastest performance.
Discuss on our Facebook page, over HERE.
Pros:
Low 1ms G2G response time.
Stand with pivot, rotate and tilt capability.
144Hz G Sync.
Cons:
Only one display input.
No speakers.
Kitguru Says: Despite being a TN panel in a world that's moving in the direction of IPS G-Sync displays, the Philips 272G5DYEB offers fast response times and refresh rates which could still make it a good choice for some gamers, not to mention its relatively reasonable asking price.