The Philips 272G5DYEB is a 27-inch G-Sync display with a focus on fast response times and high performance. It offers G-Sync up to 144Hz, incorporates a TN panel and a 1ms response time, with a 1080p native resolution. It's also considerably more affordable than some of the more high-end G-Sync displays.
We have been spoilt recently by a lot of high-end G-Sync and FreeSync displays. The Asus PG27AQ in particular is a true beast (Review HERE), with a 4K IPS panel that supports G-Sync up to 60Hz.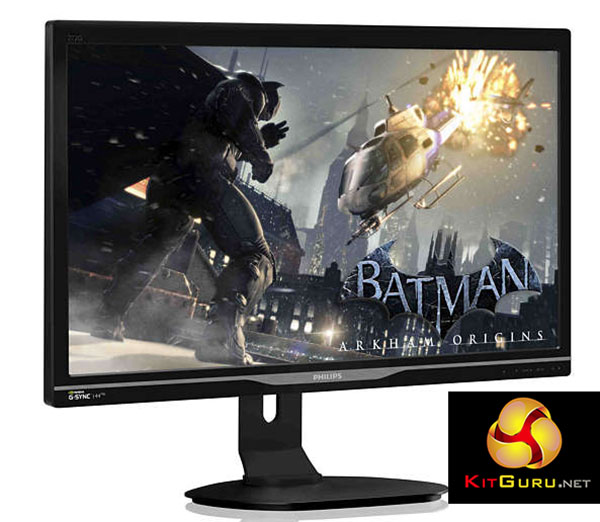 That's a very high-end model though, with a price tag to match. For something more affordable, Philips 272G5DYEB (272G for short) offers G-Sync with a 144Hz refresh rate, using a 27-inch 1080p TN panel that has a 1ms response time.
For many gamers, this spec might sound a bit low end. A TN display can't offer the same wide viewing angles as IPS, and picture quality does suffer slightly as a result. But as we've seen with some displays, for example the Acer Predator XB280HK (review HERE) the difference between the two technologies isn't as great as you might think, as a TN panel can offer good brightness and contrast as well.
It also has a native resolution of 'only' 1,920 x 1,080. Again, a specification that some gamers might sneer at. But for a niche of dedicated gamers, perhaps those who are interested in competitive E-Sports, that care for super-fast response times and refresh rates, these specifications might appeal more than IPS panels or higher resolutions.
G-Sync works just fine at the current 60Hz limit on a 4K screen, but with 144Hz, the effect is really incredible. And being a TN panel, the 1ms G2G response time ensures ghosting will be absolutely minimal.
There's even some sense to having a 1080p resolution if you care about performance over pixels. In the latest games, achieving a minimum frame rate of 144fps at all times, with all the detail settings turned up, is tough for even some high-end graphics cards at resolutions above 1080p.
Specification:
Screen size: 27 inch
Native resolution: 1920×1080
Refresh rate: 144Hz
Panel type: TN
Display inputs: DisplayPort
USB hub: 4x USB 3
Tilt: yes
Raise: Yes
Swivel: Yes
Other: Nvidia ULMB, 3D Vision