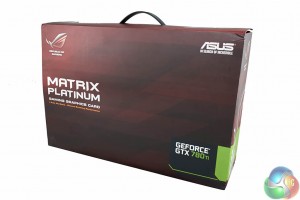 The Asus ROG Swift PG278Q 144hz G-Sync Monitor arrives in a large, full colour box. We actually received two samples by accident, which was amusing. The box measures 756mm x 456mm x 300mm (WxHxD) and weighs 10.5KG. If you want to use Nvidia's GSYNC technology then you need a minimum of an Nvidia GTX650Ti Boost. You can get more detailed information on support from this link on Nvidia's website.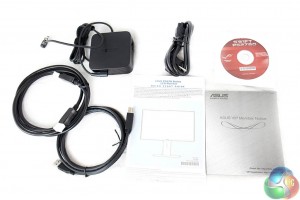 The bundle is excellent. It includes a quick start guide on the product, warranty card, a software disc, power cable and external 90w power adapter, DisplayPort cable and USB cable.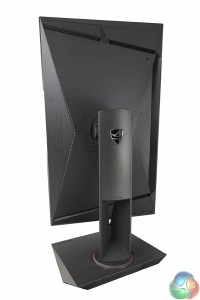 Asus ship the ROG Swift PG278Q 144hz G-Sync Monitor completely assembled – in portrait mode. I couldn't help but feel grateful as I always hate hunting for screwdrivers to assemble some poorly designed monitor stand system. The monitor measures 619.7 mm x 362.96 mm 65.98 mm (WxHxD) and weighs around 7KG.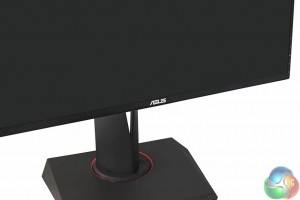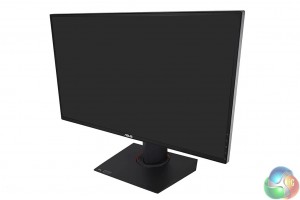 This really is a great looking screen. The angular design ethic ensures that it is exudes a very futuristic appearance. The PG278Q has a super narrow 6mm bezel design – which should translate well if you want to use several side by side. If you want to run a triple screen G-SYNC setup then be aware you will need three Nvidia graphics cards for the surround setup.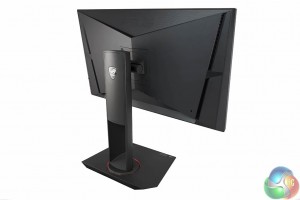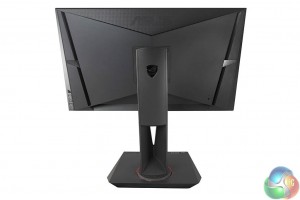 First impressions of the monitor are very positive. It is built to the standards we expect from a premium Republic Of Gamers product – it doesn't flex or squeak when moved around or when the panel is rotated between landscape and portrait modes.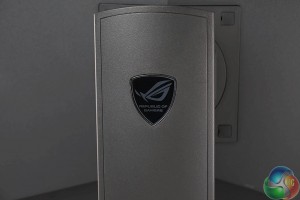 The Republic Of Gamers badge is visible from the rear – another nice touch which many people may feel is unnecessary as you aren't often looking at the rear of the screen! The panel is also VESA wall mountable (100 x 100mm).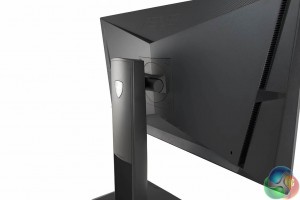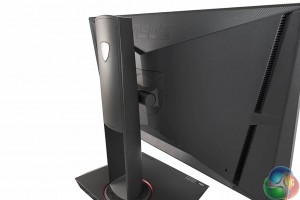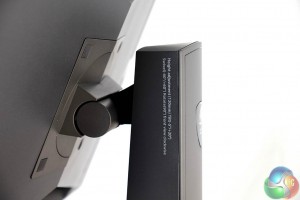 The sturdy stand deserves a little discussion. Height adjustment is possible – across a range of 120mm, by simply pulling or pushing up and down on the screen. It can be tilted (+20° ~ -5°), swiveled (+60° ~ -60°) and pivoted (90° clockwise).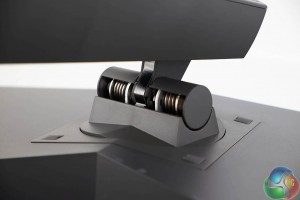 This picture shows the fantastic support system ASUS have in place – this spring is deliberately over engineered to handle long term abuse. It is one of the strongest stand systems we have seen.