To test today we are using a LaCie calibration gun along with specific software to accurately measure the readings. We measured Gamut out of the box and the PG278Q returned a reading of 2.19 which is excellent. We manually adjusted the gamma to 1.8 and the panel returned a 1.8 result. Can't get much better than that. The Asus ROG Swift PG278Q is an 8 bit WLED/ TN Panel, finished with a non glare coating. Viewing angles rated at close to 170 degrees horizontally and 160 degrees vertically. Not as good as a high grade IPS panel, but this is to be expected. The DisplayMate 64 step Grayscale test returned a very good result, although one step was missing. Surprisingly, the Asus ROG Swift PG278Q 144hz panel shipped in a very good state from the factory. We didn't make many changes to the 'out of the box' configuration, just some minor adjustments to the colour balance. Images produced were sharp, vibrant and clean from noise. 1080p content rendered very well, and Bluray movies looked fantastic. Panel linearity rated as good with some minor deviation at the edges close to the bezel. This was slightly more prominent at the bottom corners than the top corners. Its not an issue really and many people wouldn't even notice it. Gradients are reproduced smoothly with only minor banding noticeable. The panel is rated with a 1ms GTG (gray to gray) refresh, ideal for the hardcore gaming audience.  We played a variety of games from Far Cry 3 to Wolfenstein and didn't notice any artifacting at all. We asked a local clan member to test the screen out for a few hours and he said it was 'perfect' for his fast action Battlefield 4 sessions. As we mentioned earlier in the review, to maintain 144 frame rates matching the panel at the full refresh calls for some powerful hardware. Thanks to Nvidia G-SYNC, if the frame rate dives under 100 frames per second, it doesn't show as tearing or stuttering at all – the monitor will synchronise to the output of the graphics card. That said, if you want to hold a frame rate of 120-144fps at 1440p it will require a GTX780Ti. To maximise the image quality settings in some of the latest Direct X 11 games we tested then two of them in SLi would be ideal, albeit rather expensive. If you want to run a triple screen GSYNC setup then be aware you will need three Nvidia graphics cards for the surround setup.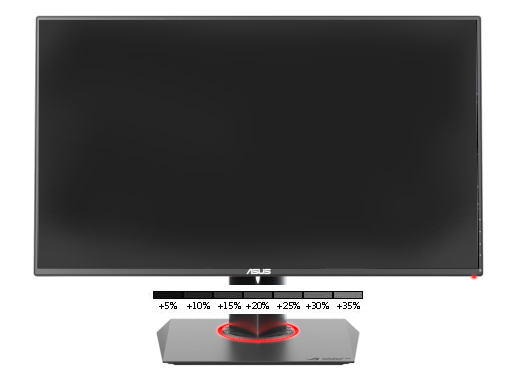 Black Definition rates above average and we recorded light leakage across the full width of the panel, rising to around 20% on the extreme bottom corners. Under real world conditions this is not that easy to notice, although if you are hyper critical the eye may be drawn to it. I have to say, I am more critical of these issues when viewing a massive 55 inch+ high definition television set, rather than a smaller 27 inch computer monitor. If you run with higher brightness settings this issue becomes more noticeable, but it is not really practical to do so. Contrast levels are good, rated at a maximum of 1000:1. We didn't need to push this higher than the default out of the box settings to be honest, which is excellent. The black in the three quarter range are actually better than those on the AOC and ASUS 4K monitors we tested recently. These results are very strong for a TN screen.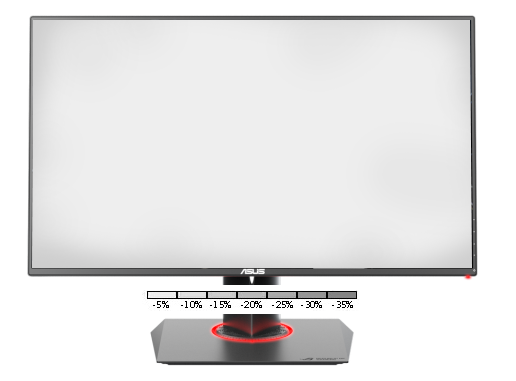 White purity is excellent, with the corners of the screen showing a reading around -12% and rising to around -16% in the extreme edges. This is well above average. It is worth pointing out that this can vary between panel to panel, even in the same batch on the production line. In real world terms, the Asus ROG Swift PG278Q 144hz G-Sync Monitor delivers clean, bright images without any noticeable bias. As far as TN screens go, this is about as good as we have seen. As with most TN panels, if you are a colour critical photographer or designer who needs completely accurate reproduction then this is not the kind of screen you should really be looking at. Asus make their Pro-Art screens exactly for this kind of environment.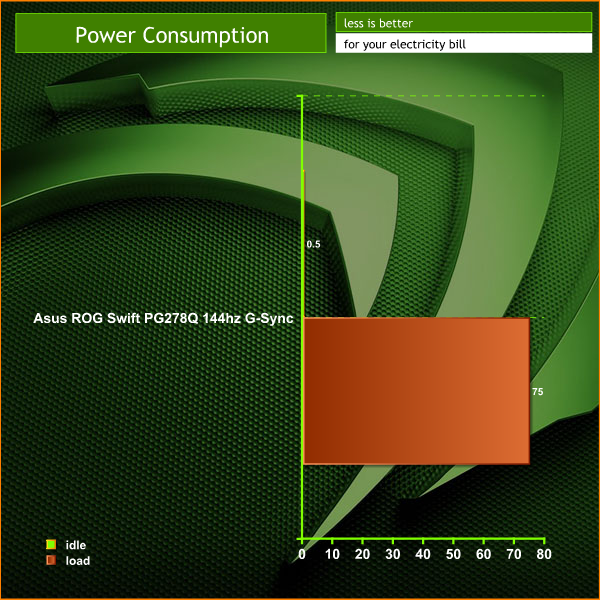 The Asus ROG Swift PG278Q 144hz G-Sync demanded around 75 watts of power after we calibrated it.