We installed the latest Nvidia beta drivers from the official website – version 340.43.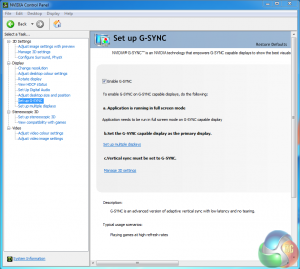 After the initial install, we loaded the driver to check the 'Set up G-SYNC' panel. It was already enabled. We went into the Manage 3D Settings and checked in the Vertical Sync options that G-SYNC was selected.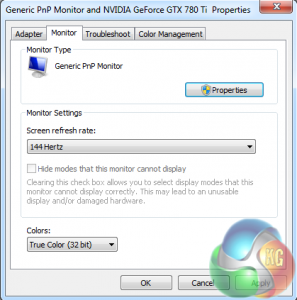 A double check of the Windows display options, highlighted that 144hertz was enabled by default. We only tested today at the 144hz setting in 2D. Our 3D Vision glasses stopped working just before we started to test the screen and we have been unable to get a replacement pair in time. The first game we decided to test with was the latest version of Tomb Raider – a great game both to play and look at. For the purposes of this specific article we used the built in game benchmark. Remember we want to try and get a constant frame rate of 144 fps to match the maximum 144hz of the screen. This is not going to be easy at 1440p., even with an overclocked GTX780Ti. An advantage to G-Sync is that obviously you still get smooth, tear-free gaming at any frame rate. It is worth pointing out that thanks to Nvidia G-SYNC – there is no stuttering evident when the frame rate drops. We did test with some games that fluctuated between 120 frames per second and 60 frames per second. There was no indication of visible and distracting 'tearing'. Incidentally you can still use the Asus ROG Swift PG278Q with AMD video cards, but G-SYNC is not supported.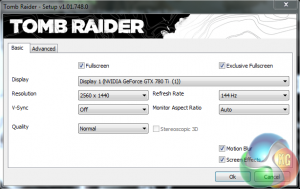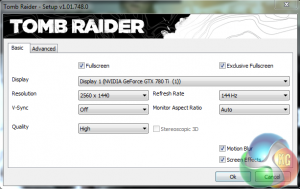 We first tested with the 'HIGH' quality preset, and then the 'NORMAL' quality preset.
At the High image quality preset, the frame rate dropped in the more intensive sections of the benchmark to around 110 frames per second, with an average of 133 frames per second. Reducing the image quality to the Normal quality preset helped to hold the frame rate very close to a constant 144 frames per second. Next game to test was the latest version of GRID – entitled GRID Autosport. This was released a couple of weeks ago.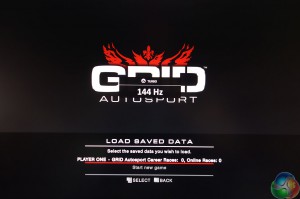 The ULTRA and HIGH settings were certainly usable, but frame rates dropped well below 110 fps. It didn't effect the perceived smoothness of the game, but we wanted to ascertain the settings we need to use to get an almost constant 144fps – matching the maximum hz of the Asus ROG Swift PG278Q.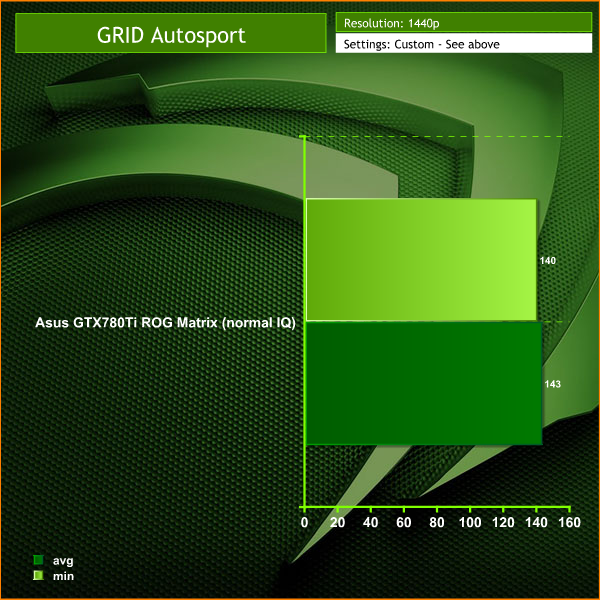 The normal image quality setting worked best if we wanted to hold the frame rate at the maximum of the panel. At these settings, the engine was running at almost a constant 144 frames per second. The game experience was fantastic. When we cranked the Anti Aliasing to 8 times and the image quality to maximum, the frame rate dropped to between 60-100 frames per second. Motion was still smooth and we saw no signs of artifacting or stuttering.