The Asus Republic Of Gamers Swift PG278Q 144hz G-Sync is one of the best all round monitors we have tested in a very long time. Nvidia's G-SYNC is a very welcome addition and in real world terms it helps removes any sign of tearing and stuttering. We have been inundated with a slew of impressive Ultra HD 4K monitors in recent months and while the new ASUS PB287Q is a great 4K screen at a bargain price point, I would take the ROG Swift PG278Q any day of the week – even though it 'only' has a 1440p resolution.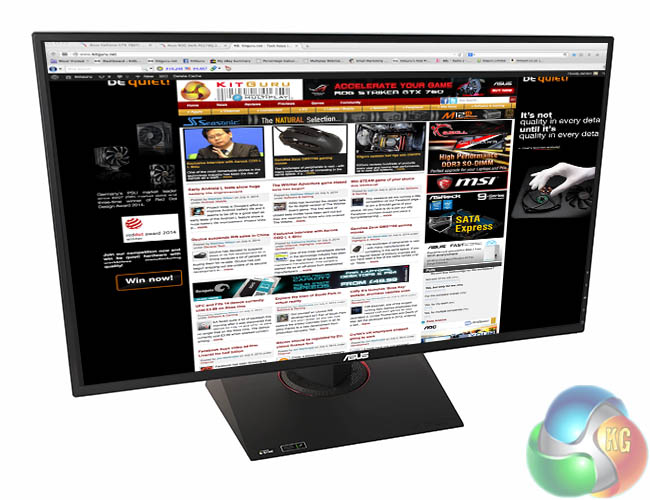 While it is difficult to get excited about unboxing any monitor, first impressions of the Asus ROG Swift PG278Q are extremely positive. The monitor ships completely pre-assembled and the build quality is exceptional, apparent on initial inspection. Republic Of Gamers products have sometimes fallen a little short of the mark, but the PG278Q shows that ASUS can still manufacture products engineered to the highest possible standards. The 'smart air' venting system on the rear of the screen is inspired. Image quality is pretty much as good as we could expect from a Twisted Nematic (TN) panel, especially white purity – which scores in the top 5% of TN panels we have tested. We should mention the purity and saturation of the full colour gamut won't match the best IPS screens available under £1,000, however as a high grade gaming screen the PG278Q is truly proficient. At 2560×1440, with image quality set to the limits in the latest Direct X 11 games it is going to prove difficult to hold the frame rate between 120-144 consistently. As we highlighted in our review today, a single overclocked GTX780Ti was able to hold the frame rate at 144 (@1440p), as long as some image quality setting compromises were made. Two GTX780 Ti's in SLi would be the ideal partner for this monitor – particularly if you wanted to avail of the 144hz option at the native 1440p resolution. Positively, Nvidia's G-SYNC does cope well with rapidly fluctuating frame rates and while everyone will perceive image motion differently, we noticed very little reduction in motion smoothness when frame rates dropped to between 70 and 100. That said, I have to admit that racing games do look spectacular if you have the hardware capable of holding steady 120+ frame rates. Depending on the system you have available and the frame rates you want to achieve, some experimentation with image quality settings will be required. In closing, we have no hesitation in giving the Asus ROG Swift PG278Q 144hz G-Sync Monitor our MUST HAVE award. Gamers who require the smoothest frame rates and have yet to jump into the Ultra HD 4K sector will find this screen will fulfill most, if not all of their desires. You can pre-order now from Overclockers UK for £719,99 inc vat. Discuss on our Facebook page, over HERE. Pros:
Super smooth motion at the highest settings.
well thought out interface system – we love the nipple/joystick system.
build quality.
strongest, most versatile monitor stand system we have seen.
very good 'out of the box' setup.
Cons:
The cost will be too prohibitive for many.
AMD users will need to buy Nvidia hardware to take advantage of G-SYNC.
Be prepared to invest in expensive graphics hardware if you want consistent 100+ frame rates at 1440p in the latest DX11 games.
Only $799 in America but £720 in UK ($1235).
Kitguru says: A jaw dropping monitor that will surely be one of this years biggest luxury high end sellers.