Testing the Razer Diamondback involves putting it through its paces in a number of games of different genres, as well as using it as my main office mouse for a week, in tasks like web browsing and photo editing. During testing I factored in its ability to operate in fast paced games, as well as more accurate, lower sensitivity scenarios. I also considered its overall comfort over long periods of use and the versatility of its back-end software.
The first step in using any gaming mouse as high-end as the Diamondback, is to install its companion software. Razer has a unified system for its peripherals known as Razer Synapse, which is quite a chunky install compared to some. I ran into a couple of issues when updating it however, as it managed to disconnect the USB keyboard I was using, as well as my attached Oculus Rift DK2.

It even crashed the Oculus service for some reason. I have contacted Razer about this issue and will update the review as and when I hear back.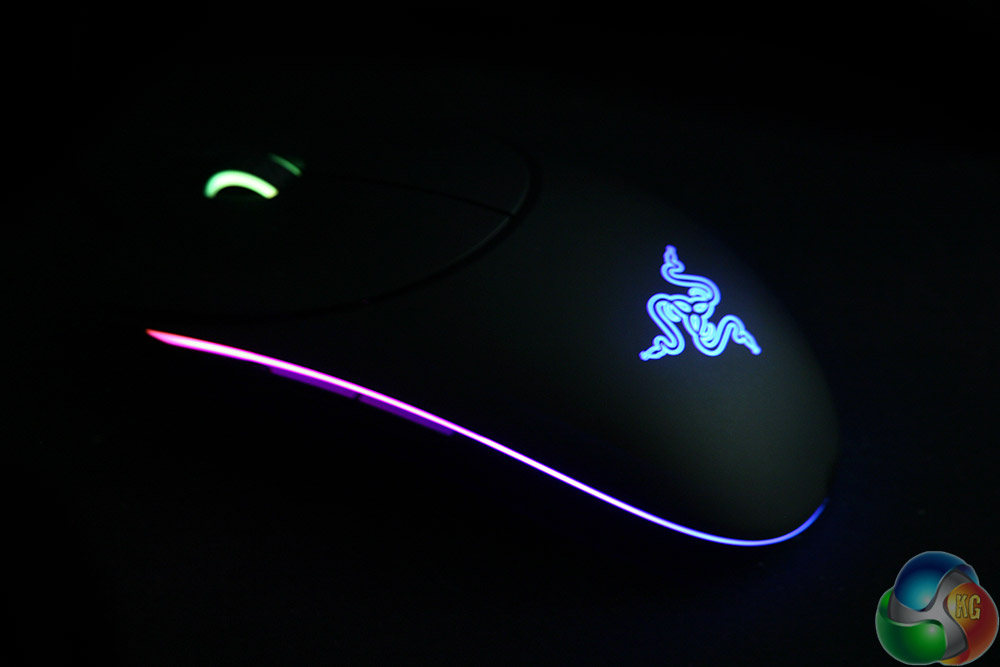 The Diamondback does look pretty when it is lit up
Fortunately a quick reboot fixed everything and I was straight on to testing. Gaming wise the Diamondback is a beautiful mouse to use. It is compact, fast and accurate under pressure. There was not one incident in game testing where I felt let down.
Whether it was fast paced RTS titles, frantic shooters, or slower puzzlers and point and click games, I found the Diamondback to be very capable. The lack of finger support on the right hand side does feel rather bizarre however and took some time to get used to. It rarely felt that it impacted my performance, though even after a week I still found myself wishing for the ability to grip lower down on the sides of the mouse, giving me a bit more room away from the buttons.
Although the sloped in sides does give the Diamondback a unique look, I do not know if they have any affect on its performance and as it stands, you simply cannot touch the very bottom of the side grips.
Somewhat surprisingly, I did not find myself missing the DPI selector switches which are so common among high-end gaming mice. To make sure the functionality was there, I did remap the two buttons on the right hand side to allow me to change on the fly, but for the most part I did not find myself using them.
That is perhaps testament to the fact that 16,000 DPI is complete overkill for almost all gamers. I found myself perfectly content at 4,500 DPI, but perhaps could see usage for those who might prefer something a bit quicker.
I can only really see 16,000 DPI being viable on a triple 4K monitor set up and even then it is probably difficult to be as accurate as you want. However since this is the sensor that Razer is putting in all of its top end mice like the Mamba, it makes sense for it to future-proof it for the ultra definition displays of years to come. It is also a nice big number for the marketing guys to play with.
Remapping and setting adjustments are well laid out in the Synapse software
I have mostly the same positive feelings about using the Diamondback for day to day office work, but it is not quite as well suited to the task. The only movements I found the Diamondback not as strong with were really small ones. When making tiny corrections in Photoshop, or trying to select typos when writing, I occasionally found myself struggling to get it to move.
What I mean by that, is that while the Diamondback does big, sweeping movements without difficulty, it takes quite a large (relatively) amount of force to get it going in the first place. This means that as you gradually increase the amount you are pressing, pushing or pulling, it can suddenly jump a few pixels more than you intended.
I am not entirely sure if this is more to do with the placement or angling of the feet, as it does appear to be most apparent in lateral movements, but it does prove of annoyance now and again. Not a major issue, but certainly one worth noting if you spend a lot of time editing pictures or making minute movements.
Comfort wise, the Diamondback is passable. It does not do much cushioning of your palm or hand due to its small stature, so you will spend much of your time leaning on a mouse mat – make sure you have a comfortable one. Since it has a laser sensor you can use it without, but I would not recommend it – you will scratch up those lovely PTFE feet.
That lack of support does seem to manifest itself in a  bit of wrist ache too. I am a 12 hour+ a day PC user and have ongoing issues with carpal tunnel because of it, but the Diamondback did seem to bring it out a little more than others. It is not horrendous by any means, but I felt the lack of support at times because it forces you to hover your pinky, or try and fuse it with your ring finger.
Perspiration build up does not appear to be much of an issue thanks to the rubber side grips and textured front buttons.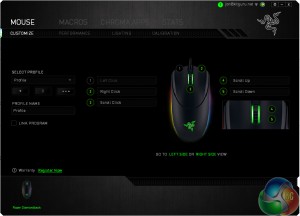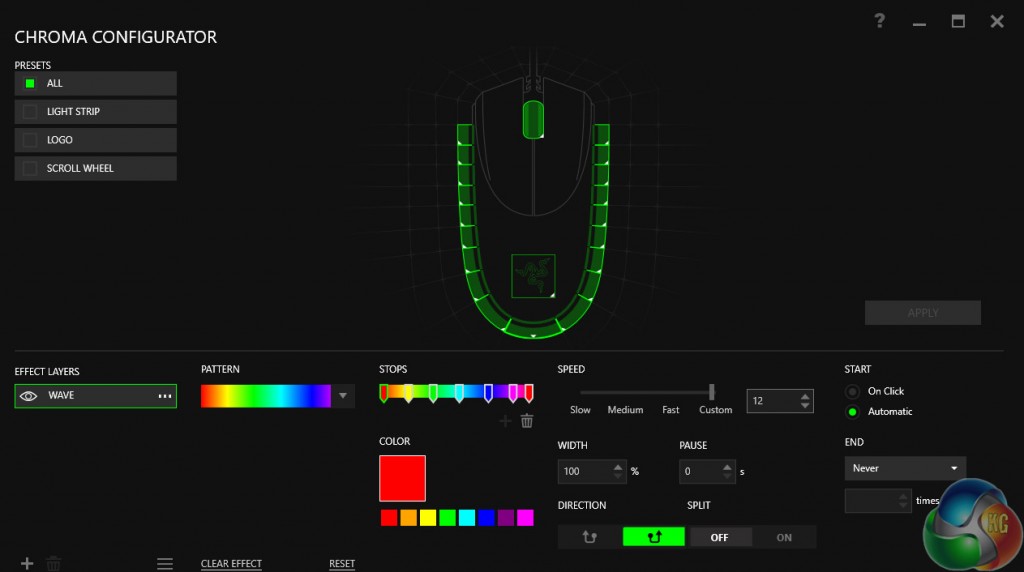 The Razer Chroma lighting configurator is excellently put together. Deep and intuitive. 
As much as the Razer Diamondback is a unique shape and design, I would like to see slightly less severe drop offs on the sides of the mouse, as my preference is to grip near the base for control. That may be just me and other gamers may grip higher without issue, but if I could hold this mouse closer to the base, I think it would be one of my favourites.
I do wonder also if the sides leave enough room for those with big hands. Mine are quite small and did occasionally feel a little cramped.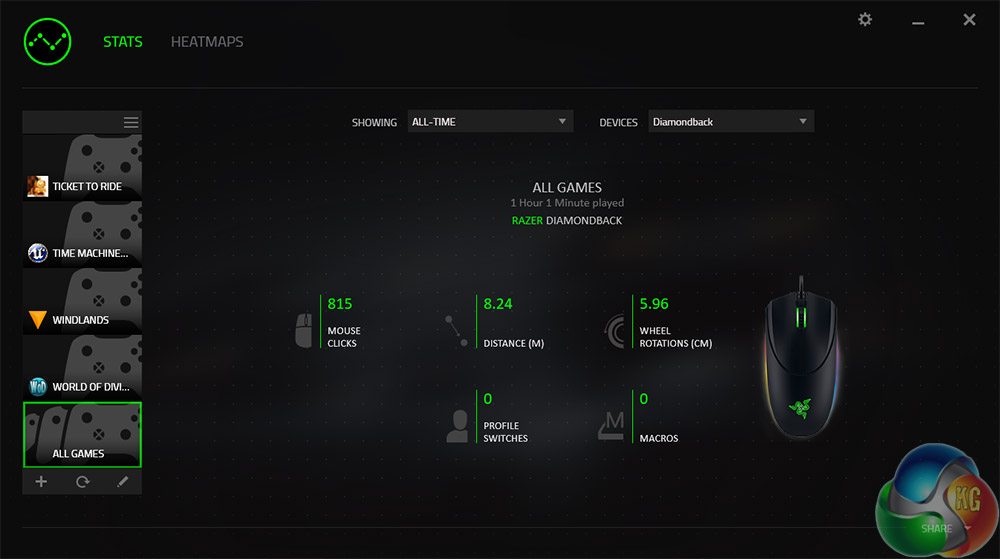 The Razer Synapse software is strong as ever, with a number of options for macros, setting tweaks and profile storage. The Chroma lighting configurator is also excellent and even allows for the use of third party applications which can make it do all sorts of fun things.