The original Razer Diamondback was a classic mouse and although I am sure Razer was hoping for the same with the Diamondback Chroma 2016, it has not quite hit the mark. This is a good mouse by any measure and the appearance and design stand out among a plethora of rather generic mice. However the lack of support for your hand feels missed, and drives pressure back on to your wrist.
Perhaps that is because I am more of a finger grip gamer than the claw style that would best suit this sort of mouse. If that is the case, the Diamondback is a solid gaming companion, offering high-speed accuracy, with wide and deep sensitivity and other options to play with in the software to really customise the mouse to your playstyle.

It does feel more suited to playing with too. Higher speed games benefit the most from its abilities, but I found it equally capable in slower, more methodical titles. It was only really in minute movements that it was not quite as useful.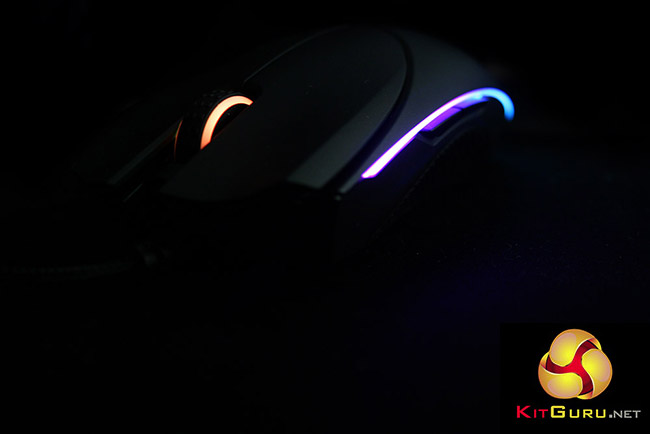 The laser sensor on this mouse is excellent, working well on a variety of surfaces and although 16,000 DPI feels overkill, it is quite future proof. That is unless someone comes up with a better sensor design before we all have multiple 8K displays!
I like the Diamondback, but it is not my favourite mouse. It has a unique look and design and will no doubt be suited to some gamers very well, but it is difficult to wholeheartedly recommend it when it has so many strong competitors, especially at its price point.

You can buy the Razer Diamondback Chroma 2016 from Overclockers UK for £79.99 inc vat HERE.
Discuss on our Facebook page, over HERE.
Pros
Looks fantastic, unique design.
Highly accurate, super-sensitive sensor.
Great back end Synapse system.
Lighting is top-notch.
Excellent build quality.
Cons
Lack of finger rests can be fatiguing on the wrist.
Razer offers better mice at a comparable price.
KitGuru Says: Although the sharply sloped sides on the Diamondback give it a unique look and feel, its lack of support left this reviewer a little wrist-fatigued by the end of testing. It is a solid all-round package, but just misses the mark in a few key areas.