To test the TP-Link AV500 Powerline Network Adapter Kit, we used Totusoft's LAN Speed Test software to measure the real-world network throughput when transferring a 100MB file between a wired 'server' laptop and a wireless 'client' laptop. LAN Speed Test provides real-world performance results as it creates the file, measures the time taken to transfer it, and calculates the effective network throughput.
To eliminate potential bottlenecks, the 'server' computer was connected via Gigabit Ethernet to our Tenda N60 wireless router. As we wanted to test wireless performance, the 'client' laptop was connected via the powerline network adapters.  For comparison purposes, we have also included results for a Linksys EA6900 Router and the 'client' laptop in close proximity to the powerline adapters.
We tested the performance of the adapters and range extender in three different positions:

Short Range: Both adapters positioned next to each other in adjacent sockets, to show the best performance scenario.
Long Range: Adapters placed  30m apart at opposite ends of a house, with one on the first floor and one on the ground.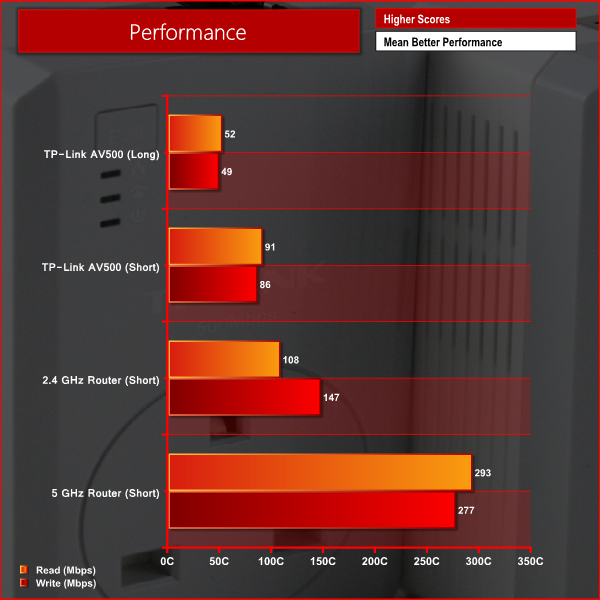 In our tests, the AV500 adapters did not offer great performance at short range, and fell well behind the high-end Linksys router in terms of transfer rate.  At long range, however, the performance is impressive – at this distance the router was not able to connect in either 2.4 GHz or 5 GHz modes.