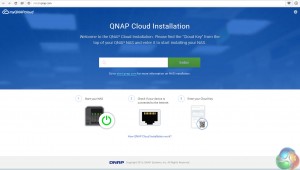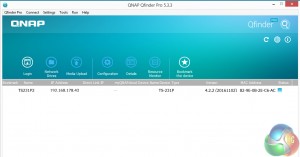 There are two ways of setting up the TS-231P, either online by entering the Cloud key which is on the side of the unit or by using QNAP's Qfinder Pro utility which can be downloaded from the QNAP website.
Whichever way you choose to start, it's just a simple matter of following the install wizard. During the setup you can enable which OS cross-platform file management service you require; Windows (SMB/CIFS, File Station, FTP), Mac (SMB/CIFS, File Station, FTP) and Linux (NFS, SMB/CIFS, File Station, FTP). At this stage you can also load a few basic apps; Photo Station, Music Station, iTunes Server, DLNA Media Server and Download Station.

Once the TS-231P has finished setting up, you can then get access to the colourful log in screen.
One Touch
The One Touch button on the front bezel can be set up to either upload or download files/folders or backup the NAS to an external USB drive. In the Backup Station pages in the QTS you can set up exactly what you want the One Touch system to do.