Synology has built a degree of future-proofing into the DiskStation DS1019+ in the shape of a pair of NVMe M.2 tool-free ports accessed via two hatches in the base of the unit. These can be used to set up SSD caching duties leaving the full amount of main storage for other duties. Out of the box, the unit is defaulted to the Btrfs file system so if you want to use EXT4 you have to remember to change this when setting up RAID arrays.
The Sequential throughput performance figures, of up to 226MB/s for reads and 222MB/s for writes, that Synology quotes are with both LAN ports being used in Link Aggregation mode. We tested the unit with a single Ethernet connection, and the resulting average read/write throughput figure of 118MB/s for the five array types (RAID 0, 1, 5, 6 & 10) is what you would expect to see.
Synology's NAS OS is DiskStation Manager (DSM), one of the better NAS operating systems out there. Fast to install and feature rich, it uses clearly labelled icons to display the large range options you can choose from. There are two ways of tackling what the software has to offer. The Basic main and control panel pages offer quick and easy access to the basic features making it easier for the first time user to find what they need and feel comfortable with. However, should you want to delve in deeper to the OS to find out all it offers then the Advanced main and control panel pages have many more options to choose from.
The DS1019+ has a dual-channel 4K video transcoding capability via H.264 (AVC), H.265 (HEVC), MPEG-2 and VC-1 support at a maximum resolution of 4096 x 2160 at maximum frame rate of 30FPS.
If you should run out of internal storage space in the DS1019+, not a problem as it supports the connection of a single Synology DX517 Expansion unit, via the eSATA port, which provides another 5 drives and up to 70TB more capacity, if using 14TB drives, to give a total capacity of 140TB.
We found the DiskStation DS1019+ at Ballicom for £670.52 (inc VAT) HERE
Pros
DSM OS.
Overall performance.
NVMe M.2 SSD slots.
Btrfs file system support.
Cons
Lack of HDMI port.
Plastic drive trays.
KitGuru says: Synology's DiskStation DS1019+ is a useful 5-bay NAS for the home or smaller office, with two dedicated M.2 NVMe slots to take care of caching duties if required, leaving the main capacity free for storage. It also supports a single expansion unit should more storage capacity be needed.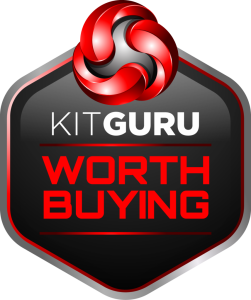 Be sure to check out our sponsors store EKWB here