Regular visitors to KitGuru will be aware that I have been developing my personal PC both for gaming and also as a workstation where I edit 4K videos with Adobe Premiere Pro. For the past few years I have used an Intel X99 platform with various Core i7 CPUs and also a Xeon but the time has come to bump up the CPU core count with a 12-core AMD Threadripper 1920X.
Watch the video via our VIMEO Channel (Below) or over on YouTube at 2160p HERE
You can check two previous instalments where I dive into liquid cooling HERE and then upgraded my quad core CPU for a six core model HERE
I have made a number of other changes over time that haven't featured on the pages of KitGuru such as a move to an eight-core Core i7-5960X and installing an extra SSD. These upgrades were important however they looked a bit dull.
I have mentioned in a couple of my reviews, such as the ASRock X399 Taichi and Fractal Design Define R6 that I am developing my next PC which will use a 12-core AMD Threadripper 1920X CPU.
Adobe Premiere loves CPU cores and is highly threaded, so the more cores you have in your CPU the better.
With the CPU, motherboard and case selected it was time to think about the graphics card. When you start a new project in Adobe Premiere you can either select a software mode that purely uses your CPU or you can lean on both the CPU and GPU. For Nvidia graphics this employs CUDA while for AMD it is OpenCL. Adobe has been working with Apple for many years and when you consider that Apple is a long term graphics partner of AMD, it came as no surprise to learn that Adobe software works well with OpenCL.
In the past I have used a GTX 980 and at present I have a GTX 1080 in my own PC and a GTX 1080Ti on the test bench. Dominic recently reviewed the Sapphire RX Vega 64 Nitro+ so before we headed off to CES I gave it a quick run in my Threadripper PC. Before I could do that I had to rejig the cooling system for the CPU while leaving plenty of space for the air cooled graphics card. This meant I spent part of my Christmas break installing a pair of 240mm radiators and working on a hard tube cooling system with the tools in the Alphacool Eiskoffer kit.
This is the system I used for testing the graphics cards.
Processor: 3.7GHz AMD Threadripper 1920X
Motherboard: ASRock X399 Tachi
Cooling system: Custom Loop
Memory: 32GB G.Skill FlareX DDR4-3200MHz
Power supply: Sea Sonic Prime Titanium 600W Fanless
Storage drive: Samsung M.2 SSD
OS: Windows 10
Custom loop hardware:
Radiators: 2x 240mm Hardware Labs Black Ice GTS 240
Radiator fans: 4x 120mm Noiseblocker eLoop
G1/4 fittings: Alphacool
13/10mm tubing: Alphacool Eisrohr PETG Alpha Tube
Pump: Aqua Computer D5
Pump top: Singularity Computers Protium top
Reservoir: Singularity Computers Protium 250mm
Reservoir mounts: Singularity Computers Ethereal Single
Coolant: Mayhems X1 Black
CPU block: EK-Supremacy EVO Threadripper Edition
Case fan: Noiseblocker BlackSilent Pro 120mm
Testing
If you take a quick look at the various runs I did in 3D Mark Time Spy you will find no surprises. Core i7-5960X is inferior to Threadripper 1920X, the GTX 980 graphics are the weakest of the bunch, AMD Vega 64 is in the same ballpark as GTX 1080 and the king of the heap is GTX 1080Ti. We have seen these results many times and if I was building a gaming PC I would unquestionably buy another GTX 1080Ti or consider a step up to a Titan.
This time, however, my focus is on video editing and specifically on Adobe Premiere Pro.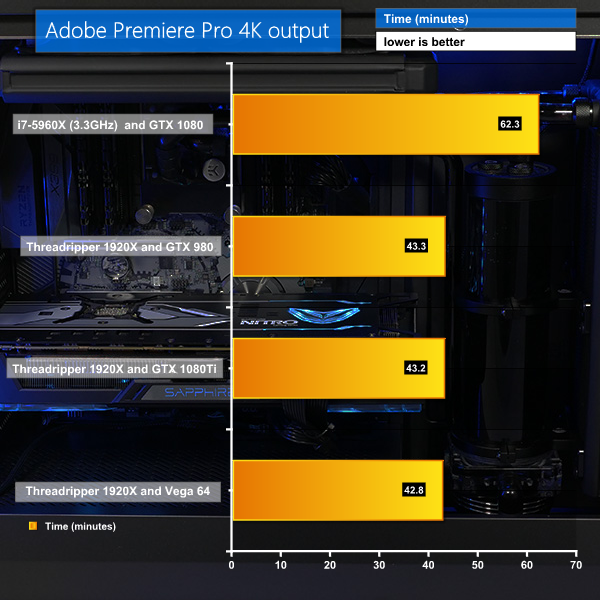 As I spell out in the video the baseline test was encoding a 4K video on my regular PC with a Core i7-5960X (8-cores at 3.3GHz) and a GTX 1080 graphics card. I do a two-pass output at 30Mbps and the output took 62 minutes 18 seconds, which is absolutely typical for the work I do.
Moving across to the AMD Threadripper 1920X with GTX 980 the time decreased to 43 minutes and 16 seconds which feels right considering I was working with an extra 50 percent CPU cores.
Swapping the GTX 980 graphics for GTX 1080 was disappointing as the time dropped to 43 minutes 12 seconds, which is essentially identical.
And then I made the big move from Nvidia to AMD with the Sapphire RX Vega 64 Nitro+, switched over to OpenCL and found the time dropped to 42 minutes 48 seconds. That's an improvement but it is fairly trivial and to all intents and purposes unchanged.
One major point of difference between the Nvidia and AMD systems was the system power draw. The GTX 980 and GTX 1080Ti Threadripper systems pulled 340W and 350W respectively at the wall socket, while the Vega 64 system demanded 470W. That's a massive extra 120W and in return you only save a few seconds on render time.
Closing Thoughts.
There is little doubt you will have a graphics card inside your Adobe Premier Pro PC, if only so you can connect two or three high resolution montitors. Provided you are using an Nvidia or AMD GPU and you have CUDA or OpenCL enabled in Premiere Pro, then essentially it is job done and it doesn't matter which graphics card you have installed.
Speaking for myself it seems the sensible course of action is to stick with my GTX 1080 and to forget any idea of sinking £2700 on that oh-so-desirable Titan-V.
And yes, you can power a hardcore Threadripper PC with a Sea Sonic 600W Fanless power supply, and jolly good it is too.
KitGuru Says: Video editors can save their money. Adobe Premiere doesn't much care which graphics card you have inside your workstation.