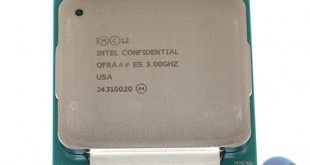 It's that time of year again – Intel is busy releasing the latest update to its enthusiast-orientated High-End Desktop (HEDT) platform. This time we're treated to a new processor based on the Haswell microarchitecture and an improved chipset sporting features appropriate for today's market. And this launch is a significant one – it spells the first time that we have seen an eight-core Intel chip available for the consumer audience. DDR4 memory support is the other key technological advancement that Haswell-E brings with it.

With eight cores, 16 threads, 20MB of cache, 40 PCIe lanes, and an out-of-the-box operating frequency of up to 3.5GHz, Haswell-E's flagship – the 5960X – is a powerhouse in all senses of the word.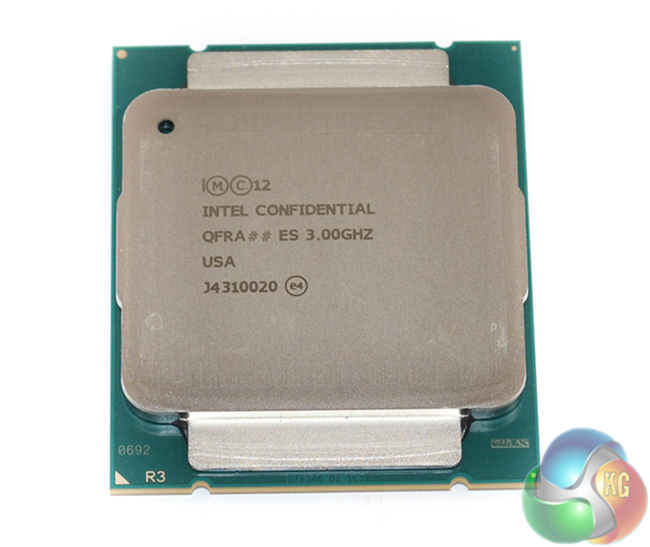 "Intel doesn't care about desktop enthusiasts these days!" Now that's a statement we have heard all too many times over the past few years. And in all honesty, some of the criticism that Intel has received for incremental performance upgrades over succeeding processor generations has been deserved. But, before we even get into the performance numbers, it doesn't look like us enthusiasts can have much ground for complaints with Intel's Haswell-E based HEDT platform.
With Haswell-E, the processor giant has introduced a number of technological advancements that will push the industry in the right direction. Eight cores on a single consumer chip was shown off by AMD with its FX-8xxx processors, but they simply don't have the IPC performance to compete with the latest and greatest Haswell-based CPUs. And speaking of microarchitecture, we are finally back to a scenario where Intel's high-end and mainstream chips match each other's under-the-hood instruction sets.
Continuing on the topic of advancements in technology, DDR4 is one such movement. The new standard sees pin count rising from 240 to 288 while voltage drops to a 1.2V standard. Data rates rise making 2666MHz seem to be set as the new 'go-to' frequency in retailers, although kits as high as 3200MHz have been spotted. In typical fashion, the memory latency also rises but a big enough speed boost over DDR3 should be able to offset the looser timings.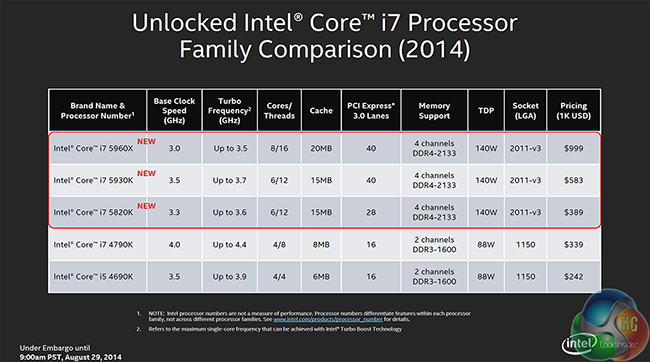 The £760 5960X isn't the only processor in the Haswell-E line-up, although it is the exclusive eight-core part. A notable change from past HEDT chips is that the first- and second-rung parts differ by more than clock speed and cache capacity. This time Intel drops two of the cores off a 5960X, cuts cache by 25%, ups the maximum turbo frequency by two bumps and calls it a Core i7 5930K. Oh, and there's a £330 (43%) price cut thrown in for good measure.
Propping up the Haswell-E range is the six-core 5820K. A 100MHz frequency drop and twelve fewer PCIe lanes are traded for a £130 (30%) price reduction from the 5930K. At £50 more than a 4790K, the six-core 5820K could be popular to users wanting a multi-GPU gaming system.
With all of the basics and key points covered, let's take a more detailed look at the 5960X Haswell-E CPU.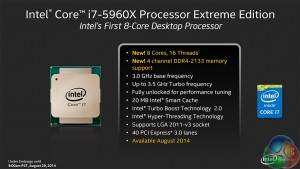 We have already mentioned the 5960X's eight physical cores so let's run through some of its other performance characteristics.
Firstly there's the 3.0GHz base clock for all cores. Turbo Boost 2.0 increases this operating speed to 3.5GHz when a fraction of the total core count is active, although modern motherboards typically use profiles that glue every core at its maximum multiplier 100% of the time. And when 3.5GHz simply isn't enough, users can leverage the fully unlocked core ratio multiplier to further increase the CPU frequency.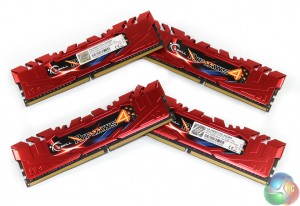 Support for DDR4 extends to a frequency of 2133MHz natively. As has been the case for recent Intel processors, the maximum memory frequency supported with the right motherboard extends past the chip's default value.
We had no problem booting up with G.Skill's 3000MHz Ripjaws4 memory kit on the Asus X99 Deluxe, although we do know that other motherboard vendors have been experiencing problems reaching stability at a 3GHz DRAM frequency.
Past 2666MHz and the CPU shifts up to a BCLK of 125MHz (using the 1.25X clock multiplier). This is different to past Intel chips; the 4770K/4790K can run memory speeds all of the way up to 2933MHz off a 100MHz base clock (when using the 100:133 BCLK:DRAM ratio and a 22x memory multiplier). A 125MHz BCLK is not an issue, it just adjusts the frequencies available to the CPU.
(Haswell-E Core i7 5960X left. Ivy Bridge-E Core i7 4960X right.)
Heatspreader design is something that has changed for Haswell-E. Previous HEDT processors used a block of metal that engulfed the vast majority of the chip. Haswell-E shrinks the heatspreader area by a marginal amount and also tweaks its design.
At a recent press event we asked Intel what material was used beneath the heatspreader. While we didn't get a firm answer, it was suggested that the chip uses solder in a similar way to previous HEDT parts. And that's a good sign when the chip's TDP is a lofty 140W.
As a note, this is the first Intel chip that I recall handling personally to be manufactured in the USA.
(Haswell-E Core i7 5960X left. Ivy Bridge-E Core i7 4960X right.)
Layout of the underside components also shows notable differences between the two processors. HSW-E loses a few of the capacitors found on IVB-E, although it does increase pin count.
Asus makes use of the additional pins with a patent-pending technology it calls Asus OC Socket. The motherboard socket features contact points for the additional pins to allow increased current/voltage delivery.
Haswell-E chips ARE NOT compatible with LGA 2011 (X79) motherboards, and vice versa. The main reason for this incompatibility is HSW-E's support for DDR4 memory. Intel would have given itself and consumers headaches by providing capacity for both LGA 2011 and LGA 2011-v3 chips on a single motherboard. A new socket was deemed the favourable approach.
2.6 billion 22nm transistors on a 355.5mm2 die – now that's advanced manufacturing.
Each of the eight physical cores eats into the processor's 20MB quota of level 3 cache. A notable difference between the HEDT HSW-E parts and a mainstream Haswell-based chip, such as the 4770K, is the on-board GPU's exclusion. This frees up valuable die space for more cores and cache.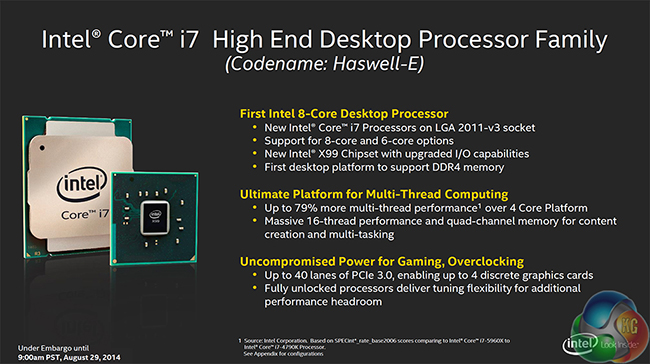 Haswell-E's key partner in the HEDT platform is the X99 chipset. We are going to brush over the chipset and its features for this article as they will be explored in more detail in our upcoming barrage of motherboard reviews.
Referencing gaming performance though, the Haswell-E 5960X and 5930K both provide 40 PCIe 3.0 lanes. Intel reduces the 5820K's lane count to 28. Although the above slide suggests that up to four graphics cards can share the lanes, the real number is actually five. Splitting the lanes between five GPUs results in x8 PCIe 3.0 links for each. That's particularly useful for workstation users.
From a gaming perspective, there is plenty of bandwidth to support multi-VGA configurations, hence many of the lane count headaches caused by the mainstream platform are avoided. We asked Intel if the lanes can be split down to x4 and then used for storage links, but they informed us that doing so necessitates an additional controller.
I must admit – I was a little apprehensive going into the overclocking tests for the 5960X. Problems with a different motherboard throughout initial testing meant that a quick switch of boards was required shortly before launch date. This constricted the amount of time that I could put into getting a feel for the processor's overclocking traits.
So it gives me pleasure to say that the processor's overclocking capability did not disappoint in the slightest. There's no denying that Asus' well-tuned UEFI on its X99 Deluxe motherboard was of particular assistance.
Aiming for a 'quick and dirty' overclock, we increased the CPU VCore to 1.30V, Cache voltage to 1.250V, SA to 1.200V, CPU Input Voltage to 1.900V, PCH voltage to 1.1V, and VCCIO voltages to 1.10V. We enabled PLL overvoltage, level 1 LLC, and maintained the cache ratio at its default 30x multiplier.
We backed our 3000MHz G.Skill Ripjaws4 memory down to 2666MHz to ensure that its high frequency did not hamper our overclocking attempts.
Starting off hesitantly with core multiplier levels, we quickly saw the chip surpass the 4GHz frequency barrier. That's not easy task for an eight-core chip. We were able to jump all of the way up to 4.5GHz with very little effort, although Prime95 highlighted instability. The same instability was observed at 4.4GHz so we backed down to the safety of 4.3GHz.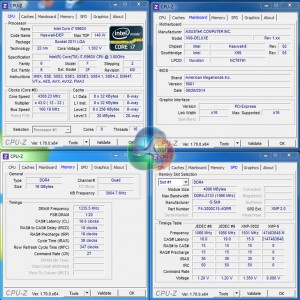 4.3GHz was perfectly stable for 3 hours of Prime95 stress testing as well as multiple runs of our entire benchmark suite. As will be explored in our upcoming motherboard reviews, we are confident that the chip can push higher than 4.3GHz with more tweaking of things like the base clock and power limits.
Put simply, reaching 4.3GHz was a very easy task. Getting past this level, with our chip at least, requires more effort. Such behaviour is similar to what was shown by Haswell-based chips on the mainstream platform.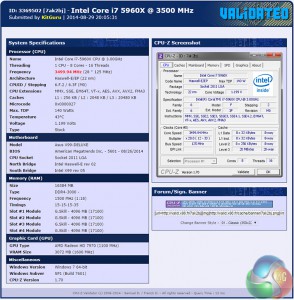 Our CPU-Z validation can be viewed here.
This is the overclocked configuration that we will be using throughout our testing.
Based on the Haswell microarchitecture and sporting eight cores with a 20MB serving of L3 cache, we expect the 5960X to excel in multi-threaded performance. On the contrary, the comparatively low operating frequency could hamper its single-core and gaming success.
The battle between the higher-clocked six-core Ivy Bridge-E 4960X and its successor – the eight-core Haswell-E 5960X – will be particularly interesting. Whether the fast but four-core 4790K can keep pace with these £760 brutes will also be an intriguing tale.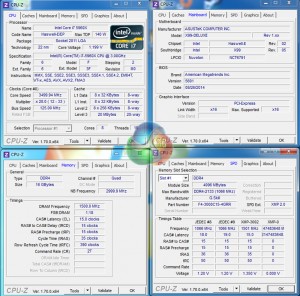 As is typical for many modern motherboards, enabling XMP applies multi-core turbo (MCT) which forces a processor to continuously operate at its maximum turbo level on all cores. This 3.5GHz frequency will be displayed as the 'stock' setting for our i7 5960X data.
While this is perhaps not the most accurate representation of 'stock' performance for a processor, people buying this kind of chip are likely to be using high-speed XMP memory kits. By that logic, testing with MCT enabled is arguably more representative of real-world performance.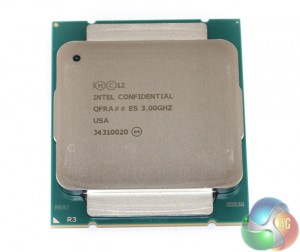 We will be outlining the eight-core 5960X Haswell-E processor's performance to that of its predecessor – the six-core Ivy Bridge-E Core i7 4960X. The Devil's Canyon Core i7 4790K serves as a performance comparison for the Haswell micro-architecture found on Intel's mid-range platform.
All processors will be compared at stock (MCT) speeds and typical overclocked frequencies. Test systems are kept as similar as possible. With the X99 platform supporting DDR4, the memory used by each system is different, as is our choice of SSD. These two component changes will have little effect on our CPU-centric benchmark suite.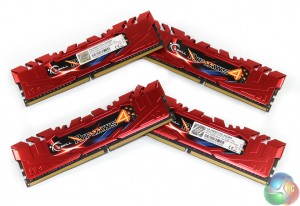 A 16GB kit of G.Skill's ultra-fast 3000MHz Ripjaws4 memory accompanies our Haswell-E test platform. The kit uses 1.350V to run at 3GHz with 15-15-15-35 timings. Applying the built-in XMP mode switches the system base clock to 125MHz and accordingly adjusts the processor back down to its stock (MCT) level.
CPU Test System Common Components:
Haswell-E 5960X System:

CPU: Intel Core i7 5960X 'Haswell-E' (Engineering Sample) 8 cores, 16 threads (3.5GHz stock MCT & 4.3GHz @ 1.30V overclocked).
Motherboard: Asus X99 Deluxe (LGA 2011-v3, X99).
Memory: 16GB (4x4GB) G.Skill Ripjaws4 3000MHz 15-15-15-35 DDR4 @ 1.35V.
System Drive: Samsung 840 500GB.
Ivy Bridge-E 4960X System:

Devil's Canyon 4790K System:

Software:
Asus X99 Deluxe BIOS v5601 (latest).
Catalyst 14.4 VGA drivers.
Tests:

Super Pi – 32M test (CPU)
Cinebench R15 – All-core & single-core CPU benchmark (CPU)
HandBrake 0.9.9 – Convert 4.36GB 720P MKV to MP4 (CPU)
SiSoft Sandra 2014 SP2 – Processor arithmetic, cryptography, memory bandwidth (CPU & Memory)
3DMark 1.3.708 – Fire Strike (System)
PCMark 8 v2.0.288 – Home (System)
WinRAR 5.10 – Built-in benchmark (System)
Bioshock Infinite – 1920 x 1080, ultra quality (Gaming)
Metro: Last Light – 1920 x 1080, high quality (Gaming)
Tomb Raider – 1920 x 1080, ultimate quality (Gaming)
Cinebench
We used the 'CPU' test built into Cinebench R15 .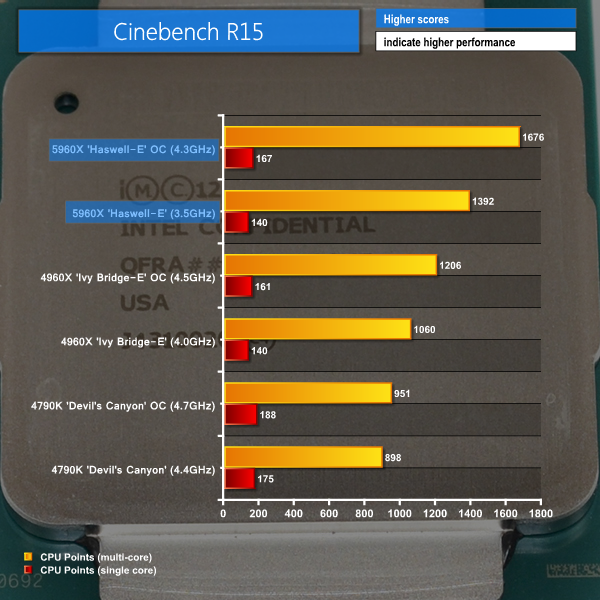 Super Pi
We used the 32M test in Super Pi to analyse single-threaded performance.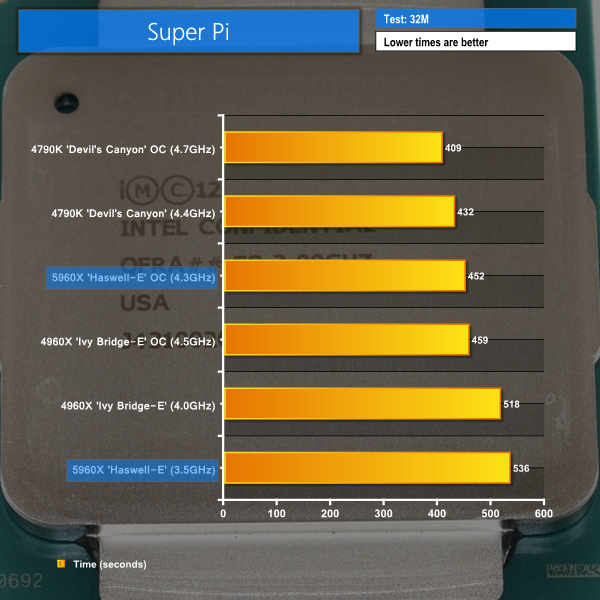 Handbrake Conversion
We measured the average frame rate achieved for a task of converting a 4.36GB 720P MKV movie to 720P MP4 format.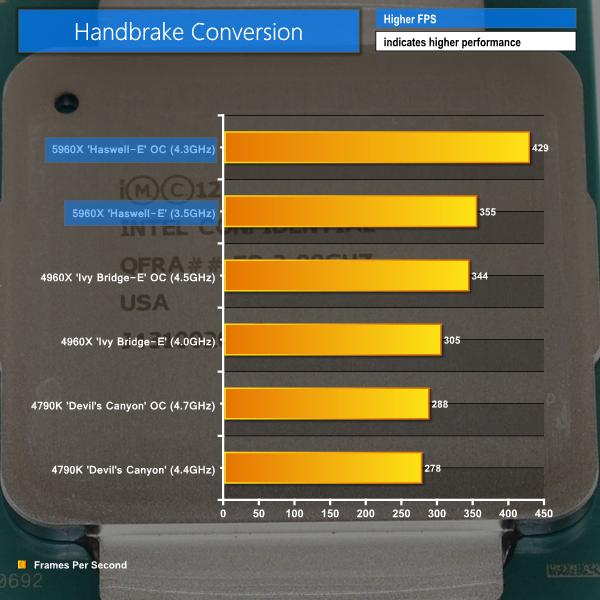 Starting off with the multi-threaded workloads applied by Cinebench and Handbrake, the eight-core 5960X takes a comprehensive lead in both tests. The stock-clocked HSW-E part is able to outperform Ivy Bridge-E's flagship at 4.5GHz.
Comparing stock-clocked performance of the 5960X and 4960X, the HSW-E part is 31% faster in Cinebench and better by 17% in Handbrake.
Handbrake has more performance to give; during our testing the 5960X's CPU utilisation struggled to reach the 100% mark that it does for other processors. This could be tied to a potential bug with sixteen active threads.
As anticipated, single core performance of the 3.5GHz CPU is limited. Super Pi's affinity for MHz sees the 5960X get confidently beaten by the 4960X and 4790K. Single-thread performance in Cinebench is also lacking in comparison to the highly-clocked 4790K.
Sandra Processor Arithmetic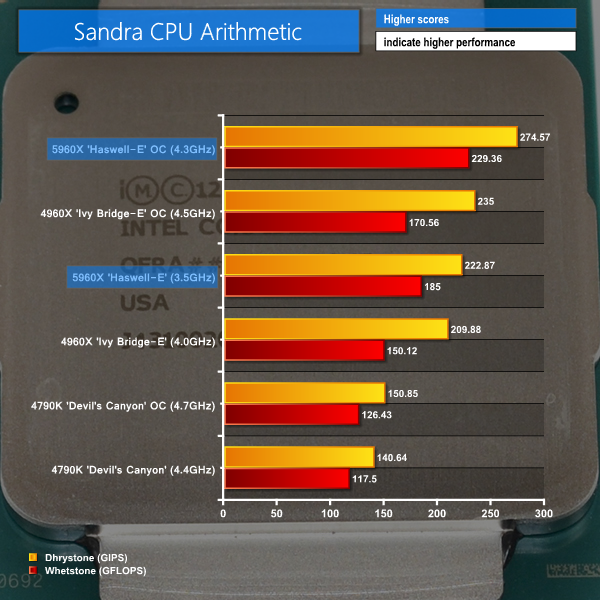 Sandra Cryptographic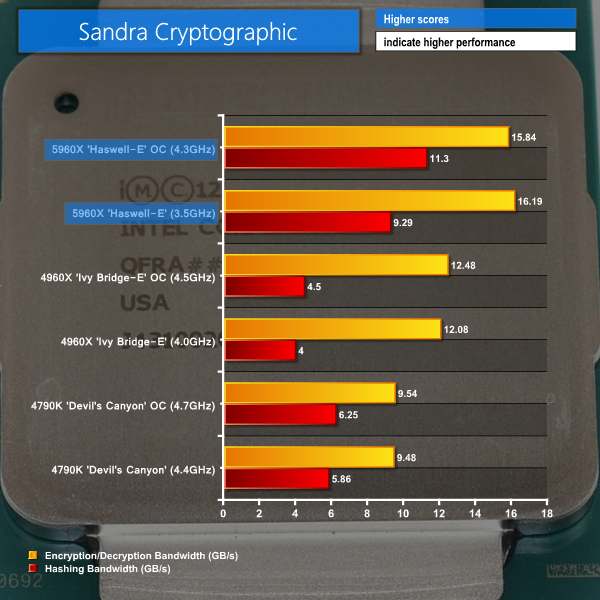 Sandra Memory Bandwidth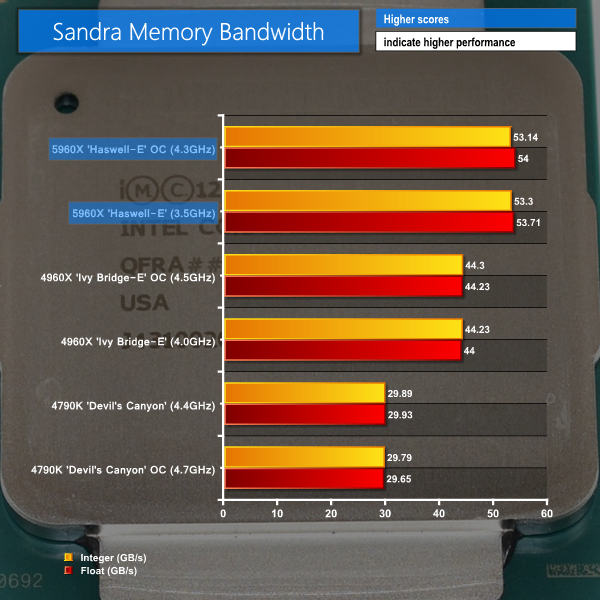 Sandra's array of benchmarks sees the Haswell-E processor taking another set of confident leads.
Instruction sets used in the Haswell microarchitecture are to thank for the eight-core chip's excellent hashing bandwidth.
Memory bandwidth passes the 50GBps mark thanks to the use of DDR4. With G.Skill's 3GHz CL15 memory installed, the quad-channel Haswell-E system delivers about 22% higher memory bandwidth than our X79 system and its 2133MHz RAM.
3DMark
We used 3DMark's 'Fire Strike' benchmark which is designed to be used on gaming PCs. We opted for the Normal setting, NOT the Extreme mode.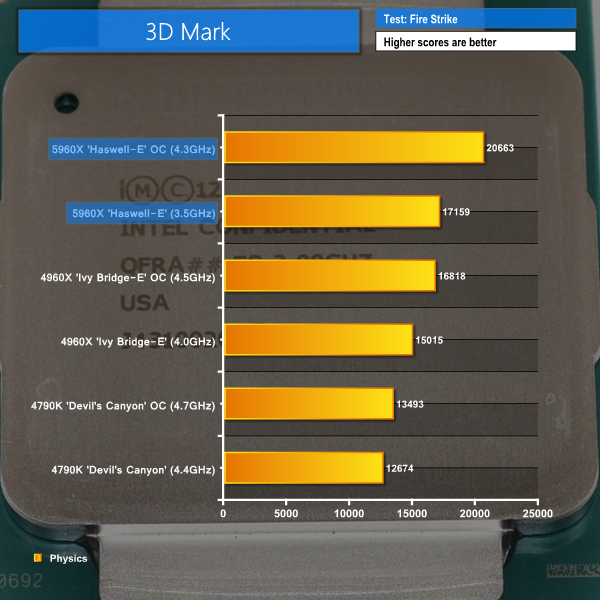 PCMark v2
We used the 'Home' test in PCMark 8 v2 to analyse the general-usage performance of each processor configuration.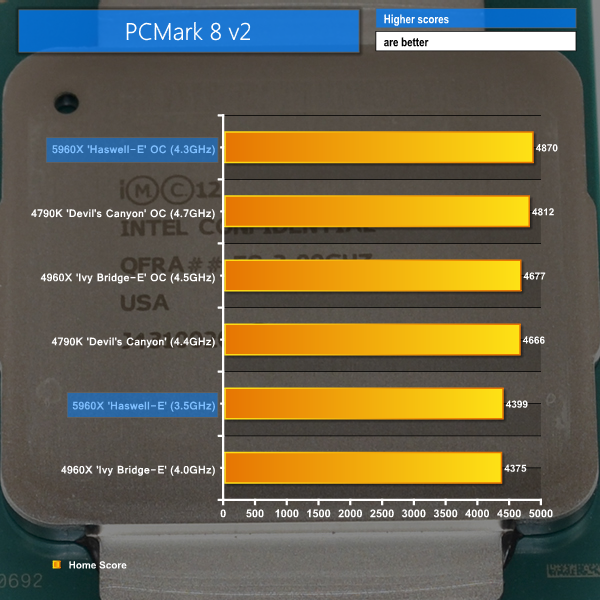 WinRAR
WinRAR's built in benchmark and hardware test can help us outline the performance differentials between each processor configuration. We record the amount of data processed after a 30-second run.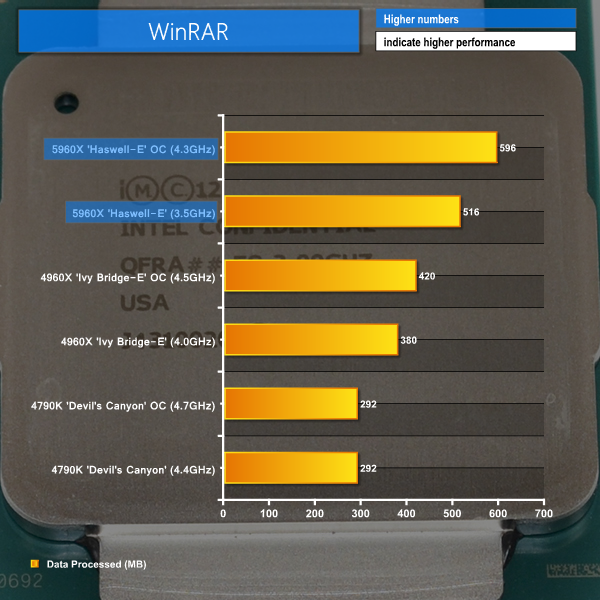 The eight-core part continues to take benchmark leads like there's no tomorrow. Devil's Canyon's fast 4790K does however manage to put a blip on the HSW-E chip's results by outperforming it on a stock-vs-stock basis in PCMark 8.
In the same time period, the 5960X-based system was able to process 36% more data than the 4960X configuration in WinRAR. And that lead extended to 42% when both chips were overclocked.
For work that involves a large amount of archival processes, Haswell-E and its eight cores show their worth, especially when overclocked.
Bioshock Infinite
We used the Bioshock Infinite demanding 'Ultra' setting and a 1920 x 1080 resolution to push today's gaming hardware. Our data was recorded using a section of the game, not the built-in benchmark.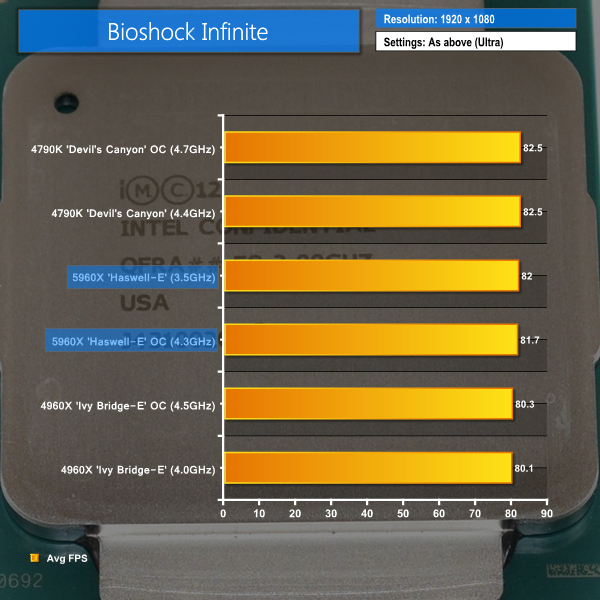 Metro: Last Light
We used a 1920 x 1080 resolution and the Metro: Last Light built-in benchmark set to 'High' quality to offer an intense challenge for the gaming hardware while also making playable frame rates a possibility.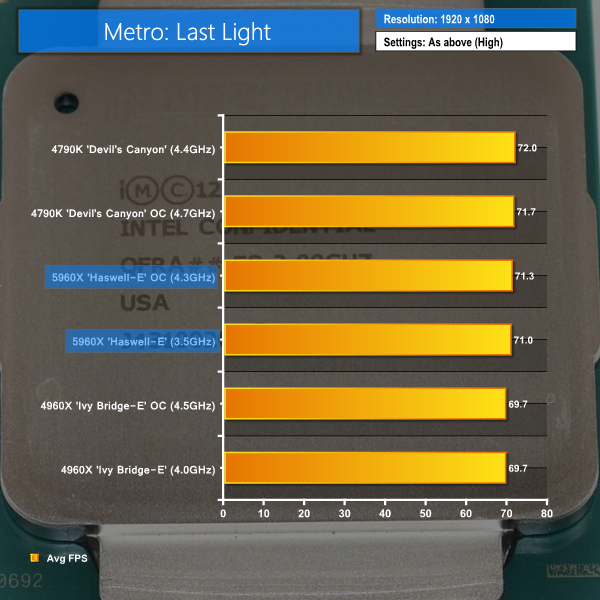 Tomb Raider
We used a 1920 x 1080 resolution and the Tomb Raider built-in benchmark set to 'Ultimate' quality.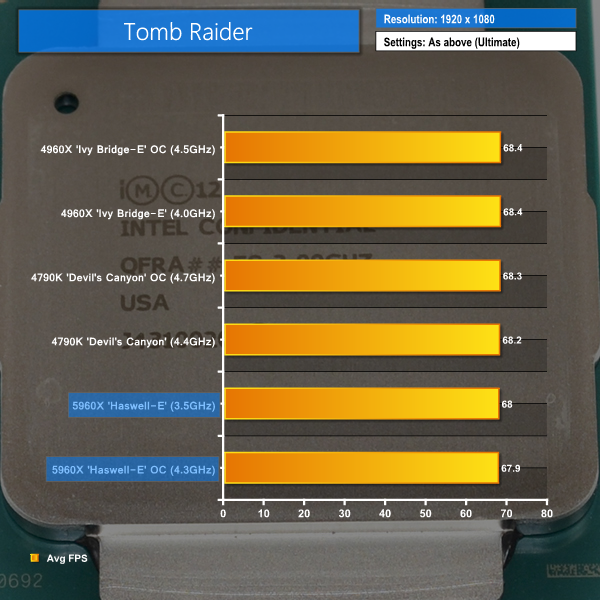 Gaming performance was never going to be a strength for Haswell-E. Even many of today's games show little improvement when moving up from a four-core Intel chip, and that point is only emphasised with a GPU-bound resolution.
While the 5960X doesn't take any gaming performance leads, it doesn't get left behind by the high-speed 4790K either. What did surprise us was the change (or general lack of) in benchmark scores when an 800MHz clock boost was applied.
Clearly our settings are limited by the graphics card, resolution, and game configuration. We are looking into better ways of outlining gaming performance differences between processors. The higher computational demands brought about by a 4K resolution may be a situation where the parts with higher core counts could shine. We don't believe in testing at 1024×768 (or less), because it is not even close to a 'real world' enthusiast gaming environment in 2014.
We measured the idle temperatures and power consumption levels with the system resting at the Windows 7 desktop.
The temperature of the Haswell-E CPU and power consumption of our entire test system (at the wall) is measured while loading only the CPU using Prime95′s in-place large FFTs setting.
Temperature recordings were taken using CPUID HW Monitor. Asus' AI Suite 3 software delivered contradictory readings that were sometimes as much as 10°C lower than the CPUID software.
Temperatures
Temperature recordings were taken with the Corsair H100i CPU cooler's fans running at full speed. Ambient temperature was maintained at a toasty 23°C.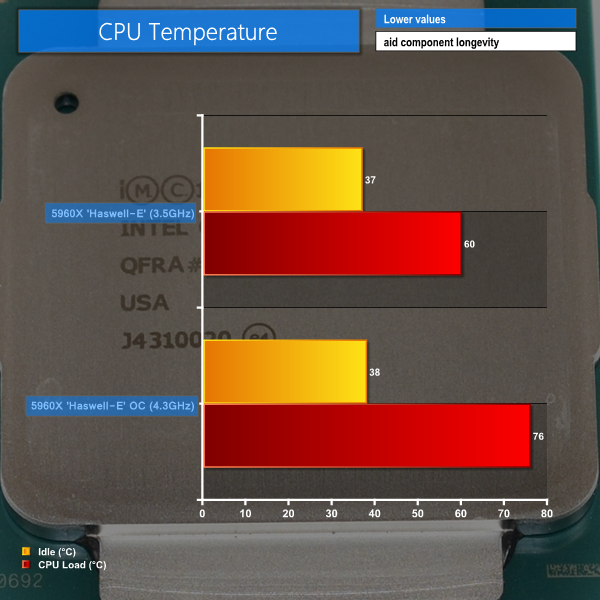 With our Corsair H100i operating at its maximum speed, the 1.20V CPU VCore applied at stock (MCT) levels tops out at 60°C. Even putting 1.30V through the chip doesn't force temperatures past the 80°C mark.
Intel seems to have learned from its mistakes with Ivy Bridge and Haswell – poor ability to remove heat hinders overclocking results. That said, it may be just the HEDT chips that are treated to a rugged heatspreader bonding solution.
Power Consumption
We must note that the 5960X system was housed inside an NZXT Phantom 630 chassis with three case fans. The 4790K and 4960X were tested in an open-air environment hence the powering of fans was not required.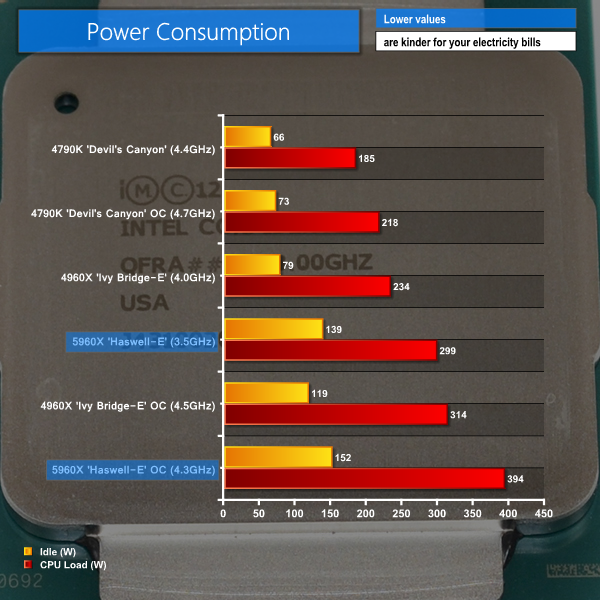 With eight physical cores and a 140W TDP, not even the positive efficiency of the Haswell microarchitecture can save the 5960X from sizeable power requirements. Around 25-30% more energy than a 4960X-based system is required to fuel our X99-based configuration.
While 25-30% may sound like a sizeable jump in power requirements, the 5960X's core count is 33% higher than its predecessor's. And its performance in some environments is greater than 25% ahead of the 4960X. With those points in mind, power and performance characteristics are more balanced than the above chart would suggest.
Let's not 'butter up' the situation though; with a pair of high-end graphics cards installed, an overclocked 5960X system may be enough to warrant a 1000W+ PSU from a reputable vendor.
There's no other way to say it; Intel's Haswell-E Core i7 5960X is a technological masterpiece. It shows multi-core performance that is unparalleled on the consumer scene – not even the six-core flagship that preceded it can show any hint of keeping pace. And what's more impressive is that the 5960X does all of that while staying cool and providing deceivingly-good overclocking capacity.
Focusing first on performance, there's nothing else in the consumer domain that will come close to the numbers output by Intel's flagship 5960X. Cinebench and WinRAR performance levels were up by over 30% compared to the 4960X, and Handbrake video conversion showed a sizable performance leap also.
And with the higher core count and heaps of cache also comes the goodness of Intel's latest-and-greatest desktop microarchitecture inside Haswell-E. Some of the benefits of a modern under-the-hood feature set were shown in Sandra's benchmarks, especially those making use of Haswell's AVX2 instruction set. DDR4 helps from a memory bandwidth perspective too.
Overclocking the 5960X was a surprisingly pleasant and entirely beneficial experience. I couldn't help but foresee frequency limitations when pushing the clock speed on an eight-core part, but I am very pleased to report that overclocking capacity is very good. While I didn't manage to get past 4.3GHz with stability in my brief overclocking session, the ease at which 13 multiplier bumps were surpassed gives me confidence that the chip can go even further with a little more time and effort.
With 40 PCIe 3.0 lanes, the 5960X (and 5930K for that matter) is ideal for enthusiast-grade multi-GPU machines. Before sticking three to four GPUs in your system though, make sure that your games and resolution will benefit from Haswell-E's immense computational power. Our 1920×1080 tests did not show any performance advantages for Haswell-E, although it is highly unlikely that many gamers will be joining a £760 CPU with a 2 Mega-pixel display.
There's very little to say about temperatures which is always a good sign. Our Corsair H100i had no problem keeping the processor below 80°C even when 1.30V was fed through it. Power consumption, on the other hand, is a little higher than we would have expected from a processor using Haswell microarchitecture. In all honesty we are probably being a little harsh in expecting lower energy usage numbers from an eight-core chip.
Asking price for the Core i7 5960X is not for the faint hearted at 5p under £760. That's enough money to buy a respectable gaming system. The 5930K is noticeably cheaper at £429.95 a piece. Add in the cost of (currently) expensive DDR4 and a far-from-cheap X99 motherboard, and Intel's latest iteration of its HEDT platform follows the underlying trend of being a sizeable investment.
On a positive note, for the first time in the past three generations of the HEDT platform, I can actually see a viable reason for purchasing the highest-priced processor of the Haswell-E line-up. No longer does that extra £300+ buy a pointless frequency boost and some more cache. With the 5960X you're getting more cores for the upgrade, and to many users that fact alone will be enough to warrant the purchase.
While it's very difficult (and could almost be perceived as insulting) to give a £760 processor our highest 'Must Have' award, I genuinely feel that the Core i7 5960X thoroughly deserves it. We enthusiasts complained that Intel didn't care about us, and the chipmaker has responded in the form of an eight-core powerhouse with excellent overclocking capacity based on its most modern microarchitecture, as well as a new standard of memory and chipset to sweeten the deal. I once again feel like there's a place above the mainstream platforms for hardcore enthusiasts, and that place is with Haswell-E.
Discuss on our Facebook page, over HERE.
Pros:
Fastest consumer processor on the market.
Eight hyper-threading cores deliver excellent multi-threaded performance.
Strong overclocking potential on all eight cores.
Uses the latest-and-greatest Haswell microarchitecture.
Support for DDR4 memory.
Huge multi-GPU and expansion potential.
Temperatures are not an issue (as they have been with some LGA 115x CPUs).
Cons:
£760 for a CPU.
Stiff competition from lower-priced Haswell-E chips.
Needs to be overclocked to maintain competitiveness in single-threaded workloads.
KitGuru says: Intel's 5960X is the fastest overall consumer chip on the market, and this time that extra £330 over its cheaper sibling actually buys something physical in the form of a pair of cores, in addition to extra cache. If you have demanding multi-threaded workloads and want the fastest consumer processor to push through them, the 5960X is the part to buy.