Intel's 9-series chipset saw the widespread adoption of high-speed storage connections operating via the PCI Express interface. While the 10Gbps transfer speeds of SATA Express and M.2 connections were a noticeable speed boost over the ageing SATA 6Gbps interface, they were still a far cry from the bandwidth offered by a team of native PCIe Gen 2 and Gen 3 links.
That's where ASRock's Z97 Extreme6 comes into the limelight. Packed to the brim with modern, high-speed storage interfaces, ASRock agrees that storage connections faster than 10Gbps are relevant in today's market. Utilised on the Z97 Extreme6, ASRock's Ultra M.2 connection routes four PCIe 3.0 lanes from an LGA 1150 CPU to provide a storage interface with up to 32Gbps of bandwidth.

Without question, the Z97 Extreme6 motherboard's claim-to-fame is its 32Gbps Ultra M.2 connection. But that doesn't stop ASRock from equipping the board with a host of general usage features. A pair of ASMedia controllers boost the number of SATA 6Gbps connections to ten, while the Z97-provided 10Gbps M.2 and SATA Express connections show their faces.
And aside from the storage ports, there's a pair of NICs, ASRock Purity Sound 2 audio, CrossFire and SLI support, and a sizeable power delivery system.
We test ASRock's Z97 Extreme6 in our usual barrage of motherboard benchmarks, as well as speed-testing with Samsung's ultra-fast XP941 M.2 SSD. Does ASRock's 32Gbps Ultra M.2 interface give us a glimpse at storage speeds of the near future?
Features:
ASRock Super Alloy
Digi Power, 12 Power Phase design
Purity Sound 2 audio system.
SATA Express, M.2, and Ultra M.2 connections.
1-year Orbweb.ME professional subscription.
HDD Saver technology.
ASRock ships the Extreme6 motherboard in the company's typically-loud packaging. A graphic and some of the key features are shown on the box's front side, while detailed specifications are listed on the rear.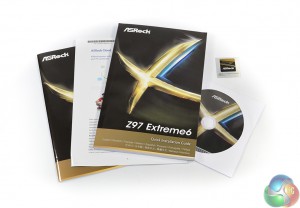 The typical documentation, driver CD, and case sticker are supplied.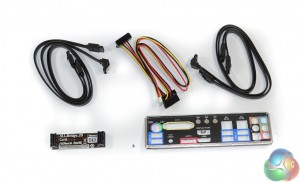 ASRock provides a fairly healthy bundle which consists of four SATA cables, an SLI bridge, the rear IO shield, and the HDD Saver connector.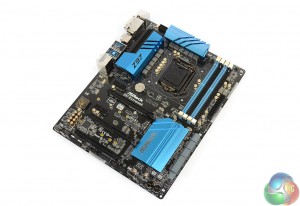 The ASRock Z97 Extreme6 uses the company's newly-adopted blue and black colour scheme. Part of the package that ASRock entitles Super Alloy are XXL aluminium-based heatsinks.
With the modest power requirements of Intel's LGA 1150-based platform, motherboard heatsinks are largely for aesthetic purposes.
Unlike many of its previous motherboards, ASRock is using a pure black PCB, rather than an ugly shade of brown. This is a smart move by the vendor and one that will please users who desire colour co-ordination of their system.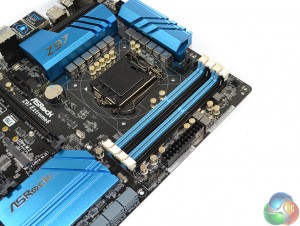 Four DIMM slots support 32GB of DDR3 memory with speeds of over 3200MHz (CPU dependent). Located next to the 24-pin power connector is one of the Z97 Extreme6's USB 3.0 internal headers.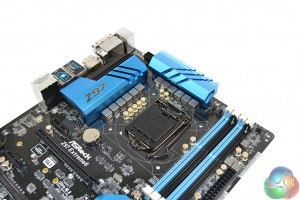 An LGA 1150 CPU is fed by twelve power phases from ASRock's Super Alloy kit. The power delivery system uses Texas Instruments NexFET MOSFETs, dual-stack MOSFETs, premium alloy chokes, and 12K platinum capacitors.
Starting with the premium alloy chokes, ASRock suggests that the alloy material is able to provide lower power ripple and resistance (hence temperature) compared to a ferrite-based alternative, while also increasing saturation current by 90%.
The NexFET and dual-stack MOSFETs are able to offer higher efficiency and lower temperatures thanks to reduced resistance. Capacitors rated at 12K means that they are able to operate for 12,000 hours at 105°C.
I did some quick back-of-the-envelope calculations of capacitor lifespan when operating temperature is translated to a typical computer environment, and the anticipated duration is far greater than this motherboard will be used for.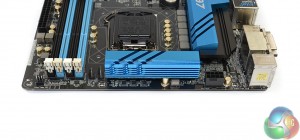 Three fan headers, two of which receive a CPU PWM signal, are found along the motherboard's upper edge. This distribution is ideal for users of all-in-one liquid CPU coolers which require three headers for their pump and two fans.
Nestled in its usual location is an 8-pin power connector. Visual inspection of the CPU power delivery system implies that the twelve physical phases are fed by six controllers. In simple terms, one controller is used to operate two physical phases.
The semi-full voltage control configuration seems to be confirmed by the use of an ISL6379 power controller.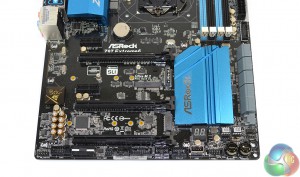 Three full-length PCIe x16 slots accompany two PCIe x1 connections on the Z97 Extreme6. Two-card SLI and CrossFire are supported. With its multitude of add-on features, the Z97 Extreme6's lane configuration is particularly tricky.
The first situation is without a drive installed in the Ultra M.2 slot. In this case, the lane configuration for the upper two full-length slots is x16/x0 or x8/x8. The bottom full-length PCIe slot operates via two lanes of Gen 2 bandwidth from the Z97 chipset. That makes the lower slot impossible to use with SLI and practically incompatible with CrossFire.
Bandwidth for the centrally-located mini-PCIe slot is shared with the second-down x1 connection. ASRock calls up an ASMedia ASM1184e PCIe switch to provide four x1 lanes from a single PCIe 2.0 x1 input, when required. This feeds the two ASM1061 storage controllers, the PCIe x1/mini-PCIe slot, and the other PCIe x1 slot.
With a drive installed in the Ultra M.2 slot and stealing four of the CPU's PCIe 3.0 lanes, the upper two full-length PCIe slots operate at x8 and x4 Gen 3 bandwidth, respectively. That makes them compatible with slightly-hampered CrossFire, but not the x8-demanding SLI.
The usual affair of headers is found along the motherboard's bottom edge. An additional USB 3.0 header, internal USB 2.0 port, and power and reset buttons are also provided.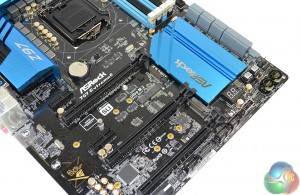 Two M.2 connectors provide Z97 Extreme6 users with plenty of on-board storage options. An M.2 SSD could be installed in the Z97-fed lower M.2 slot, while a higher-speed drive could operate from the 32Gbps Ultra M.2 connection.
Positioning of both M.2 connections is smart. A graphics card will block out a drive's potentially ugly PCB in the upper M.2 slot, and lower one if a multi-VGA configuration is used.
The mini-PCIe slot can be used to install a wireless card, for example. I wouldn't be surprised to see ASRock start shipping a variant with 802.11ac WiFi provided by a mini-PCIe card.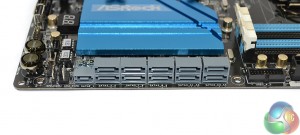 Ten SATA 6Gbps ports are provided on the ASRock Z97 Extreme6 motherboard, six of which operate from the Z97 chipset, while the other four run from two ASMedia ASM1061 host controllers.
Two SATA connections and the additional bandwidth-carrying port combine to form the board's 10Gbps SATA Express port. ASRock's HDD Saver connection can be used to switch off a HDD, allowing power and noise loads to be decreased.
I would like some form of clear differentiation between SATA 6Gbps ports provided by the chipset or ASMedia controllers. ASRock uses board labelling, but some form of colour or physical differentiation would be welcomed.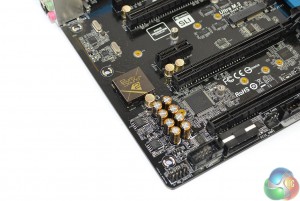 Realtek's ALC1150 codec provides the foundation for ASRock Purity Sound 2 audio system. EMI shielding and a distinct PCB pathway is used to minimise signal interference.
A pair of Texas Instruments NE5532 op-amps are used to provide support for 600 Ohm headsets, while Nichicon fine gold series capacitors filter the audio signals.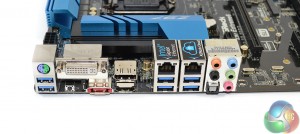 Six USB 3.0 ports, provided via an ASM1074 hub or ASM1042AE host controller, are found alongside multi-channel audio connections and a PS/2 port.
ASRock uses an Intel I218V NIC in addition to a Realtek RTL8111GR chipset. The latter is to be used for ASRock's Cloud software.
DVI (which carries both digital and analogue VGA signals), HDMI, and DisplayPort connections provide video. In close proximity to the video connections are an eSATA 6Gbps connector powered by the ASM1061 controller and a clear CMOS button.
Samsung's XP941 is just about the fastest M.2 SSD on the market. Available for just under £400 in a 512GB variant, the drive is able to operate at speeds of up to 1,170MBps. That makes it ideally suited for testing ASRock's 4GBps-capable Ultra M.2 connection.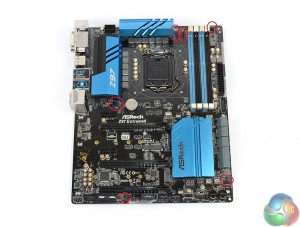 Distribution of the Z97 Extreme6 board's six fan headers is excellent. Four are within reach of the CPU socket, while two more are found towards the board's bottom edge, making them well-suited for powering chassis fans.
The Nuvoton NCT6791D controls monitoring and fan speed levels.

Firstly, we are pleased to report that our NZXT Avatar S mouse worked to its usual standard in the ASRock Z97 Extreme6 motherboard's UEFI BIOS.
ASRock is using a high resolution, 1920×1080, approach for its Z97 UEFI BIOS. The implementation used on ASRock's Z97 Extreme6 motherboard is representative of the company's Z97 UEFI design, hence our analysis is similar to that of the ASRock Z97X Killer motherboard.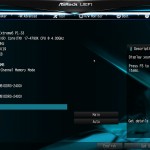 ASRock has added a favourites section to the main page, allowing users to quickly jump to commonly-accessed settings.
A UEFI Guide tool is also provided, allowing users to be guided through the interface to gain knowledge about it.
ASRock provides users with a good amount of frequency tweaking options. Automatic CPU overclocking profiles allow frequencies of up to 4.7GHz (with a 4790K installed) to be selected, although the feasibility of such settings will be tied to a CPU's potential.
An extensive range of voltage and power settings can be adjusted in ASRock's Z97 UEFI BIOS.
Offset voltages can be set, or users can opt for manually-configured static levels.
ASRock allows users to select memory dividers for DRAM frequencies of up to 4GHz. That kind of multiplier is going to be impossible to reach for Haswell-based chips.
Timings can be adjusted via their own section and a tweaking tool.
Operation of the M.2 connector can be manually set via the UEFI, if such an approach is preferred.
Drives connected to the SATA and M.2 interface can be accessed to toggle their hot-swap operation.
ASRock includes a number of convenient tools in its UEFI. Users can rapidly apply a number of system configurations and drivers can also be downloaded via the interface.
Three overclocking profiles can be saved to ASRock's Z97 UEFI. I would complain about three profiles being provided on an overclocking-orientated board, but the Z97 Extreme6's target audience is likely to find a trio of save points sufficient.
And if three is not enough, ASRock allows the named profiles to be copied to and from a USB flash drive.
A positive for ASRock is the interface's ability to scan through a USB drive to search for a BIOS file. Users simply select the Simple Flash tool and the board scans until a BIOS file is found and can be used to update the revision.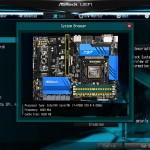 System Browser is a convenient tool that displays which components are connected to the motherboard. The tool is particularly useful for troubleshooting purposes; if, for example, a memory stick is faulty, it will not show up in the System Browser window.
ASRock includes a balanced set of voltage, temperature, and fan speed readings on its HWMonitor page. Operation of the CPU and chassis fans can be set to pre-defined configurations via the BIOS, or a user can create their own profile.
The method for creating a fan speed profile is far less intuitive than the approach adopted by some competitors; ASRock forces users to select from a list of numbers whereas some other vendors allow points to be toggled on a graph which shows the fan speed curve.
Overall, ASRock UEFI's implementation is a positive one. While it's not quite at the same level as Asus' implementation, it does have its merits in comparison to the interfaces used by MSI and Gigabyte. The System Browser tool is useful and a high resolution is most certainly welcomed. The interface is also relatively easy to navigate and does not swamp users with information.
There are a few layout adjustments that we would welcomed. Placing the saving points for settings profiles on the OC Tweaker page would make sense. We weren't admirers of the basic fan profile creation method, either.
But as far as UEFI implementations go, ASRock's updated Z97 offering is clearly one of the better options. I would go as far as saying it is my second favourite interface to use, bested only by Asus' near-perfect implementation.
Software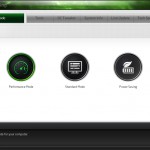 ASRock's A-Tuning software gives users access to their system's operating state and a number of convenient tools. Performance, Standard, or Power Saving modes can be applied via F-Stream. We noticed that the Standard mode would result in slightly decreased benchmark results compared to the Performance option.
Overclocking settings and parameters can be tweaked via the software, in an OS environment.
Readings relating to system parameters such as voltages, frequencies, and fan speeds are outlined in the System Info page. ASRock also puts its convenient Board Explorer tool in the A-Tuning software package.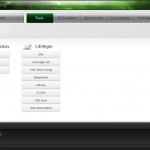 ASRock's main motherboard tools can be accessed via A-Tuning. We did notice the omission of XFast USB which seems to have been terminated by ASRock. This is a disappointment as we found the speed-boosting software to work excellently and provide noticeable results.
ASRock includes a wide array of tools that have a range of duties, from tweaking fan speeds to reading storage drive health to setting up a RAM drive. We are glad to see that the OS-based method of tweaking fan speeds is far more user friendly than the UEFI-based alternative.
ASRock also includes 1-year subscription to Orbweb.ME (worth $50) which will be welcomed by users who opt for cloud storage.
The Haswell micro-architecture in Devil's Canyon processors is just the latest Intel CPU architecture to see many of the critical system operations handled by the processor. As such, benchmarking a motherboard becomes more of a test to certify that the part operates correctly and meets the anticipated performance levels.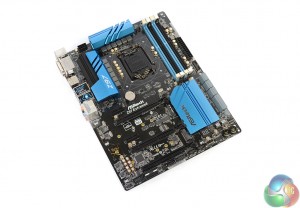 We will be outlining the ASRock Z97 Extreme6 motherboard's performance with the Core i7 4790K CPU at its stock frequency (4.4GHz due to forced turbo). Overclocked performance will be outlined later in the review.
Performance of the ASRock Z97 Extreme6 motherboard will be compared to that of two other Z97 parts. All motherboards are partnered with identical hardware and software, so the results are directly comparable.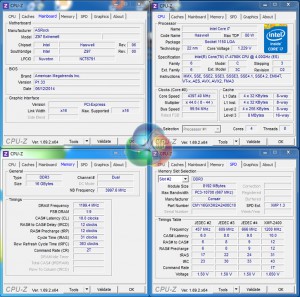 By default, the ASRock Z97 Extreme6 motherboard does not apply multi-core turbo (MCT) when XMP is enabled, which is unusual for a mainstream Z97 motherboard. We manually applied MCT in order to directly compare the performance differences between each tested motherboard. This will be displayed as the 'stock' setting.
Selecting the Performance mode in ASRock's A-Tuning software allows an accurate interpretation of the motherboard's stock performance to be provided. We tested the Standard mode, but its performance figures were slightly lower due to fluctuations between stock frequency and lower multiplier levels.
The stock settings for ASRock's board is similar to those of other parts that we have used our 4790K chip on. Stock voltage is set as 1.230V, with it rising up to 1.256V under full load.
We are glad to see that ASRock is using a more sensible voltage for its MCT setting than it did for previous motherboards and the 4770K CPU.
The 1,170MBps-capable Samsung XP941 M.2 SSD will be used to test the speed of ASRock's Ultra M.2 connection.
We use Plextor's popular M6e 256GB M.2 SSD to test the speed of the Z97-fed M.2 connection. We reviewed the 512GB Plextor M6e (and its PCIe x2 adapter card) HERE.
We also use a Kingston M.2 SATA device to confirm the motherboard's operation with M.2 SATA connections.
Z97 Motherboard Test System:
Compared Z97 Motherboards:
Software:
ASRock Z97 Extreme6 BIOS v1.33.
Catalyst 14.4 VGA drivers.
Intel 10.0 chipset drivers.
Tests:

3DMark 1.3.708 – Fire Strike (System)
SiSoft Sandra 2014 SP2 – Processor arithmetic, memory bandwidth (System)
Cinebench R15 – All-core CPU benchmark (CPU)
WinRAR 5.10 – Built-in benchmark (CPU)
HandBrake 0.9.9 – Convert 4.36GB 720P MKV to MP4 (CPU)
ATTO – SATA 6Gbps, USB 3.0, M.2 transfer rates (Motherboard)
RightMark Audio Analyzer – General audio performance test (Motherboard)
Bioshock Infinite – 1920 x 1080, ultra quality (Gaming)
Metro: Last Light – 1920 x 1080, high quality (Gaming)
Tomb Raider – 1920 x 1080, ultimate quality (Gaming)
3DMark
We used 3DMark's 'Fire Strike' benchmark which is designed to be used on gaming PCs. We opted for the Normal setting, NOT the Extreme mode.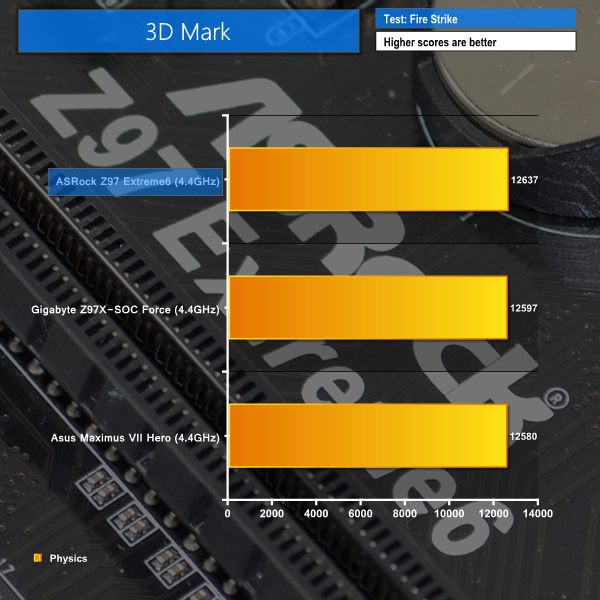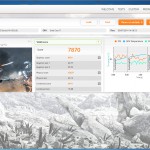 Sandra Processor Arithmetic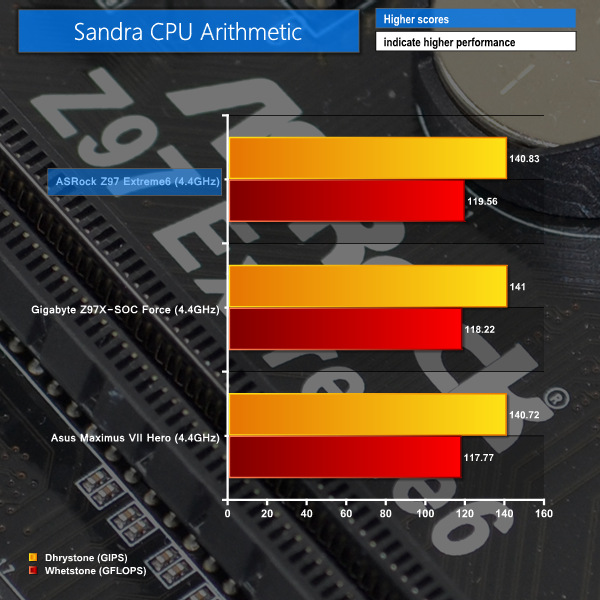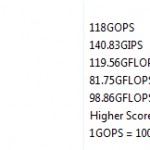 Sandra Memory Bandwidth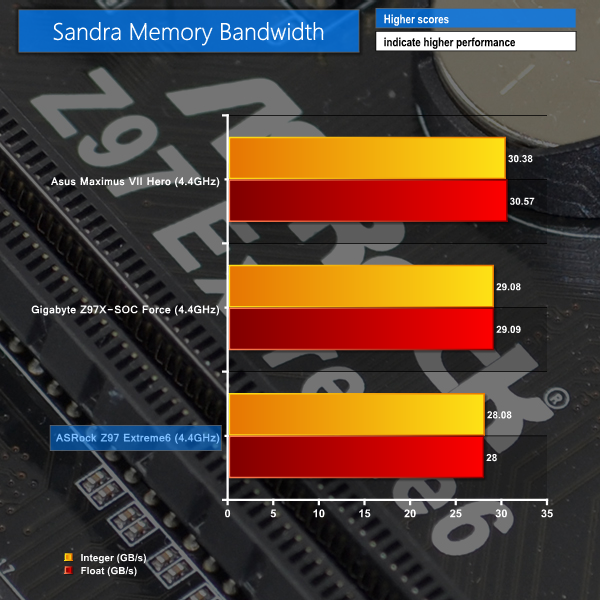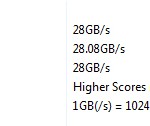 ASRock's Z97 Extreme6 makes a positive start in our system-related benchmarks. Chart-topping numbers are displayed in the 3DMark and Sandra processor arithmetic benchmarks.
Memory bandwidth for ASRock's board is lacking in comparison to its competitors. Loose secondary timings are likely to be the cause of reduced memory bandwidth levels.
Cinebench
We used the 'CPU' test built into Cinebench R15 .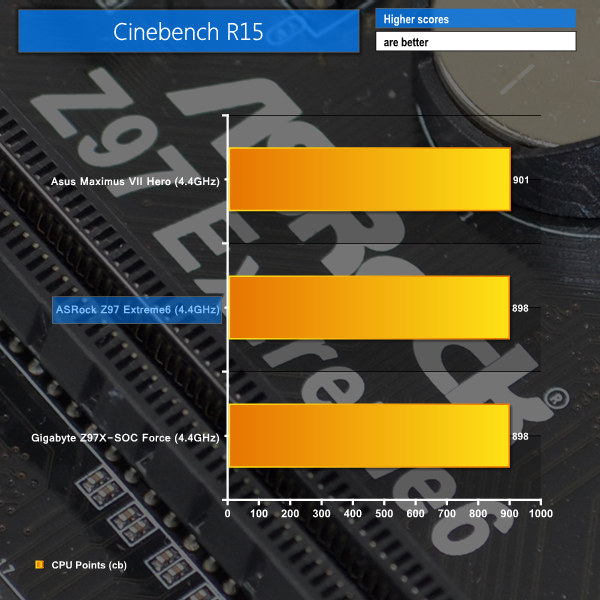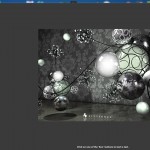 WinRAR
WinRAR's built in benchmark and hardware test can help us outline the performance differentials between each motherboard. We record the amount of data processed after a 30-second run.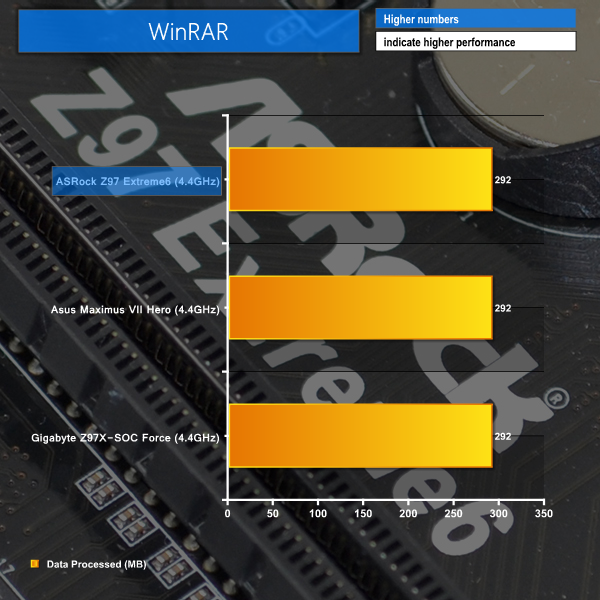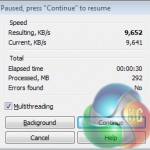 Handbrake Conversion
We measured the average frame rate achieved for a task of converting a 4.36GB 720P MKV movie to 720P MP4 format.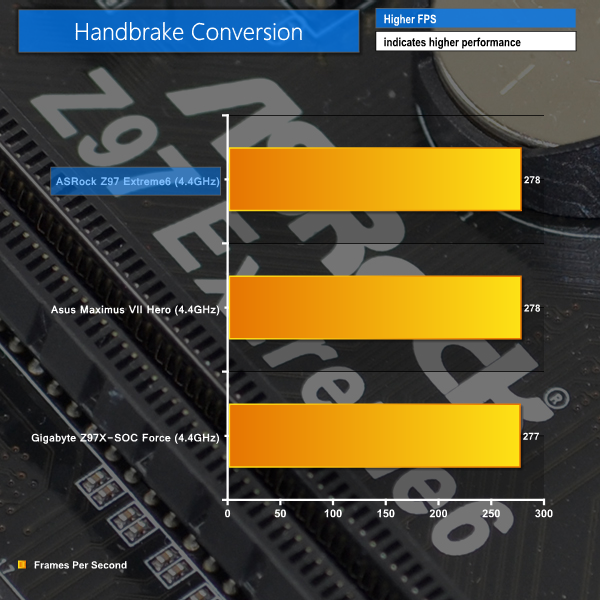 ASRock's motherboard continues its positive performance in CPU-heavy benchmarks. The Z97 Extreme6 is as fast as the other motherboards that we have tested with our 4790K processor.
Bioshock Infinite
We used the Bioshock Infinite demanding 'Ultra' setting and a 1920 x 1080 resolution to push today's gaming hardware. Our data was recorded using a section of the game, not the built-in benchmark.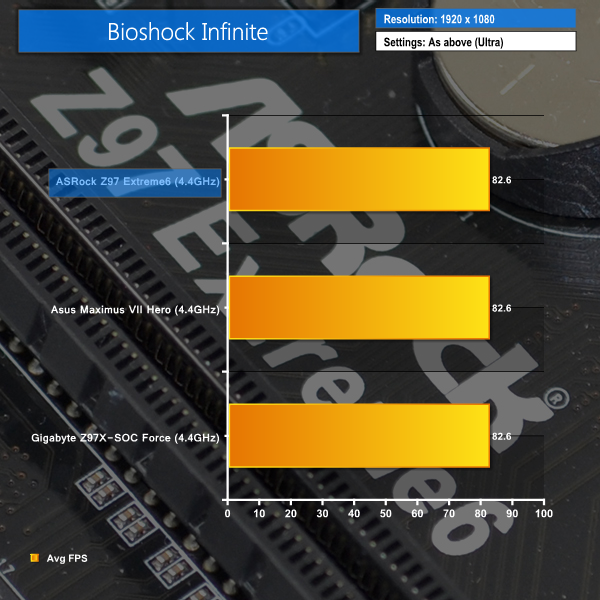 Metro: Last Light
We used a 1920 x 1080 resolution and the Metro: Last Light built-in benchmark set to 'High' quality to offer an intense challenge for the gaming hardware while also making playable frame rates a possibility.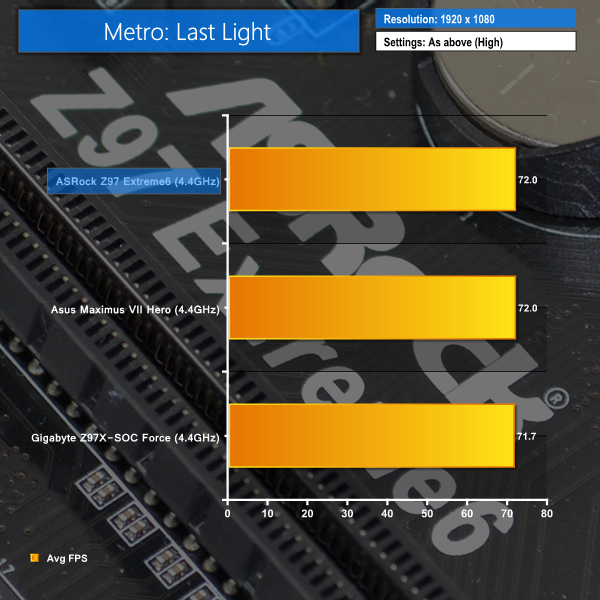 Tomb Raider
We used a 1920 x 1080 resolution and the Tomb Raider built-in benchmark set to 'Ultimate' quality.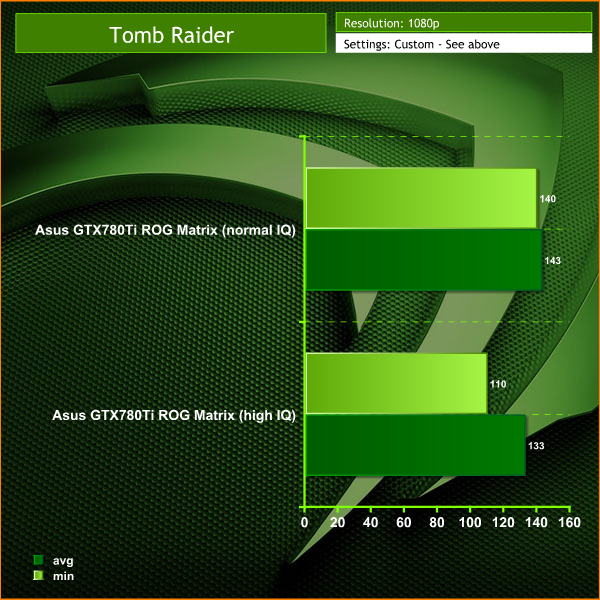 Gaming performance is almost identical between each Z97 board. ASRock's part does manage to muster up a couple of extra slithers of a frame in the Tomb Raider benchmark, although the results are almost close enough to declare a common tie.
SATA
For SATA 6Gb/s testing we use a Kingston HyperX 3K (SandForce SF-2281) SSD.
Z97 SATA 6Gbps performance is as we would expect; a SATA-powered SSD will not be bottlenecked by the Z97 Extreme6.
SATA 6Gbps ports offered by ASMedia's ASM1061 controllers are significantly slower than the native connections. Such ports should be reserved for less speed-intensive storage requirements.
M.2 connector

We use Samsung's ultra-fast XP941 SSD to test ASRock's Ultra M.2 connection. Plextor's popular M6e 256GB M.2 SSD is used to test the speed of the Z97-based M.2 connection. We reviewed the 512GB Plextor M6e (and its PCIe x2 adapter card) HERE.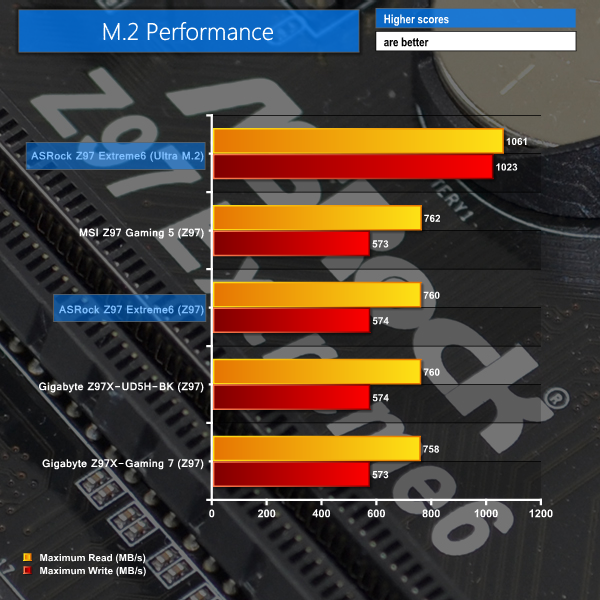 Providing a transfer rate of more than 1GBps, it is clear that ASRock has an impressive technology in Ultra M.2. For upcoming M.2 drives, the four-lane connection may be a smarter choice than Intel's bottlenecked two-lane, 10Gbps link.
We would not be surprised if many competing vendors used PCIe 3.0 x4-powered M.2 connections to provide fast storage connections on their motherboards. ASRock has proven with Ultra M.2 that a higher-than-10Gbps M.2 connection can be implemented with some smart engineering.
We can confirm that the Z97 Extreme6 motherboard's Z97-fed M.2 connection is perfectly compatible with M.2 SATA SSDs.
USB 3.0
We tested USB 3.0 performance using the Kingston HyperX 3K SSD connected to a SATA 6Gb/s to USB 3.0 adapter powered by an ASMedia ASM1053 controller.
USB 3.0 transfer rates of the Z97-powered ports are identical to other boards without UASP-activating software.
ASMedia ASM1042AE USB 3.0 ports aren't quite as quick as the Z97 alternatives, but they do help to increase a board's overall connectivity options.
Audio

We use RightMark Audio Analyzer (RMMA) to analyse the performance of the motherboard's onboard audio solution. A sampling mode of 24-bit, 192 kHz was tested.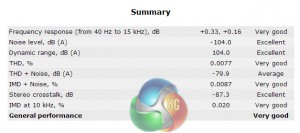 Based around a Realtek ALC1150 codec, TI NE5532 amplifiers, and Nichicon Fine Gold capacitors, ASRock's Purity Sound 2 audio system is able to deliver 'Very Good' audio performance, according to RightMark Audio Analyzer.
The noise level and stereo crosstalk performance of ASRock's Purity Sound 2 system on the Z97 Extreme6 is particularly strong.

Automatic CPU Overclocking: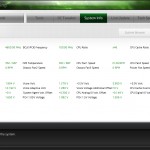 ASRock provides three automated overclocking settings for users with a 4790K processor. The profiles are:
4.5GHz on all-cores with a VCore of 1.230V.
4.6GHz on all-cores with a VCore of 1.280V.
4.7GHz on all-cores with a VCore of 1.400V.
The 4.5 and 4.6GHz profiles seem well-optimised, but the 4.7GHz option's 1.400V VCore is higher than I'd like to use for 24/7 operation.
We tested the 4.6GHz profile and found it to be perfectly stable.
Manual CPU Overclocking:
To test the ASRock Z97 Extreme6 motherboard's CPU overclocking potential, we first increased the CPU VCore to 1.30V, Cache voltage to 1.275V, CPU Input Voltage to 1.900V, and PCH voltage to 1.10V. We also enabled PLL overvoltage. The CPU cache ratio was set to 40x and LLC was set to level 1 (to maintain a constant voltage).
Setting voltages and parameters in ASRock's easy-to-use UEFI is a simple task. The clear layout makes overclocking an enjoyable experience.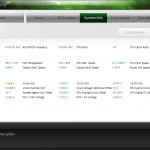 We managed to hit our chip's limit of 4.7GHz with our applied voltage levels. 4.8GHz proved unstable.
Voltage accuracy of ASRock's board was fair. HWMonitor told us the 1.328V was delivered to our CPU under load. An overshoot of 28mV with level 1 LLC applied is acceptable for a board of this market.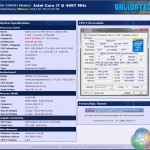 Our 4.7GHz validation can be viewed here.

We will outline the performance increases that can be obtained from using the ASRock Z97 Extreme6 motherboard to overclock our system. Our overclocked processor frequency was 4.7GHz and memory speed was 2400MHz.
As a performance comparison, we have included the overclocked results from Gigabyte's Z97X-SOC Force motherboard. The maximum overclocked configuration achieved with both boards was a 4700MHz (47 x 100MHz) processor frequency and 2400MHz CL10 memory speed.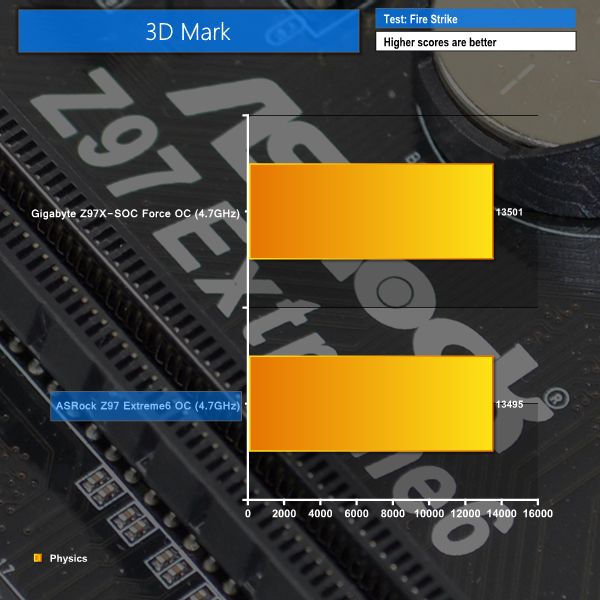 Using the Z97 Extreme6 to overclock our 4790K can deliver noticeable improvements in performance. Gigabyte's Z97X-SOC Force is slightly faster in Cinebench and 3DMark, while Bioshock Infinite results in a tie.
ASRock's Ultra M.2 connection uses four PCIe 3.0 lanes from an LGA 1150 CPU's total of sixteen. As such, populating the Ultra M.2 slot forces a graphics card's bandwidth to be dropped to PCIe 3.0 x8 (when a single card is used).
We ran our gaming benchmarks to observe what affect, if any, the reduced bandwidth had on graphics performance.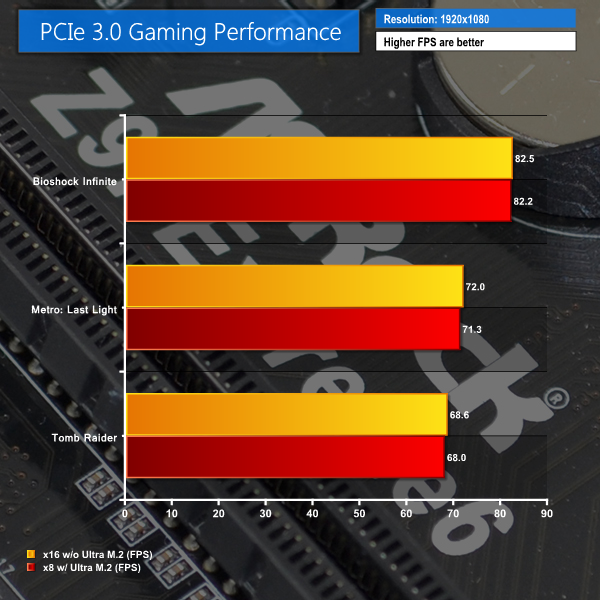 Going from a PCIe 3.0 x16 link to an x8 connection does have a slight impact on performance, but the reduced frame rate numbers are largely negligible.
The numbers shown in the chart are sacrifices that many people are going to be willing to accept in order to obtain the 32Gbps Ultra M.2 link.
We measured the power consumption with the system resting at the Windows 7 desktop, representing idle values.
The power consumption of our entire test system (at the wall) is measured while loading only the CPU using Prime95′s in-place large FFTs setting. The rest of the system's components were operating in their idle states, hence the increased power consumption values (in comparison to the idle figures) are largely related to the load on the CPU and motherboard power delivery components.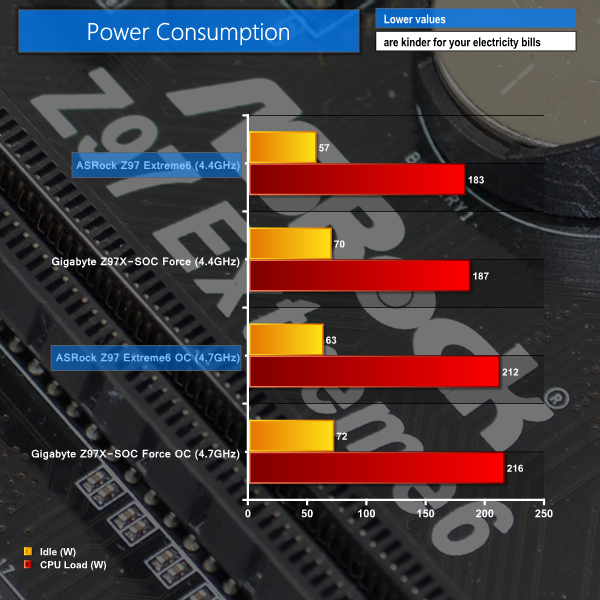 Power consumption of ASRock's controller-heavy Z97 Extreme6 is slightly lower than that of Gigabyte's overclocking-orientated Z97X-SOC Force. ASRock's twelve phase Super Alloy power delivery system seems to be an efficient one.
From additional connectivity and LAN controllers, to an enhanced audio system and the commendable 32Gbps Ultra M.2 connection, ASRock's Z97 Extreme6 is packed with worthwhile features.
Starting out with overclocking performance, ASRock's Z97 Extreme6 was able to take our 4790K to its limit. And with its twelve phase power delivery system, efficiency of the motherboard was positive.
Storage options and connectivity are where the Z97 Extreme6 shines. Ten SATA 6Gbps ports, Z97-fed 10Gbps SATA Express and M.2 connections, and up to ten USB 3.0 ports provide users with plenty of flexibility to expand their storage needs.
ASRock's 32Gbps Ultra M.2 connection is the Z97 Extreme6's shining feature. Using four PCIe 3.0 lanes from the CPU and offering theoretical transfer rates of up to 4GBps, the connection was a bold move by ASRock, but it clearly asserts its dominance over current, chipset-fed alternatives which are limited to 10Gbps.
It is only a matter of time before more motherboard vendors employ a similar storage tactic with their future products, and that's a big compliment to ASRock. Currently-available SSDs, such as Samsung's XP941, are bottlenecked by the 9-series chipset's 10Gbps storage connections but ASRock's Ultra M.2 gives them the high-speed link they need to flex their muscles.
Layout and aesthetics are positives for the Z97 Extreme6. ASRock's newly-adopted black and blue colour scheme is likeable and easy to match with other components. Layout is sensible and convenient for single- or multi-VGA users.
Priced at £137.99 from OverclockersUK, ASRock's Z97 Extreme6 finds itself in a competitive segment of the market where unique features can mean the difference between a sale. And to that point, ASRock's Z97 Extreme6 has its unique feature in the 'future-proof' Ultra M.2 interface.
ASRock opted for a feature-heavy approach with its Z97 Extreme6 motherboard. Storage options (including the unique Ultra M.2 connection) are packed to the brim, connectivity is positive, overclocking potential is strong, and the UEFI is of a high quality.
Dicsuss on our Facebook page, over HERE.
Pros:
32Gbps Ultra M.2 connection is a bold move that pays off.
Plenty of storage connectivity and expansion options.
Strong and efficient power delivery system.
Smart layout choices.
Aesthetically pleasing design.
High quality BIOS interface.
Cons:
Limitations with SLI and Ultra M.2 usage (although this is an LGA 1150 limitation).
KitGuru says: The well-balanced ASRock Z97 Extreme6 is a Must Have to mid-range users who demand a motherboard that does it all and provides expandability for the future.