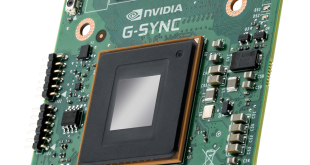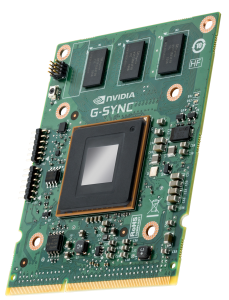 Today we review the highly anticipated Asus ROG Swift PG278Q. This 27 inch Nvidia G-SYNC monitor runs at WQHD 2560×1440 resolution, features a 144hz refresh rate and a 1ms (gtg) response time to cater to the most demanding gamer. The panel features a 'turbo' button to automatically select refresh rates of 60hz, 120hz and 144hz. The monitor is due for release very soon, and is already available on pre-order for £719.99 inc vat from Overclockers UK. As well as our usual technical analysis of the panel, today we partner the PG278Q with the ultra high end Asus GTX780Ti ROG Matrix graphics card. Does the PG278Q allow you to safely ignore the new slew of Ultra HD 4K panels for the forseeable future?
One of the major selling points of this new ASUS screen is the support for Nvidia's G-SYNC technology. G-SYNC has been designed to eliminate screen tearing – an unpleasant artifact that can rear its ugly head from time to time. We have covered this technology before in many of our news posts, but we will discuss it again briefly before delving into our main review.  Inside all G-SYNC capable monitors is the proprietary NVIDIA G-SYNC module which allows the monitor to synchronise to the output of the graphics card. Traditionally the graphics card had to synchronise to the monitor which could lead to unpleasant tearing in-game – most of us have experienced this at one time or another

ROG SWIFT PG278Q
Display: 27-inch WQHD 2560 × 1440 (16:9)
Narrow 6mm bezel designed for multi-monitor setups
Pixel Pitch: 0.233mm
Brightness: 350cd/m²
Display Colors: 16.7M
Refresh Rate: Over 120 Hz
Response Time: 1ms (GTG)
Connectivity: 1 x DisplayPort 1.2, 2 x USB 3.0 ports
VESA-wall mountable (100 × 100mm)
Special ASUS Features: GamePlus and 5-way joystick OSD navigation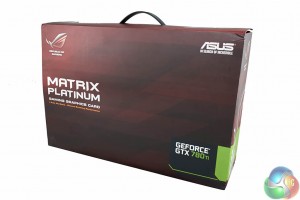 The Asus ROG Swift PG278Q 144hz G-Sync Monitor arrives in a large, full colour box. We actually received two samples by accident, which was amusing. The box measures 756mm x 456mm x 300mm (WxHxD) and weighs 10.5KG. If you want to use Nvidia's GSYNC technology then you need a minimum of an Nvidia GTX650Ti Boost. You can get more detailed information on support from this link on Nvidia's website.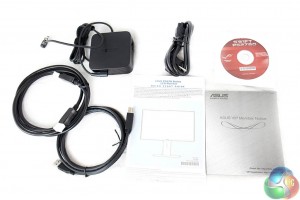 The bundle is excellent. It includes a quick start guide on the product, warranty card, a software disc, power cable and external 90w power adapter, DisplayPort cable and USB cable.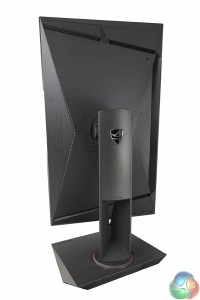 Asus ship the ROG Swift PG278Q 144hz G-Sync Monitor completely assembled – in portrait mode. I couldn't help but feel grateful as I always hate hunting for screwdrivers to assemble some poorly designed monitor stand system. The monitor measures 619.7 mm x 362.96 mm 65.98 mm (WxHxD) and weighs around 7KG.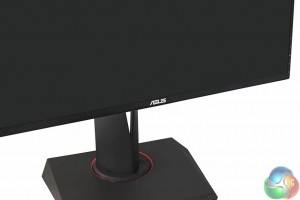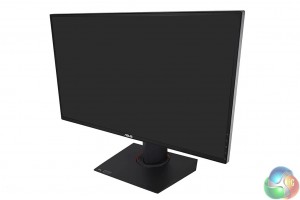 This really is a great looking screen. The angular design ethic ensures that it is exudes a very futuristic appearance. The PG278Q has a super narrow 6mm bezel design – which should translate well if you want to use several side by side. If you want to run a triple screen G-SYNC setup then be aware you will need three Nvidia graphics cards for the surround setup.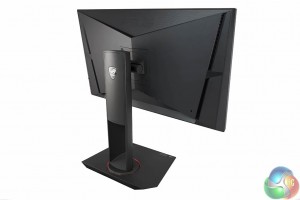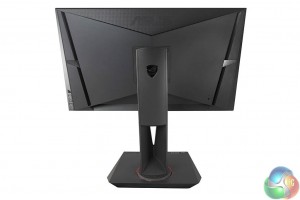 First impressions of the monitor are very positive. It is built to the standards we expect from a premium Republic Of Gamers product – it doesn't flex or squeak when moved around or when the panel is rotated between landscape and portrait modes.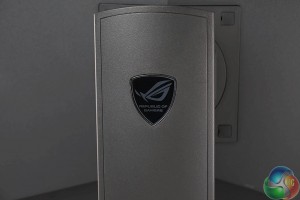 The Republic Of Gamers badge is visible from the rear – another nice touch which many people may feel is unnecessary as you aren't often looking at the rear of the screen! The panel is also VESA wall mountable (100 x 100mm).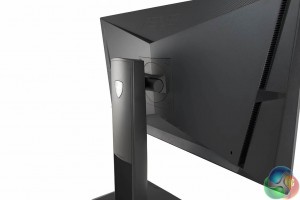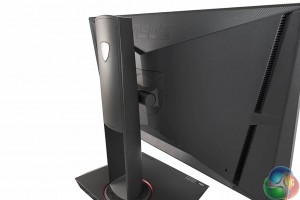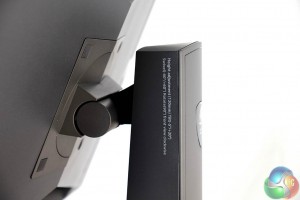 The sturdy stand deserves a little discussion. Height adjustment is possible – across a range of 120mm, by simply pulling or pushing up and down on the screen. It can be tilted (+20° ~ -5°), swiveled (+60° ~ -60°) and pivoted (90° clockwise).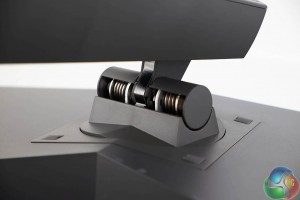 This picture shows the fantastic support system ASUS have in place – this spring is deliberately over engineered to handle long term abuse. It is one of the strongest stand systems we have seen.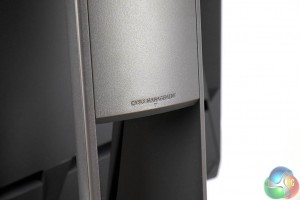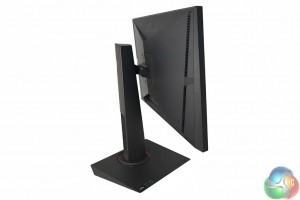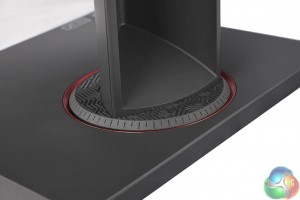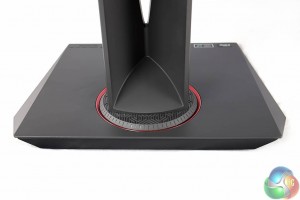 The arm of the stand has a built in cable management system. You feed in the cables from the bottom and up through the top – to keep them basically hidden from view when you look at the screen from the front.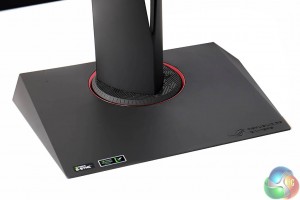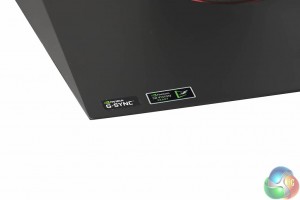 This is the first Nvidia G-SYNC capable monitor we have reviewed and ASUS are keen to highlight the technology by including stickers on the base of the stand.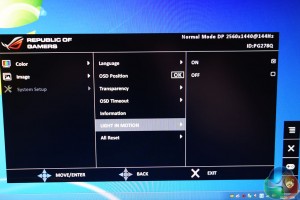 What is the Light In Motion option?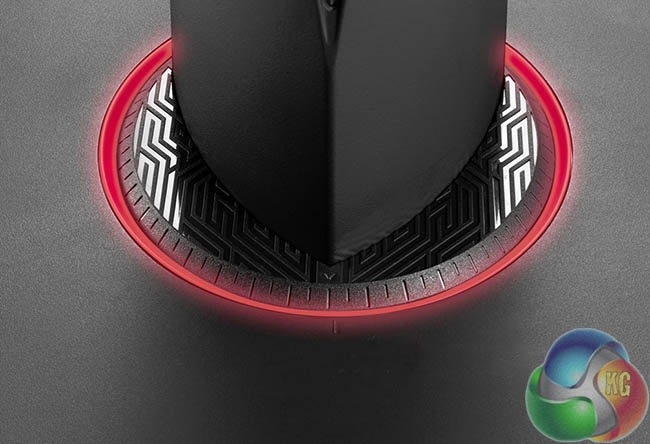 Asus have built in a rather cool looking pattern into the base which reminded me of the dramatic visuals in the latest TRON movie. This LED glows red when turned on.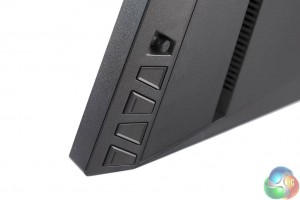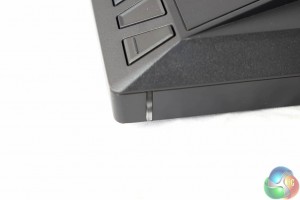 Asus have integrated the interface panel on the side of the screen. This is angled, so it isn't directly on the back of the screen. This is one of the best menu interface systems we have seen to date.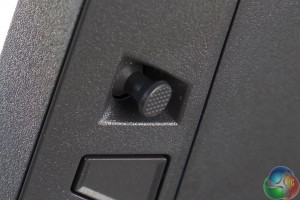 At the top of the menu panel is a joystick. We like to call it a 'nipple' (we are kinky like that) – it really is fantastic to play with. This 5-way OSD navigation system is a pleasure to use and much better than the panel incorporated into the ASUS PB287Q which we reviewed in May.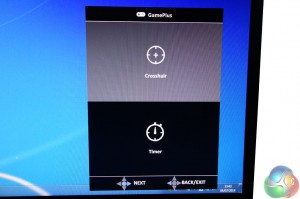 Underneath the nipple (erm, Joystick) … looking like they belong on the control panel of an alien space ship, are four angular buttons. The top button is for Exit, second button is for Gameplus, third button is the Turbo Key to switch between 60hz, 120hz and 144hz modes. The bottom button is for powering the screen on and off. The GamePlus feature offers four different overlaid crosshair targets to use during the game. The on screen timer can be positioned top, middle or bottom of the left hand edge of the screen. If we wanted to pick holes, we could say that ASUS could have placed the power button in a different position to avoid accidental activation. Thankfully, due to the large size, it is easy enough to avoid.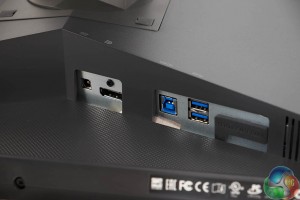 At the back of the screen is the connector panel. From left to right: power adapter connector, DisplayPort connector, USB 3.0 upstream port, dual USB 3.0 hubs.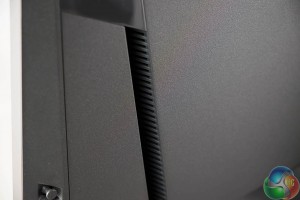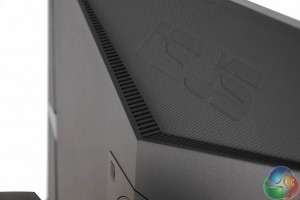 The angular design at the rear of the screen is not just for looks. If you study closely you will notice a venting system.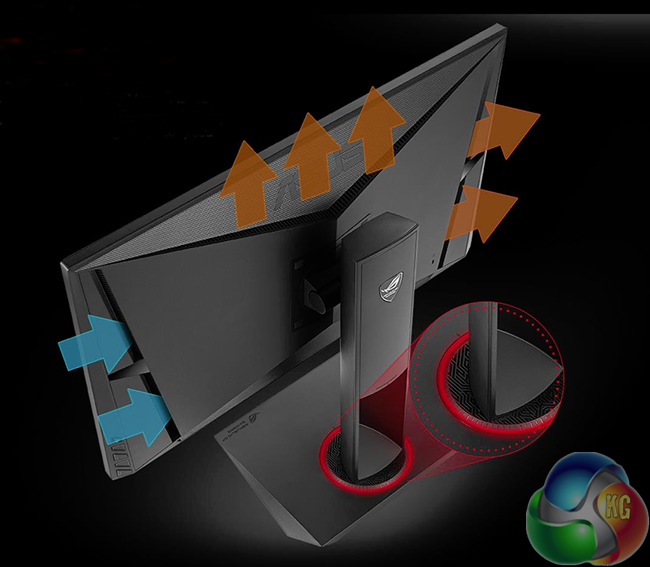 These vents at the rear of the screen pull in cool air from the right side (left in the image above), through the center section – cooling the circuitry. Warm air is then expelled out the top and left sides of the panel. We didn't notice the screen getting hot at all during the last couple of days testing, but it may be a good feature for very warm climates. On this page we present some high resolution images of the product taken with a Fuji XT1 and a Sigma SD1 camera. These will take much longer to open due to the dimensions, especially on slower connections. If you use these pictures on another site or publication, please credit Kitguru.net as the owner/source.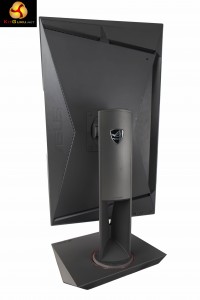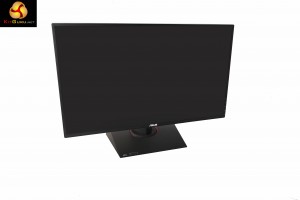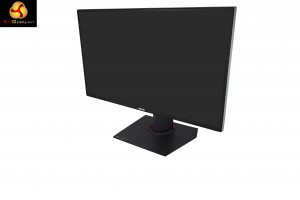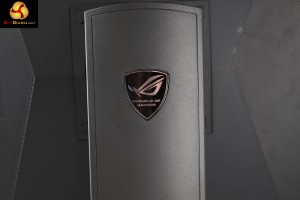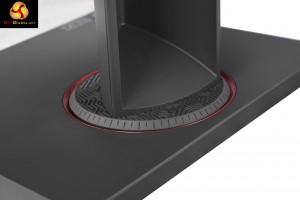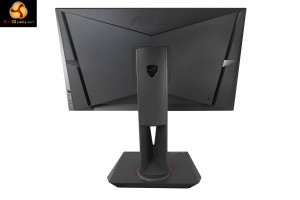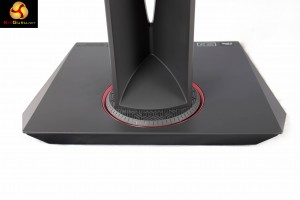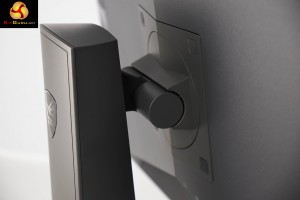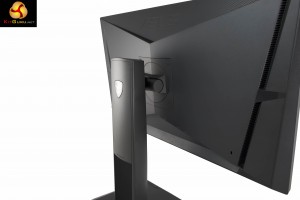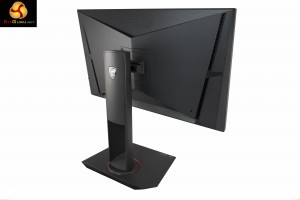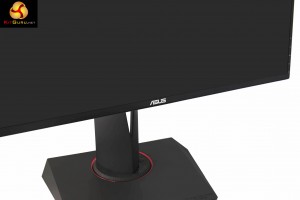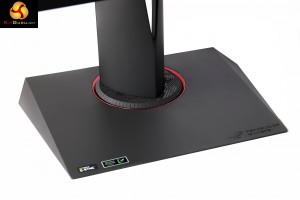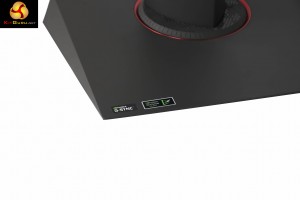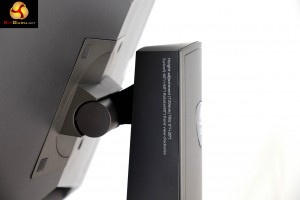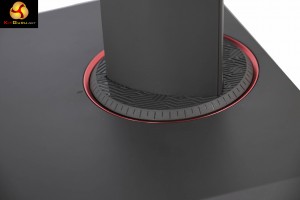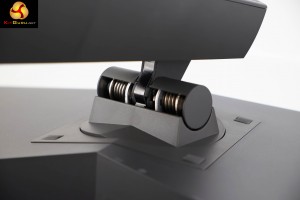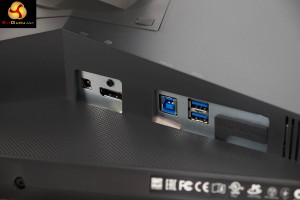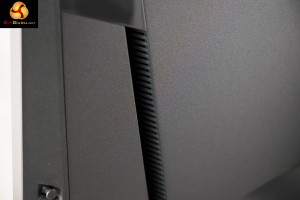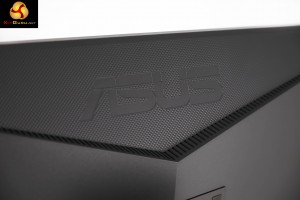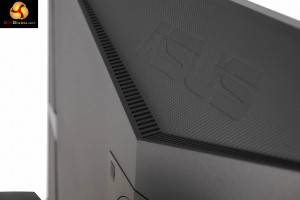 It is important not to forget that to achieve a good gaming experience at 2560×1440 with a constant 144hz frame rate will require a beefy graphics solution. We don't technically need to be gaming at a constant 144hz – but for the purposes of this article we wanted to try and power the monitor consistently at the maximum refresh. An advantage to G-Sync is that obviously you still get smooth, tear-free gaming at any frame rate. Asus suggested they send over their high end GTX780Ti ROG Matrix card, which is available from Overclockers UK for £619.99 inc vat. It is out of stock everywhere right now, but more should be due in soon. We need to point out that while this isn't a full KitGuru review of the graphics card – we felt it was worth looking at the hardware before we run some game tests when paired up with the new Asus ROG Swift PG278Q 144hz G-Sync Monitor.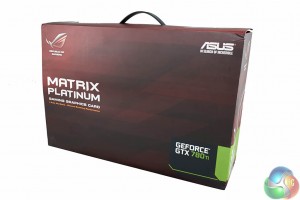 The graphics card arrives in a red Republic Of Gamers styled box with just the name visible on the front.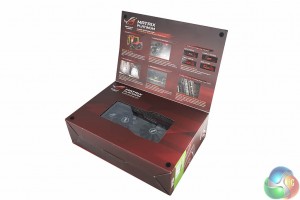 The box opens up to present the card behind a tough plastic cover. Asus focus on the many key selling points of this particular graphics card.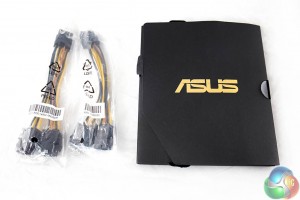 Our sample had been around the block a little, so I am not sure if this is the full bundle you are likely to receive with the retail version of the card. Just a couple of power converter cables and literature in the box.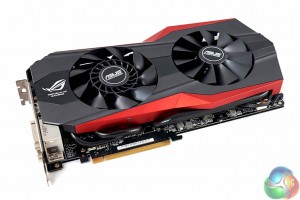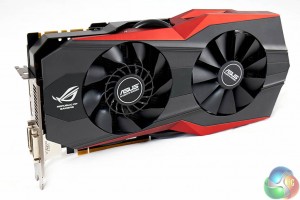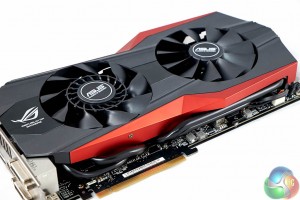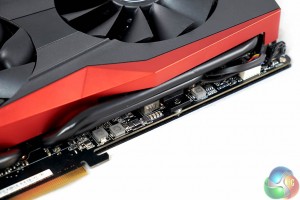 The GTX780Ti ROG Matrix is certainly a looker. The metal red and black cooler is both heavy and beautifully finished.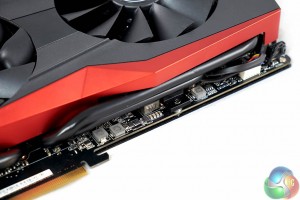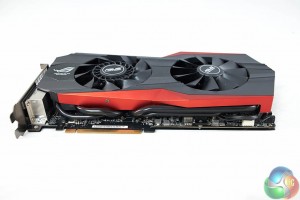 Yes, they have even painted the heatpipes black to match the colour scheme. First time (in memory) we have seen a company do this – fantastic!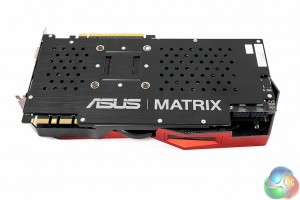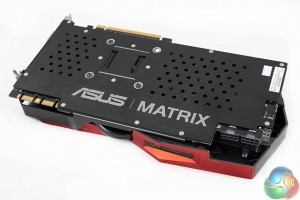 The card ships fully equipped with a metal backplate. This will offer additional cooling while protecting the PCB against damage.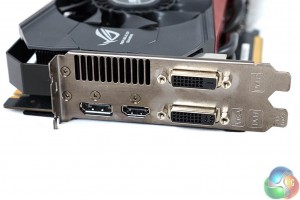 Connectivity is pretty much perfect. No fiddly 'mini' headers – just two Dual Link DVI connectors, alongside a full sized HDMI and DisplayPort connector.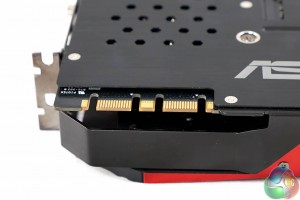 Two SLi connectors, if you want to push the frame rates even higher.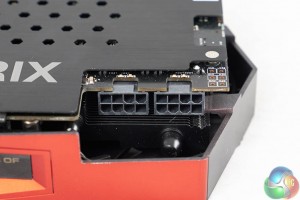 The GTX780Ti ROG Matrix takes power from two 8 Pin PCIe connectors, shown above. The first header on the left is actually rather difficult to work with, as it is recessed and very close on two sides to the metal backplate.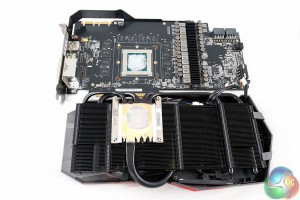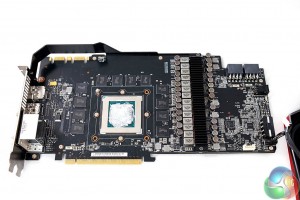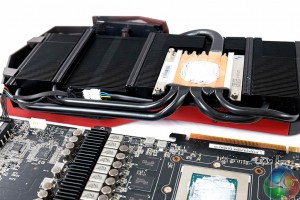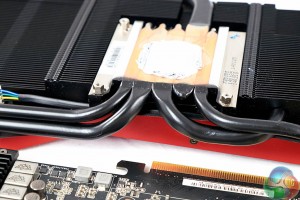 Asus are using a hefty heatsink and our close up shots show how the copper heatpipes have been treated with black heat resistant paint. Five very thick heatpipes run from both sides of the copper base into the multiple blocks of aluminum fins – which are also painted black. Asus are using 3GB of high grade SKHynix memory.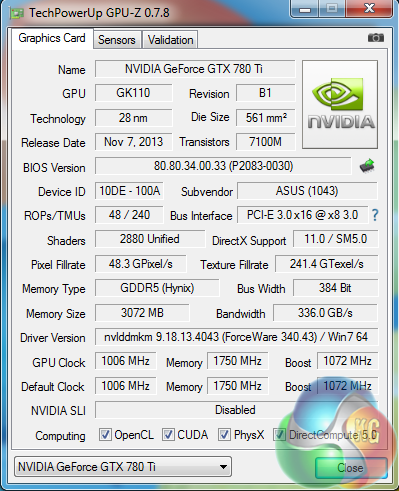 A GPUz overview of the Asus GTX780Ti ROG Matrix. The GK110 core is built on the 28nm process and has 48 ROPs, 240 Texture units and 2880 Cuda Cores. The core is overclocked to 1,006mhz and the 3GB of GDDR5 memory runs at 1,750mhz (7Gbps effective).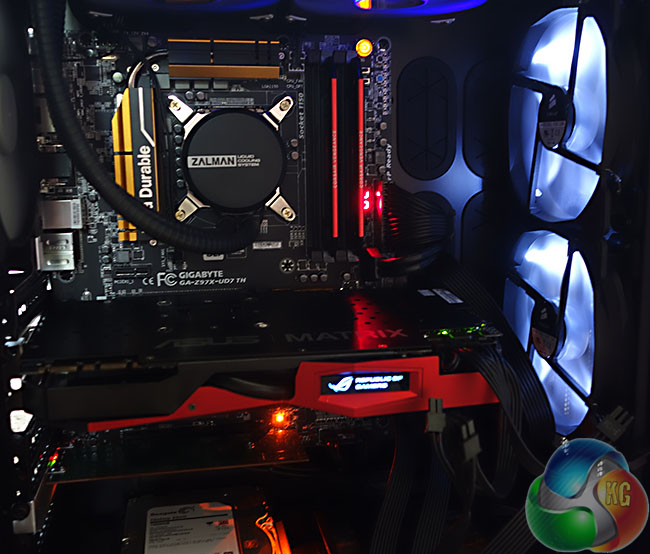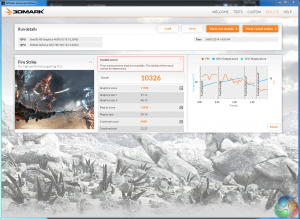 We are using our new KitGuru Test rig, built to our specifications by DINOPC. You can see the hardware breakdown of this system over HERE. When partnered up with the ASUS graphics card, the system scores 10,326 points in the latest version of 3DMark. The card itself scores 11,738 points in the graphics test – which gives a good indication of the power on tap.On this page we present some high resolution images of the product taken with a Fuji XT1 and a Sigma SD1 camera. These will take much longer to open due to the dimensions, especially on slower connections. If you use these pictures on another site or publication, please credit Kitguru.net as the owner/source.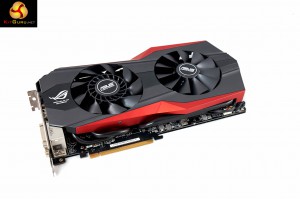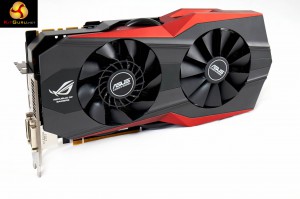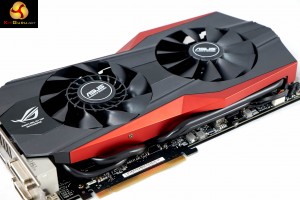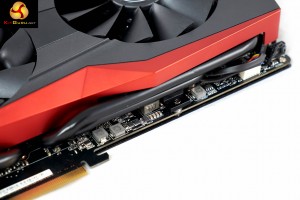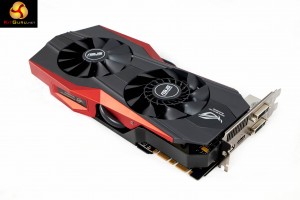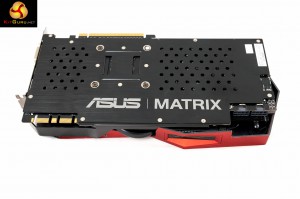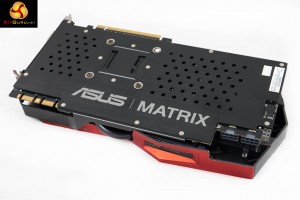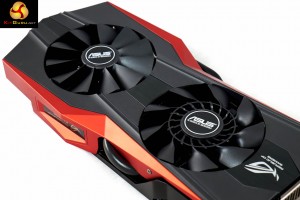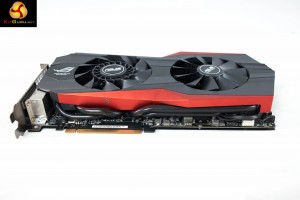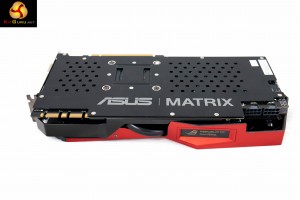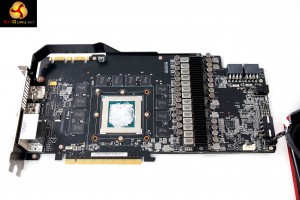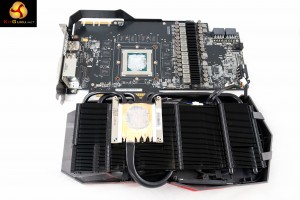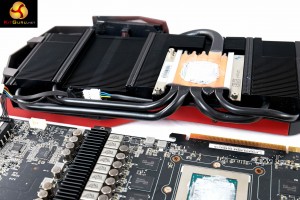 We installed the latest Nvidia beta drivers from the official website – version 340.43.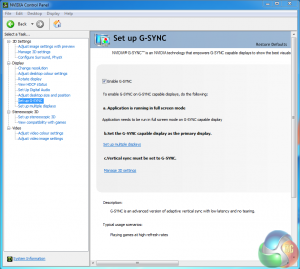 After the initial install, we loaded the driver to check the 'Set up G-SYNC' panel. It was already enabled. We went into the Manage 3D Settings and checked in the Vertical Sync options that G-SYNC was selected.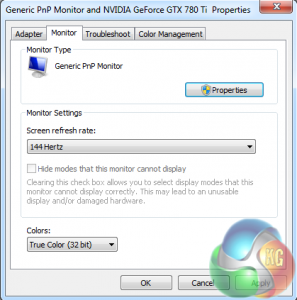 A double check of the Windows display options, highlighted that 144hertz was enabled by default. We only tested today at the 144hz setting in 2D. Our 3D Vision glasses stopped working just before we started to test the screen and we have been unable to get a replacement pair in time. The first game we decided to test with was the latest version of Tomb Raider – a great game both to play and look at. For the purposes of this specific article we used the built in game benchmark. Remember we want to try and get a constant frame rate of 144 fps to match the maximum 144hz of the screen. This is not going to be easy at 1440p., even with an overclocked GTX780Ti. An advantage to G-Sync is that obviously you still get smooth, tear-free gaming at any frame rate. It is worth pointing out that thanks to Nvidia G-SYNC – there is no stuttering evident when the frame rate drops. We did test with some games that fluctuated between 120 frames per second and 60 frames per second. There was no indication of visible and distracting 'tearing'. Incidentally you can still use the Asus ROG Swift PG278Q with AMD video cards, but G-SYNC is not supported.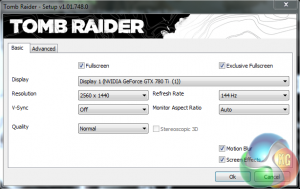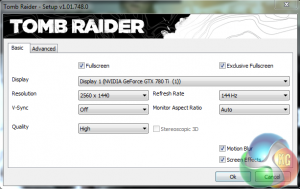 We first tested with the 'HIGH' quality preset, and then the 'NORMAL' quality preset.
At the High image quality preset, the frame rate dropped in the more intensive sections of the benchmark to around 110 frames per second, with an average of 133 frames per second. Reducing the image quality to the Normal quality preset helped to hold the frame rate very close to a constant 144 frames per second. Next game to test was the latest version of GRID – entitled GRID Autosport. This was released a couple of weeks ago.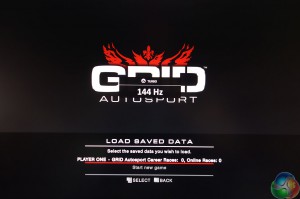 The ULTRA and HIGH settings were certainly usable, but frame rates dropped well below 110 fps. It didn't effect the perceived smoothness of the game, but we wanted to ascertain the settings we need to use to get an almost constant 144fps – matching the maximum hz of the Asus ROG Swift PG278Q.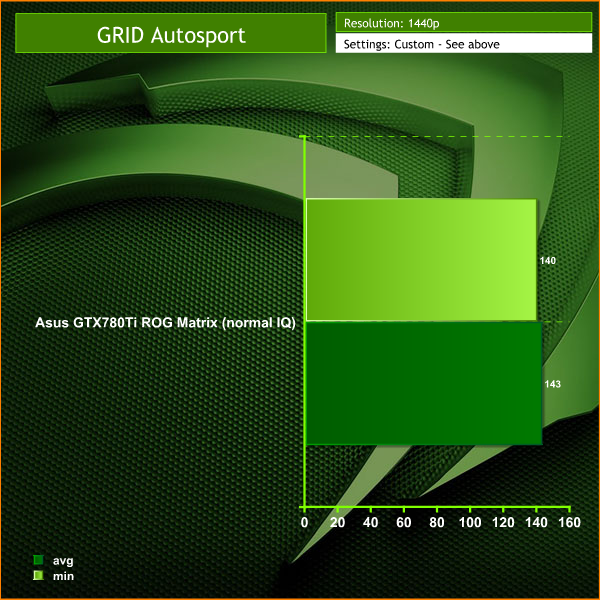 The normal image quality setting worked best if we wanted to hold the frame rate at the maximum of the panel. At these settings, the engine was running at almost a constant 144 frames per second. The game experience was fantastic. When we cranked the Anti Aliasing to 8 times and the image quality to maximum, the frame rate dropped to between 60-100 frames per second. Motion was still smooth and we saw no signs of artifacting or stuttering. To test today we are using a LaCie calibration gun along with specific software to accurately measure the readings. We measured Gamut out of the box and the PG278Q returned a reading of 2.19 which is excellent. We manually adjusted the gamma to 1.8 and the panel returned a 1.8 result. Can't get much better than that. The Asus ROG Swift PG278Q is an 8 bit WLED/ TN Panel, finished with a non glare coating. Viewing angles rated at close to 170 degrees horizontally and 160 degrees vertically. Not as good as a high grade IPS panel, but this is to be expected. The DisplayMate 64 step Grayscale test returned a very good result, although one step was missing. Surprisingly, the Asus ROG Swift PG278Q 144hz panel shipped in a very good state from the factory. We didn't make many changes to the 'out of the box' configuration, just some minor adjustments to the colour balance. Images produced were sharp, vibrant and clean from noise. 1080p content rendered very well, and Bluray movies looked fantastic. Panel linearity rated as good with some minor deviation at the edges close to the bezel. This was slightly more prominent at the bottom corners than the top corners. Its not an issue really and many people wouldn't even notice it. Gradients are reproduced smoothly with only minor banding noticeable. The panel is rated with a 1ms GTG (gray to gray) refresh, ideal for the hardcore gaming audience.  We played a variety of games from Far Cry 3 to Wolfenstein and didn't notice any artifacting at all. We asked a local clan member to test the screen out for a few hours and he said it was 'perfect' for his fast action Battlefield 4 sessions. As we mentioned earlier in the review, to maintain 144 frame rates matching the panel at the full refresh calls for some powerful hardware. Thanks to Nvidia G-SYNC, if the frame rate dives under 100 frames per second, it doesn't show as tearing or stuttering at all – the monitor will synchronise to the output of the graphics card. That said, if you want to hold a frame rate of 120-144fps at 1440p it will require a GTX780Ti. To maximise the image quality settings in some of the latest Direct X 11 games we tested then two of them in SLi would be ideal, albeit rather expensive. If you want to run a triple screen GSYNC setup then be aware you will need three Nvidia graphics cards for the surround setup.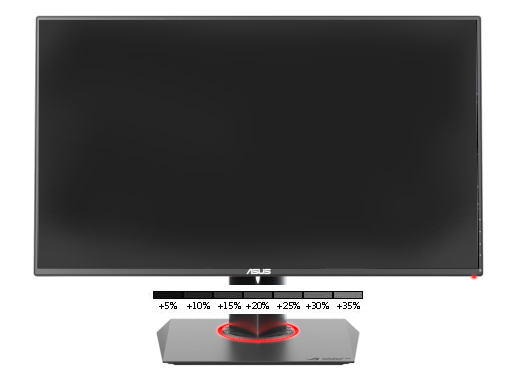 Black Definition rates above average and we recorded light leakage across the full width of the panel, rising to around 20% on the extreme bottom corners. Under real world conditions this is not that easy to notice, although if you are hyper critical the eye may be drawn to it. I have to say, I am more critical of these issues when viewing a massive 55 inch+ high definition television set, rather than a smaller 27 inch computer monitor. If you run with higher brightness settings this issue becomes more noticeable, but it is not really practical to do so. Contrast levels are good, rated at a maximum of 1000:1. We didn't need to push this higher than the default out of the box settings to be honest, which is excellent. The black in the three quarter range are actually better than those on the AOC and ASUS 4K monitors we tested recently. These results are very strong for a TN screen.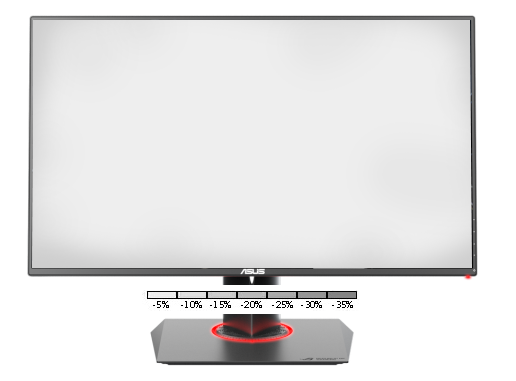 White purity is excellent, with the corners of the screen showing a reading around -12% and rising to around -16% in the extreme edges. This is well above average. It is worth pointing out that this can vary between panel to panel, even in the same batch on the production line. In real world terms, the Asus ROG Swift PG278Q 144hz G-Sync Monitor delivers clean, bright images without any noticeable bias. As far as TN screens go, this is about as good as we have seen. As with most TN panels, if you are a colour critical photographer or designer who needs completely accurate reproduction then this is not the kind of screen you should really be looking at. Asus make their Pro-Art screens exactly for this kind of environment.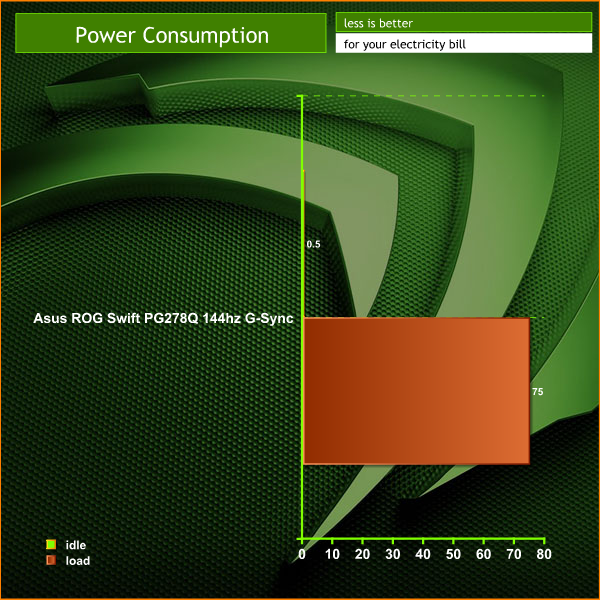 The Asus ROG Swift PG278Q 144hz G-Sync demanded around 75 watts of power after we calibrated it. The Asus Republic Of Gamers Swift PG278Q 144hz G-Sync is one of the best all round monitors we have tested in a very long time. Nvidia's G-SYNC is a very welcome addition and in real world terms it helps removes any sign of tearing and stuttering. We have been inundated with a slew of impressive Ultra HD 4K monitors in recent months and while the new ASUS PB287Q is a great 4K screen at a bargain price point, I would take the ROG Swift PG278Q any day of the week – even though it 'only' has a 1440p resolution.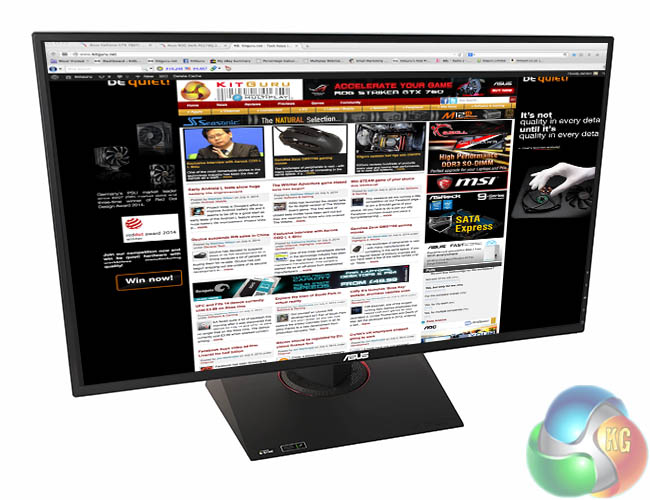 While it is difficult to get excited about unboxing any monitor, first impressions of the Asus ROG Swift PG278Q are extremely positive. The monitor ships completely pre-assembled and the build quality is exceptional, apparent on initial inspection. Republic Of Gamers products have sometimes fallen a little short of the mark, but the PG278Q shows that ASUS can still manufacture products engineered to the highest possible standards. The 'smart air' venting system on the rear of the screen is inspired. Image quality is pretty much as good as we could expect from a Twisted Nematic (TN) panel, especially white purity – which scores in the top 5% of TN panels we have tested. We should mention the purity and saturation of the full colour gamut won't match the best IPS screens available under £1,000, however as a high grade gaming screen the PG278Q is truly proficient. At 2560×1440, with image quality set to the limits in the latest Direct X 11 games it is going to prove difficult to hold the frame rate between 120-144 consistently. As we highlighted in our review today, a single overclocked GTX780Ti was able to hold the frame rate at 144 (@1440p), as long as some image quality setting compromises were made. Two GTX780 Ti's in SLi would be the ideal partner for this monitor – particularly if you wanted to avail of the 144hz option at the native 1440p resolution. Positively, Nvidia's G-SYNC does cope well with rapidly fluctuating frame rates and while everyone will perceive image motion differently, we noticed very little reduction in motion smoothness when frame rates dropped to between 70 and 100. That said, I have to admit that racing games do look spectacular if you have the hardware capable of holding steady 120+ frame rates. Depending on the system you have available and the frame rates you want to achieve, some experimentation with image quality settings will be required. In closing, we have no hesitation in giving the Asus ROG Swift PG278Q 144hz G-Sync Monitor our MUST HAVE award. Gamers who require the smoothest frame rates and have yet to jump into the Ultra HD 4K sector will find this screen will fulfill most, if not all of their desires. You can pre-order now from Overclockers UK for £719,99 inc vat. Discuss on our Facebook page, over HERE. Pros:
Super smooth motion at the highest settings.
well thought out interface system – we love the nipple/joystick system.
build quality.
strongest, most versatile monitor stand system we have seen.
very good 'out of the box' setup.
Cons:
The cost will be too prohibitive for many.
AMD users will need to buy Nvidia hardware to take advantage of G-SYNC.
Be prepared to invest in expensive graphics hardware if you want consistent 100+ frame rates at 1440p in the latest DX11 games.
Only $799 in America but £720 in UK ($1235).
Kitguru says: A jaw dropping monitor that will surely be one of this years biggest luxury high end sellers.