Deepcool has provided enthusiast PC builders another great option for closed-loop liquid cooling in the Captain 240X all-in-one CPU cooler. The Captain 240X is entirely designed and built by Deepcool and not just another rebranded Asetek unit, which proves the Deepcool R&D team know how to build a high-quality and high-performance product.
The Deepcool Captain 240X utilises some of the design features of the company's Castle 240EX AIO which we reviewed earlier this year. In our opinion, this is a good move on Deepcool's part as the Castle 240EX performed admirably. The Captain 240X retains the radiator design featuring patented Anti-leak technology and the same high static pressure TF120 S fans as the Castle 240EX.
Since the two coolers share components, they both produce very similar results in terms of thermal dissipation performance and noise levels. Our CPU cooler test bench is equipped with an Intel Core i9-9900K which is notorious for its high running temperature, especially when overclocked. However, this didn't faze the Deepcool Captain 240X at all. In fact, it managed to keep CPU temperature well under control where other, more popular CPU coolers have struggled.
In terms of appearance, the Captain 240X is overall visually pleasing. Its radiator and fans are all black so fit in well with the majority of hardware. While the pump housing may look a little more over styled than some others on the market, it's not offensive and the minimal RGB lighting should be enough to please even the most hardened RGB enthusiasts without being too outlandish. For those who prefer an RGB free setup, it can always be turned off completely.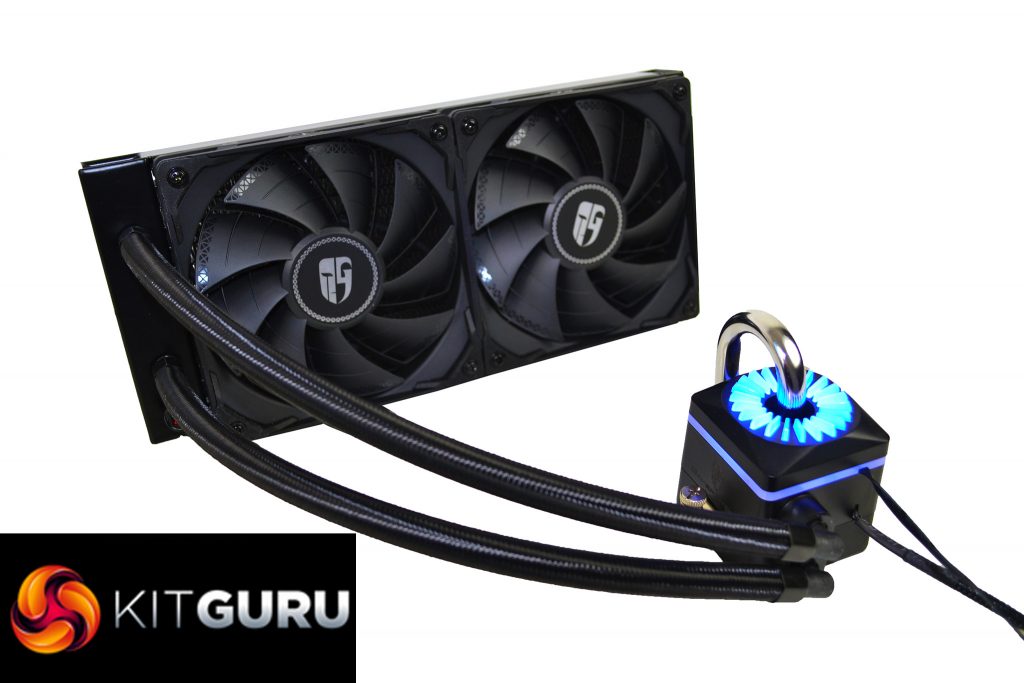 Another feature of the Deepcool Captain 240X that we like is the PWM hub and optional RGB lighting controller. Unlike some others on the market, Deepcool has used a simple approach, meaning there's no spaghetti junction of cables to manage and for users who have RGB enabled motherboards, Deepcool provides the option to connect the Captain 240X direct to 4-pin headers, for an even more simple wiring solution.
Deepcool has ensured the Captain 240X offers customers a good upgrade path in the future with its excellent CPU socket compatibility. Users who choose to run the Captain 240X on mainstream desktop platforms initially will be able to take it with them should they choose to move to a high-end desktop system such as AMD TR4 or Intel socket 2066 in future, as the cooler includes mounting hardware for these platforms out of the box.
Excellent compatibility is not limited to the CPU socket either – the Captain 240X features standard 4-pin PWM fan connections and 4-pin RGB lighting cables, which means it will be compatible with the majority of mainstream motherboard connections and can synchronise lighting effects with motherboard software such as Asus Aura Sync, Gigabyte RGB Fusion, MSI Mystic Light Sync and ASRock Polychrome Sync.
The only minor downside of the Captain 240X is the noise levels the fans produce while at maximum RPM. Although it isn't overly distracting for the average user, the acoustic purists out there may find it a little too loud for their liking. However, since the cooler performs so well with thermal dissipation, in PWM mode, the fans will rarely ramp up to maximum RPM, especially on a CPU running at stock core frequency.
With all the above taken into consideration and the current price of the Deepcool Captain at £119, we can safely say that it provides excellent value for money with a good price to performance ratio in terms of thermal dissipation performance. If you are in the market for an all-in-one CPU cooler for a new build, it's definitely worth buying.
The Deepcool Captain 240X is available to buy in either black or white for £119.99 from Amazon UK HERE.
Discuss on our Facebook page HERE.
Pros
Excellent thermal dissipation performance.
PWM fan control.
RGB lighting.
Extensive CPU socket compatibility.
Simple installation process.
Cons
Slightly high noise output.
Pump appearance may not suit everyone.
KitGuru says: The Deepcool Captain 240X is among the best all-in-one CPU coolers we have tested this year. A good price to performance ratio, and features such as RGB lighting, makes it one to consider when you are building your next system.
Be sure to check out our sponsors store EKWB here