Overall, the Deepcool Captain 360X offers a well built and aesthetically pleasing 360mm all-in-one CPU cooling solution. The colour scheme will no doubt prove popular among enthusiast system builders and gamers who are looking to build a new system based on a white colour scheme, although we would have liked it to be also available in black to suit users seeking a more traditional style.
Deepcool has added some upgrades for its latest Captain X AIO series including its patented Anti-leak radiator technology, a new three-phase pump motor with ceramic bearings and core, along with the company's attractive looking TF 120 S fans. An included PWM fan hub and RGB controller are a nice touch too and help with cable management.
In terms of thermal performance, we can't help but feel a little let down by the Captain 360X on the socket TR4 platform. However, we are not too surprised since we have seen many times in the past AIO liquid cooling solutions that don't fully cover the Threadripper HIS outperformed by air cooling solutions with full cover thermal transfer base plates.

When we look back at the results of our thermal performance tests, the Captain 360X managed to outperform its smaller sibling, the Captain 240X in all situations. So, while it may not be the best all-in-one cooler for high-end desktop AMD systems, it is a very solid mainstream desktop CPU cooler since it did a great job in our Intel Core i9-9900K tests.
One thing worth noting though is how much better the Deepcool Castle 240EX performed in some tests compared to the Captain 360X. This is quite interesting as the Castle 240EX uses the same radiator and fans as the Captain X-series so the pump design must work better in the Castle 240EX. Additionally, the Castle 240EX uses a four-point fixing method compared to two points fixing in the Captain X – this could also contribute to the better performance due to improved contact with the CPU IHS.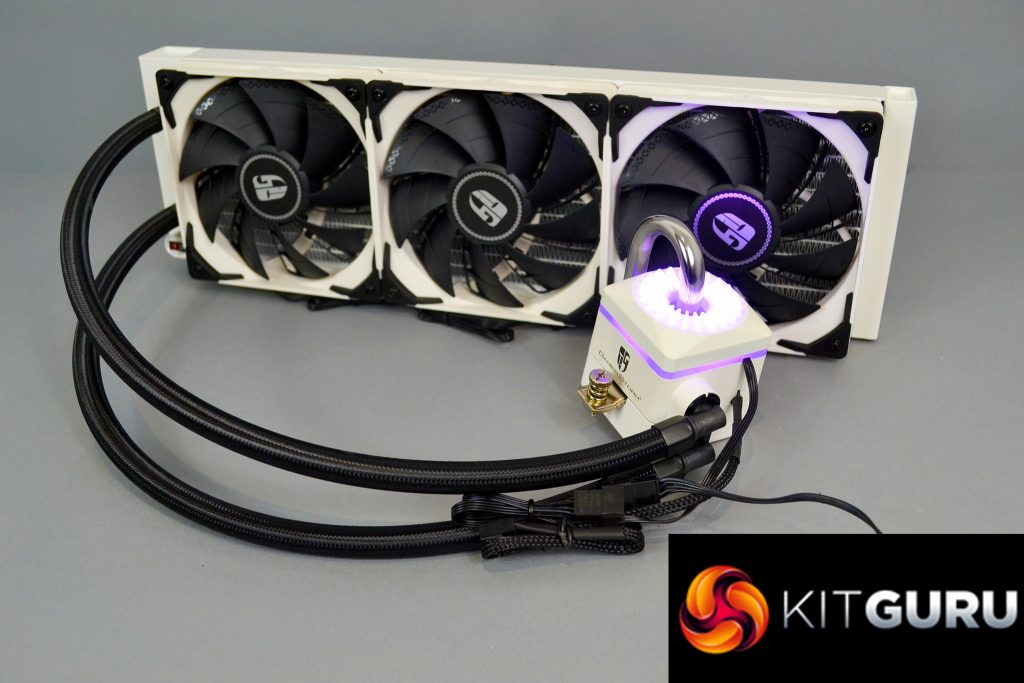 We would normally expect an all-in-one CPU cooler with a larger radiator from the same manufacturer to perform better. Since this one did not, we can only come to the conclusion that the Castle 240EX is a better all-round design and therefore is probably a better option to use for AMD HEDT processor cooling than the Captain X-series coolers.
However, some may prefer the more industrial appearance the Captain X series offers with its U-shaped stainless steel pipe design and the few degrees Celsius difference in performance may not be a problem to some users, especially those with stock CPU core frequencies, as the performance gap between the Captain 360X and Castle 240EX wasn't as wide in those tests.
Taken as a whole, the Deepcool Captain 360X is a little disappointing in terms of raw cooling performance. After testing its smaller sibling, the Captain 240X, and being happy with performance on desktop platforms, we were expecting a bit more from the Captain 360X. Although it does a good job, the 360X doesn't offer much improvement over the 240X.
So, unless you are specifically looking for a 360mm AIO, then we wouldn't recommend the 360mm version over the 240mm, as it does not offer enough price-performance increase. However, if you are looking to purchase a 360mm AIO in white then it's probably not a bad option since it should offer impressive performance on mainstream desktop platforms and is quite handsome looking too.

The Deepcool Captain 360X is available to purchase in white for £139.99 from Amazon UK HERE.
Discuss on our Facebook page HERE.
Pros
RGB lighting.
PWM fan control.
White colour scheme.
Great range of CPU socket compatibility.
Quick installation process.
Good thermal performance on mainstream desktop platforms.
Cons
Average thermal performance on socket TR4.
Outperformed by the Castle 240EX.
Only available in white.
Fans could be a little loud for some users.
KitGuru says: Although we really love the appearance of the Captain 360X and its white colour scheme, we can't help but feel let down by its lack of thermal performance on socket TR4, especially since it was beaten hands down by a smaller 240mm AIO from the same manufacturer.