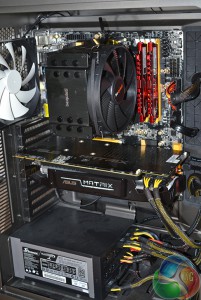 Thermal Performance Test Procedures:
Idle temperatures are obtained after sitting at the desktop for 15 minutes.
Load temperatures are obtained after running Prime95 in the 'Small FFTs' mode for 15 minutes.
We tested with our CPU set at 3.9GHz (typical multi-core turbo speed of most motherboards) using a BIOS-set voltage of 1.200V (in the region of most common MCT voltages).
We repeated testing with our CPU overclocked to 4.5GHz (45x multiplier, 100MHz base clock) using a BIOS-set voltage of 1.325V.
The cooler's fan is set to 100% to eliminate inaccuracies due to dynamic PWM fan speed adjustments.
The supplied thermal paste is used to provide an accurate interpretation of the cooler's out-of-the-box performance.
We use HWMonitor to measure the CPU temperature.
CPU temperature recording is accurate to +/- 0.5°C. Ambient temperature recording is accurate to +/- 0.05°C.
Ambient temperature was maintained at 22°C.
Acoustic Performance Test Procedures:

We measure the noise output of our entire system from a distance of 1m while the CPU cooler's fan operates at 100% (indicating the maximum noise output).

We set the case fans to minimum speed (hence noise) and avoid using a discrete GPU to isolate the CPU cooler's noise output.
Test System:

Comparison Coolers:
Noctua NH-D14.
Corsair H100i.
Software:
CPUID HWMonitor.
Prime95.
Windows 7 Professional with SP1 64-bit.