It's been around two months since the release of AMD's flagship Ryzen Threadripper 3990X 64-core CPU and the processor has been met with strong praise. Compute performance is at an entirely new level, power efficiency is superb, and operating frequencies are pretty reasonable for such a multi-threaded part.
However, there's evident overclocking room beyond the 280W TDP and circa-3GHz all-core operating frequency for users who demand every last drop of performance from their $4000 chip. Finding a CPU cooler capable of taming the beast, whilst also maintaining the cost-effectiveness and ease-of-use of air or AIO liquid options, is not easy.
We examine options from be quiet!, Cooler Master, Corsair, IceGiant, and Noctua to see which option is a solid choice for the 64-core beast.
Watch via our Vimeo Channel (Below) or over on YouTube at 2160p HERE
It is a pretty simple challenge, really; keeping the 64-core Ryzen Threadripper 3990X flagship adequately cooled is not an easy task when you wish to push frequencies further than the out-of-the-box values. Power draws from the CPU can spiral well over the stock 280W TDP number and we have seen values in excess of double that for short bursts, if the cooling can handle it.
This is not intended to be an air-versus-AIO grudge match as we understand that the choice between the two technologies is very personal and includes many factors.
However, the longevity and risk mitigation benefits of air cooling are undeniably desirable points to many workstation builds. Plus, you do not have to deal with annoying bloatware software that many AIO coolers ship with and mandate for fan and pump speed control.
Performance has, historically, been compromised for the reliability offered by air cooling versus closed-loop liquid cooling, especially in high thermal load situations such as cooling Threadripper processors. But will that be the case with the Threadripper 3990X given its unique design and limited supply of truly optimised CPU cooling offerings?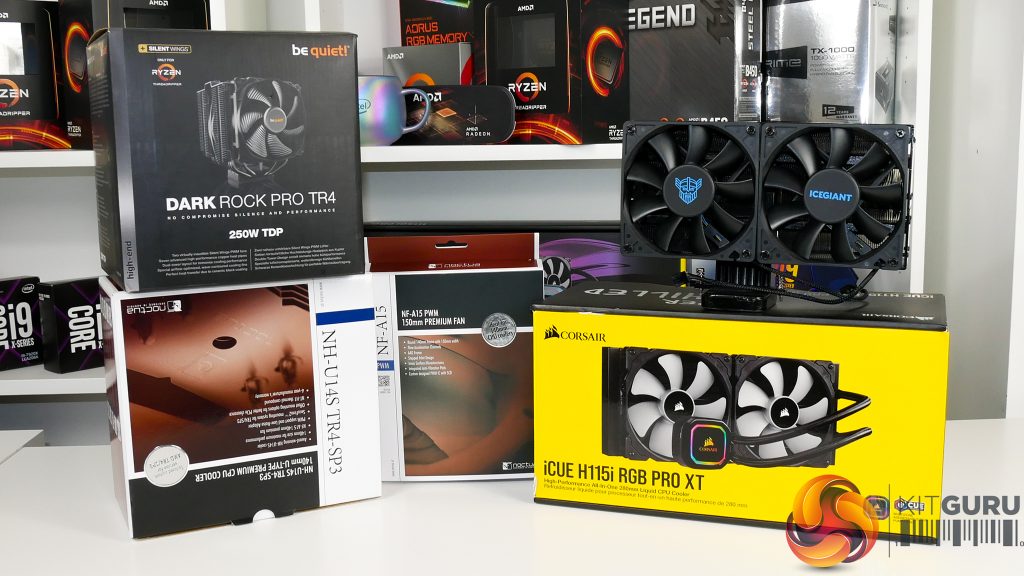 From be quiet! we have the flagship Threadripper cooler – the dual-tower, dual-fan Dark Rock Pro TR4. Noctua serves up the single-tower U14S TR4-SP3 which we operate with single NF-A15 and dual NF-A15 fans.
The soon-to-be-released IceGiant ProSiphon Elite version that we have for testing is the earlier (and physically larger) 2019 prototype with dual fans. And from the AIO category we have a 280mm Corsair iCUE H115i RGB PRO XT.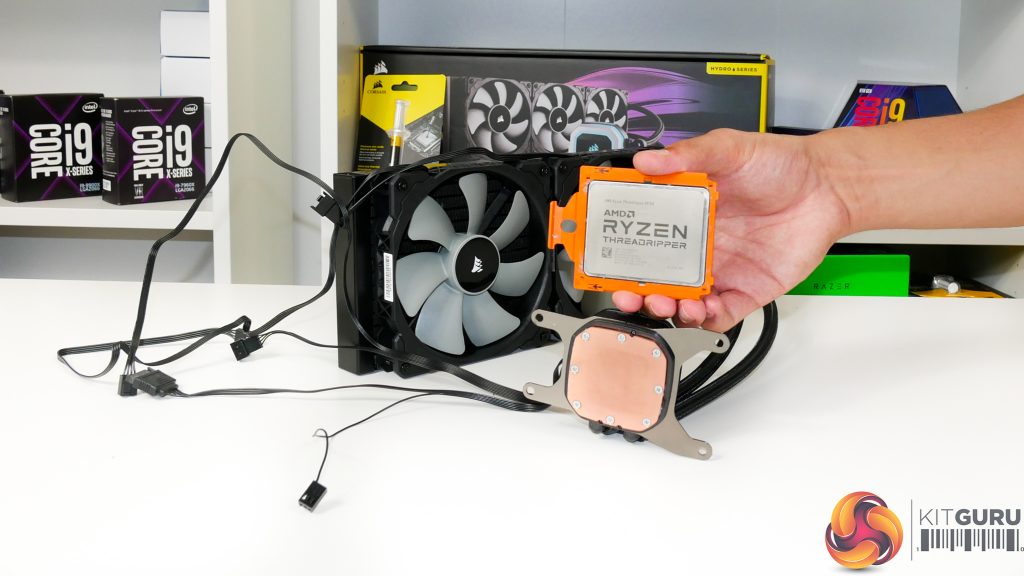 We know that the Corsair AIO does not feature a TR4-sized cooling block and is therefore not optimised for Threadripper cooling.
With that said, we spoke to AMD at CES 2020 and were told how their own internal Threadripper testing for performance claims is often conducted with Asetek-style AIO liquid coolers that do not offer full heatspreader coverage (the 3990X reviewers' guide actually refers to a Corsair H100i v2 AIO liquid cooler).
The Cooler Master and Thermaltake TR4-specific AIO coolers use a standard pump and cold plate design and then increase the dimensions of the cooper contact plate to accommodate for Threadripper. This is not a true TR4-optimised design, hence why we did not use those coolers as the AIO test point.
The Enermax Liqtech units were the obvious alternative choice for TR4-specific AIO coolers with a cold plate design optimised for Threadripper specifically. However, with their ongoing reliability concerns (excellent work by Gamers Nexus and others on this topic) they were deemed unacceptable for inclusion in our testing.
As such, a high-end 280mm AIO seemed like a perfectly reasonable choice for the AIO reference point, even though its cold plate is not TR4 specific. If you have alternative suggestions for strong AIOs we could look into for Threadripper cooling, please let us know.