We measured the noise output of our entire system from a distance of 1m while the CPU cooler's fan operated at 100% and when also under PWM conditions. This allowed us to record the maximum possible volume of the CPU cooler as well as more 'realistic' real world noise levels..
KitGuru noise guide:
10dBA – Normal Breathing/Rustling Leaves
20-25dBA – Whisper
30dBA – High Quality Computer fan
40dBA – A Bubbling Brook, or a Refrigerator
50dBA – Normal Conversation
60dBA – Laughter
70dBA – Vacuum Cleaner or Hairdryer
80dBA – City Traffic or a Garbage Disposal
90dBA – Motorcycle or Lawnmower
100dBA – MP3 player at maximum output
110dBA – Orchestra
120dBA – Front row rock concert/Jet Engine
130dBA – Threshold of Pain
140dBA – Military Jet takeoff/Gunshot (close range)
160dBA – Instant Perforation of eardrum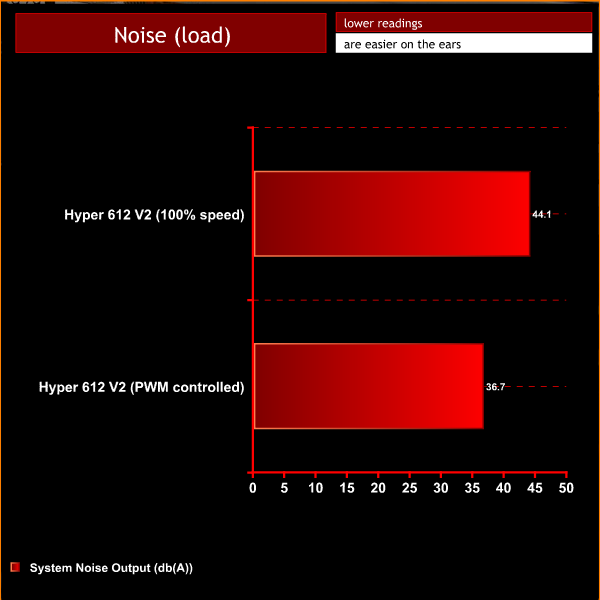 Under our test conditions, the CPU fan rose our overall system volume to 44.1 dBA, which is fairly high. However, end users likely won't be running their CPU fans at 100% speed, even while gaming- so we decided to include the PWM controlled result as well.
Allowing for automatic speed adjustments greatly improved our results, reducing noise levels all the way down to 36.7 dBA under full CPU load.