Advanced Micro Devices on Monday announced details concerning its longer-term roadmap. The firm disclosed plans to develop its own ARMv8 core implementations as well as pin-compatible microprocessors and accelerated processing units based on ARM and x86 architecture. But while the company unveiled a clear and logical strategy regarding low-power and ARM-based offerings, it provided no updates regarding high-performance x86 architectures.
AMD said that next year it will release chips for client computers under its project SkyBridge initiative. The "SkyBridge" family will feature AMD Radeon graphics engine based on the GCN architecture, heterogeneous system architecture, AMD's platform security processor (PSP) based on ARM technology as well as DDR3/DDR4 memory controller and various input/output functions. The ARM version of the chip will be powered by ARM Cortex-A57 cores, whereas the x86 flavour will feature Puma+ cores. The ARM-based SkyBridge will support Google Android operating system and will target mainstream media tablets. The SkyBridge family will be made using 20nm process technology and will emerge on the market in 2015.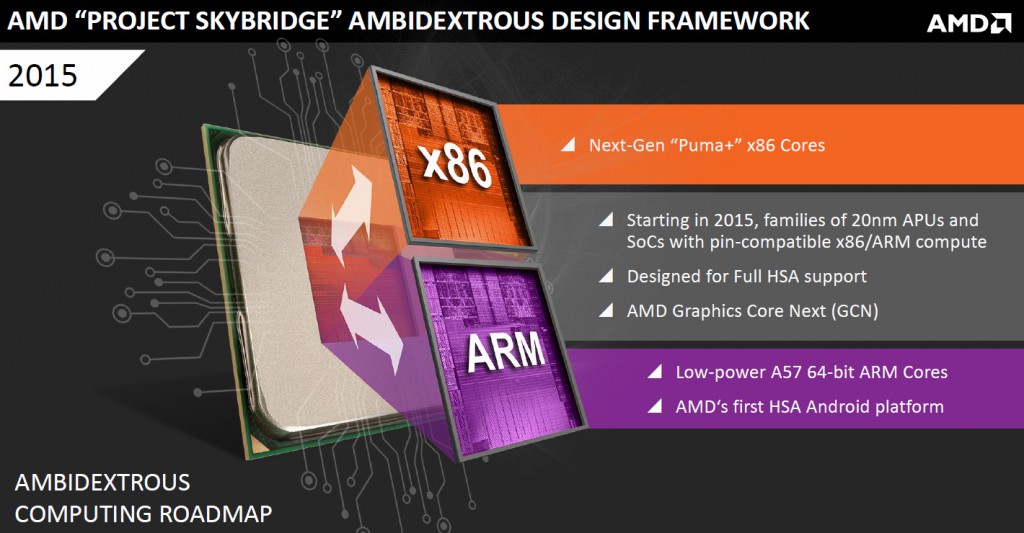 Sometimes in 2016 AMD plans to introduce code-named K12 core-based offerings. The K12 is a new high-performance, low-power ARM-based core that takes deep advantage of AMD's ARM architectural license, 64-bit chip design expertise, and a core development team led by chief CPU architect Jim Keller.
"Before today, AMD was the only company in the world to deliver high performance and low-power x86 with leadership graphics. AMD now takes a bold step forward and has become the only company that can provide high-performance 64-bit ARM and x86 CPU cores paired with world-class graphics," said Rory Read, AMD president and chief executive officer. "Our innovative ambidextrous design capability, combined with our portfolio of IP and expertise with high-performance SoCs, means that AMD is set to deliver ambidextrous solutions that enable our customers to change the world in more efficient and powerful ways."
Thanks to the announcement, we now know that AMD plans to continue with its ambidextrous strategy that calls for maximum unification of building blocks across AMD product lines. Starting from next year the company will offer chips with either x86 or ARM cores for low-power client solutions. It is logical to expect that going forward AMD will also introduce high-performance client and low-power server chips that feature either ARM or x86 general-purpose cores.
What AMD did not unveil is the future of its high-performance x86 cores as well as high-performance x86 microprocessors for client and server platforms. While we do know that next year the company intends to release accelerated processing units for PCs (Carrizo) and servers (Toronto) featuring code-named Excavator cores, we have no idea whether AMD also plans to introduce multi-core Opteron/FX series chips based on the new micro-architecture. The current-gen Opteron and FX processors are rather outdated and cannot compete against Intel Xeon and Core i7 processors in many market segments. For some reason AMD provides no updates regarding the future of its advanced chips.
It is also interesting to note that next year AMD will continue to use this year's Puma micro-architecture, which means that the company will barely improve performance of its low-power offerings, but will rather trim their power consumption.
Discuss on our Facebook page, HERE.
KitGuru Says: The decision to design own implementations of ARMv8 cores has pros and cons. On the one hand, such cores should be faster than default ARM-designed Cortex cores. On the other hand, it means that AMD will have to invest into development of such cores and will have lower amount of money to advance its x86 architectures. The latter means that over time the gap between performance offered by Intel and AMD chips will only get bigger…