We leave the system to idle on the Windows 10 desktop before taking a power draw reading. For CPU load results, we read the power draw while producing five minutes' worth of loading in the Cinebench R20 nT rendering test.
The power consumption of our entire test system (at the wall) is shown in the chart. The same test parameters are used for temperature readings.
Power Consumption
Power draw readings are accurate to around +/-5W under heavy load due to instantaneous fluctuations in the value. We use a Titanium-rated Seasonic 1000W Prime PSU.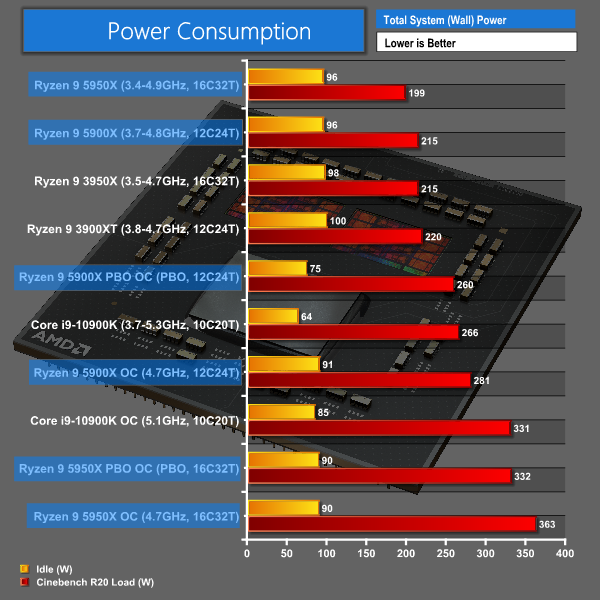 Power consumption still proves to be an area where AMD does very well with Zen 3. The 16-core 5950X does not use its full 142W PPT allocation at stock and therefore results in an impressive wall power draw number of less than 200W for the system.
Removing the frequency shackles by applying PBO or a manual overclock highlights how the 16-core chip can indeed guzzle power if you let it do so. But this power draw increase is backed up rather convincingly with higher clock speeds and performance results.
Performance per Watt
It comes as absolutely no surprise to see the 5950X setting a new tier of performance per Watt thanks to its Zen 3 IPC improvements at similar power draw levels. If you're interested in efficient delivery of compelling performance, the 5950X delivers in spades.
Temperatures
Temperature recordings were taken using the Fractal Celsius+ S28 Prisma 280mm AIO CPU cooler at full fan and pump speed. Ambient temperatures were around 22°C.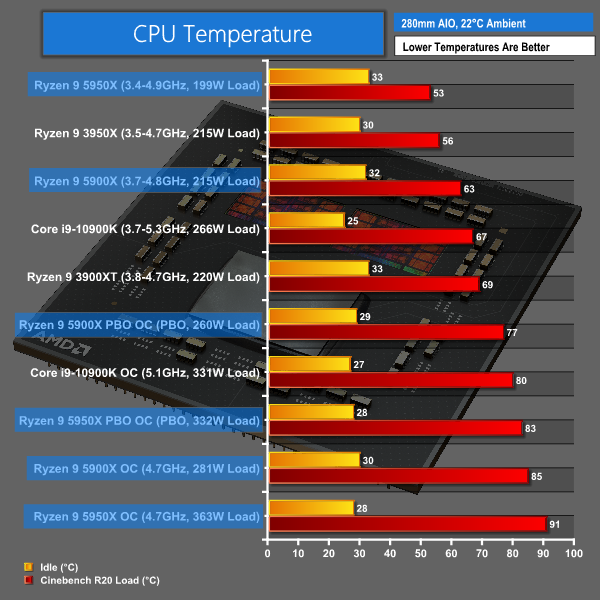 Load temperature numbers from the 5950X were surprisingly low, so much so that we re-checked the data with a different motherboard and an air CPU cooler. The numbers held true.
AMD has done an excellent job in allowing the 16-core chip to run at easy-to-handle temperatures thanks to the modest operating clocks and low power consumption. Of course, PBO increases the operating temperature, as expected, but even that automatic overclock and our hefty manual overclock were fine with a 280mm AIO cooler.
From a temperature perspective, it looks like AMD's Zen 3 will not push you to extremes. This is a very good point, especially with Intel upping their thermal game with the 10900K's redesigned heatspreader. We'd be happy to use big AIO coolers with the 5950X, but our testing also proved that air coolers will do a very good job.
Be sure to check out our sponsors store EKWB here