3DMark
3DMark is a multi-platform hardware benchmark designed to test varying resolutions and detail levels of 3D gaming performance. We run the Windows platform test and in particular the Fire Strike benchmark, which is indicative of high-end 1080p PC Gaming. We also test using the Time Spy benchmark which gives an indication of DirectX 12 performance.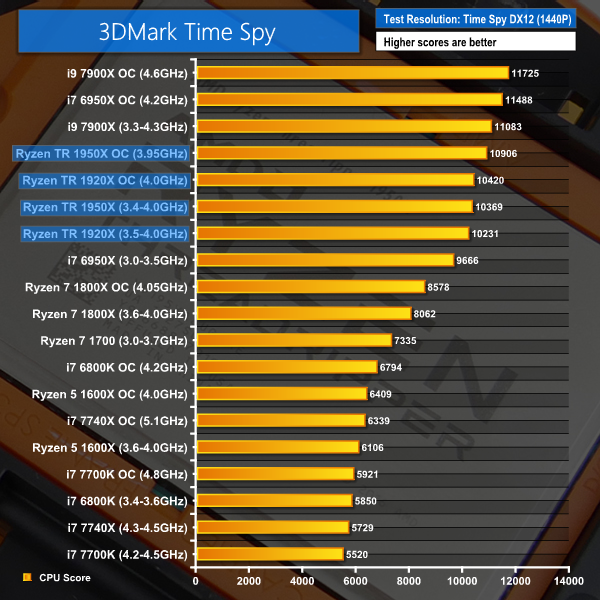 Grand Theft Auto V

Grand Theft Auto V remains an immensely popular game for PC gamers and as such retains its place in our test suite. The well-designed game engine is capable of providing heavy stress to a number of system components, including the GPU, CPU, and Memory, and can highlight performance differences between motherboards.
We run the built-in benchmark using a 1080p resolution and generally Maximum quality settings (including Advanced Graphics).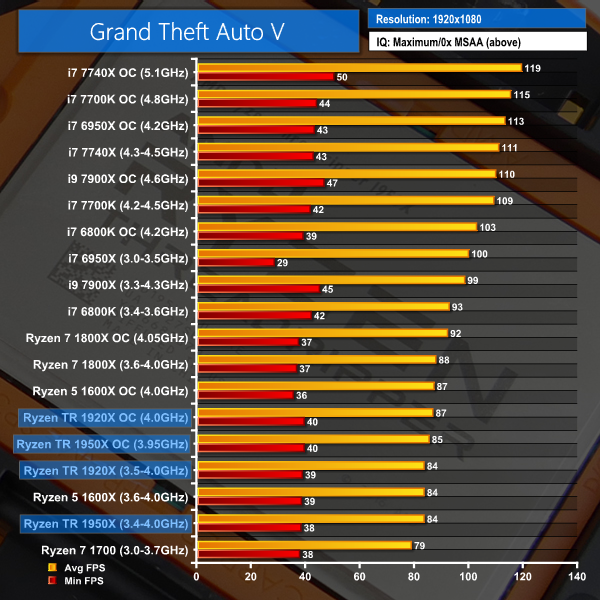 Metro: Last Light Redux

Despite its age, Metro: Last Light Redux remains a punishing title for modern computer hardware. We use the game's built-in benchmark with quality set to Very High, SSAA enabled, AF 16X, and High tessellation.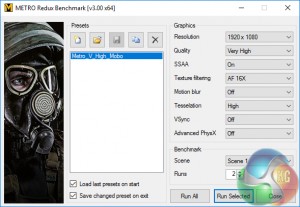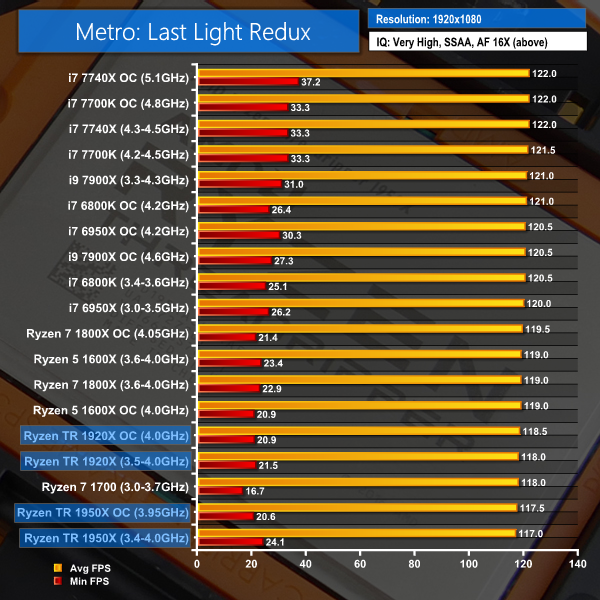 Gaming Performance Overview:

It is unsurprising by now that AMD loses to Intel when it comes to all-out gaming performance. The clock speed advantages on Intel's chips, as well as years of game development tuned for Intel hardware, generally put AMD processors at a performance deficit when looking at the high-end options.
3DMark Time Spy is well multi-threaded and therefore displays positive results with Threadripper. However, Intel's higher-clocked 10-core chips steal top spot away from the AMD offerings. Time Spy gives an indication that, even with the DX12 API, core count is less important than clock speed past a certain point.
Grand Theft Auto V is known to show preference for Intel hardware but the game's immense popularity and ability to stress CPUs justifies its reoccurrence in our test suite. The Ryzen chips, Threadripper included, generally hit a wall at around 90 FPS average using the maximum quality settings at 1080P. By comparison, Intel's chips including the i9-7900X can break through the 100 FPS average barrier.
If you are interested in high refresh rate gaming on your HEDT CPU, Intel's i9-7900X will be the better option for GTA V. With that said, minimum FPS numbers from Ryzen Threadripper are positive (despite the variance posed by the GTA V benchmark).
Metro: Last Light Redux is proof that any of these CPUs is perfectly capable of running certain GPU-limited games at high refresh rates. Threadripper chips still gravitate towards the lowest performance points on the chart and Skylake-X is marginally faster. However, the differences in this title are minimal between all CPUs and are limited by GPU performance (which is a more likely scenario for modern games and higher resolutions).