Ashes of the Singularity Escalation

Ashes of the Singularity Escalation is a Sci-Fi real-time strategy game built for the PC platform. The game includes a built-in benchmark tool with DirectX 12 support. We run the CPU-focused benchmark using DirectX 12, a 1080p resolution and the Extreme quality preset.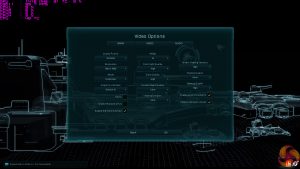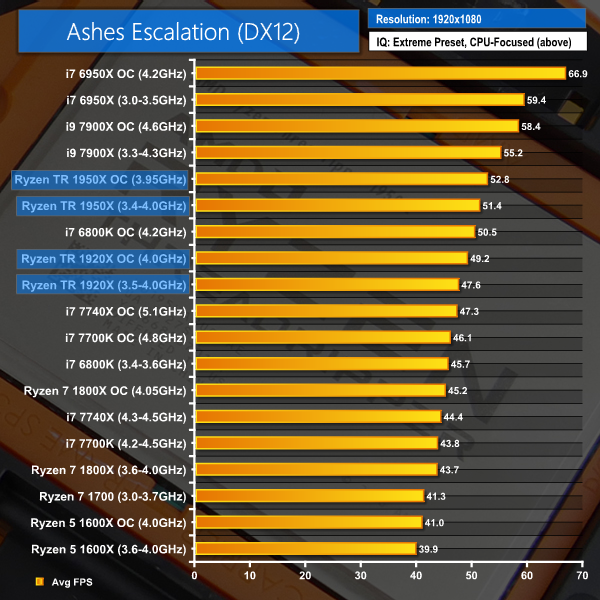 Ghost Recon Wildlands

Tom Clancy's Ghost Recon Wildlands is an open world tactical shooter video game developed by Ubisoft Paris. It is the tenth instalment in the Tom Clancy's Ghost Recon franchise and is the first Ghost Recon game to feature an open world environment.
We run the built-in benchmark using a 1080P resolution and the Very High quality preset.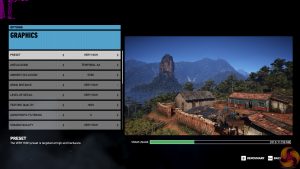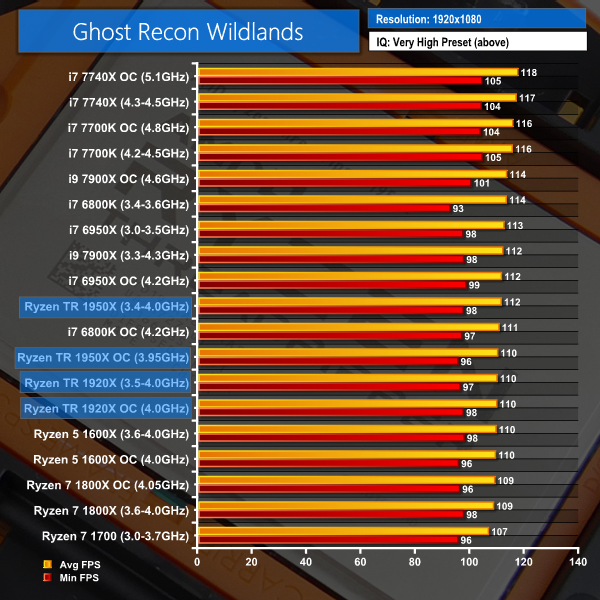 Total War: Warhammer

Total War: Warhammer is another title which features both DX11 and DX12 modes. Heavy loading can be placed on the CPU using the built-in benchmark. The DX12 mode is poorly optimised and tries to force data through a low number of CPU threads rather than balance operations across multiple cores. As such, this gives a good look at pure gaming performance of each CPU in titles that aren't well multi-threaded.
We run the built-in benchmark using the DirectX 12 mode, a 1080p resolution, and the Ultra quality preset.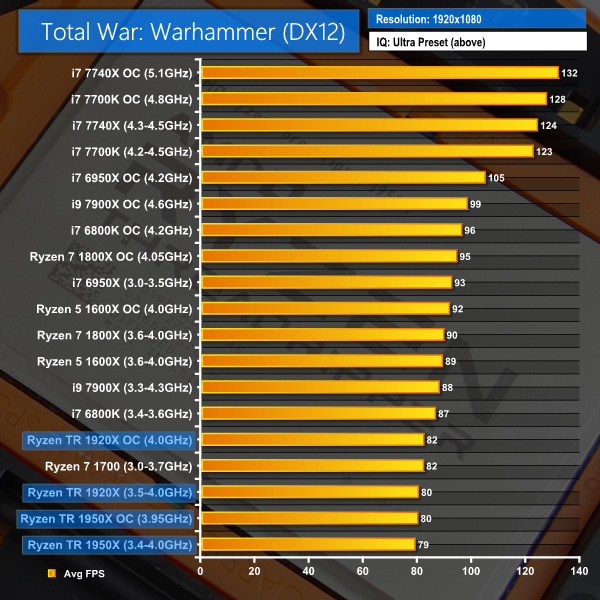 Gaming Performance Overview:

Ashes of the Singularity: Escalation is able to leverage a significant number of threads using its DX12 mode. This helps Threadripper performance but only to a limited extent. Intel's competitor in the i9-7900X is faster than the fastest Threadripper chip irrelevant of whether or not it is overclocked.
Ghost Recon Wildlands performs very well on all CPUs when coupled with a GTX 1080 Ti and the Very High preset. The Threadripper chips average around 110 FPS with minimums close to 100 FPS, making them perfectly capable of offering high refresh rate performance. Intel's Core i7 and i9 chips are generally a little faster than Ryzen offerings but the performance margins are small.
In its DX12 mode, Total War: Warhammer is driven almost entirely by the maximum performance offered by a single thread. As such, the maximum frequency on offer from a fast processor architecture will win the performance battle. That's a negative for AMD's chips, including Threadripper, as their Intel competitors tend to offer higher clock speeds on the slightly better Skylake microarchitecture.
Even with performance deficits thrown the 7900X's way due to cache rebalancing, Intel's $999 flagship still manages to outperform Threadripper offerings. While this is certainly a victory for Intel, positives for AMD can be taken from the fact that Total War: Warhammer is clearly still so poorly optimised for multi-threaded CPUs that performance regresses from Ryzen 5/7 to Threadripper.