We leave the system to idle on the Windows 10 desktop for 5 minutes before taking a power draw reading. For CPU load results, we read the power draw while producing five runs of the Cinebench multi-threaded test. We also run 5 minutes of AIDA64 stress test to validate data and because Cinebench runs on high core count CPUs are completed very quickly.
The power consumption of our entire test system (at the wall) is shown in the chart. The same test parameters were used for temperature readings.

Power Consumption
Power draw readings are accurate to around +/-5-10W under heavy load due to instantaneous fluctuations in the value. We use a Platinum-rated Seasonic 760W PSU (with 8-pin plus 4-pin or 8-pin power connectors where possible) and install a GTX 1070 video card that uses very little power.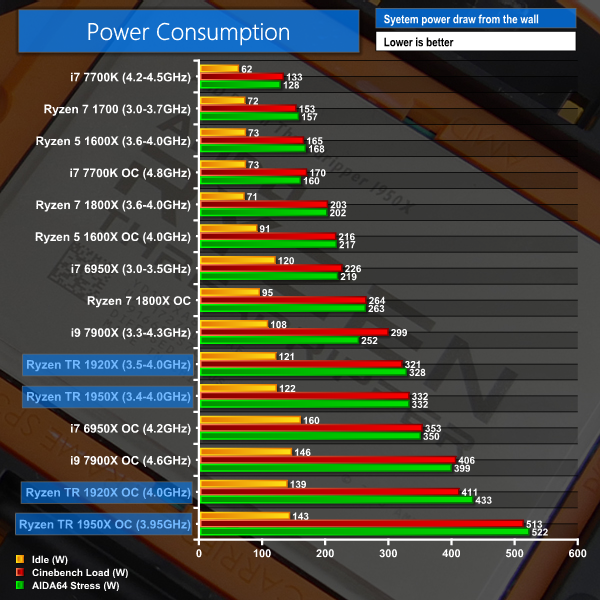 Power usage from the Ryzen Threadripper CPUs is very high even at stock. Even with the 16-core chip reducing its Precision Boost clock speed to around 3.475GHz under heavy Cinebench and AIDA64 loading, the 1950X system still commands over 330W from the wall. The 1920X isn't far behind at around 320W load usage thanks to its ability to maintain Precision Boost clocks of 3.7GHz on all cores.
Factor in an overclock to around 4GHz with 1.4V on either Threadripper CPU and power draw jumps even higher. The 12-core 1920X crept deep into the 400W range under the sustained battering from AIDA64, while the 16-core 1950X pushed past 520W when being stressed (and even higher in some of our earlier testing with 1.42V).
This really is a very simple equation; if you want the performance offered by Ryzen Threadripper, you have no choice but to invest in a high-quality, high-capacity power supply. 850W is a good starting point for an overclocked 1920X and a single graphics card such as the GTX 1080 Ti. 1000W would be my recommendation to users looking to overclock the 1950X alongside their one GTX 1080 Ti-like GPU. An overclocked 1950X combined with a couple of Vega cards may start to make 1300W+ PSUs look like a smart buy for long-term use.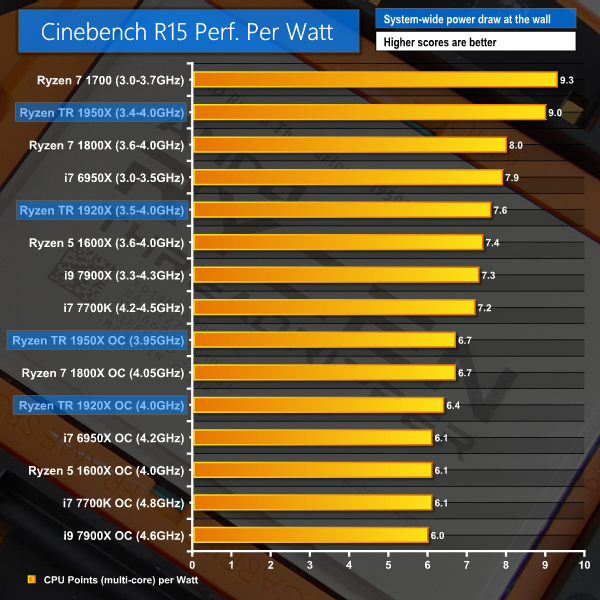 The high power draw of both Threadripper CPUs looks far more justifiable when interpreted on a performance-per-Watt basis. The stock-clocked 1950X puts in a very strong efficiency result in Cinebench, only being beaten by the superb Ryzen 7 1700. The 12-core 1920X sits slightly Intel Core i7-6950X and slightly above the Core i9-7900X on the efficiency chart.
Shifting the focus to overclocked numbers, Ryzen Threadripper continues to show strong performance-per-Watt numbers. The 16-core 1950X offers the joint best result, matching the 8-core Ryzen 7 1800X that practically forms one of the Threadripper dies. Not far behind on the efficiency spectrum is the 12-core 1920X. Both Threadripper chips outdo the efficiency of Intel's competing overclocked parts in our testing.
Of course, this chart is comprised only of Cinebench results – a benchmark that is known to scale very well with thread count. However, it does give an insight that Ryzen Threadripper can be performance-efficient processor despite its high TDP rating and actual power draw. If time is money for your heavily multi-threaded workloads and efficiency is an important factor, Ryzen Threadripper looks like a competitive solution.
Temperatures
Temperature recordings were taken using a 360mm Thermaltake Floe Riing 360 Asetek-based all-in-one liquid cooler with its three fans running in 'Performance' mode (up to 1600 RPM). Unfortunately, the Corsair H110i GT AIO used for comparison CPUs is currently incompatible with the TR4 socket. As such, direct comparisons to other processors' thermal performance cannot be made. Ambient temperatures were held around 23°C (and normalised to 23°C where there were slight fluctuations).
We read the Tdie reading for Ryzen Threadripper which accounts for the 27°C offset. The same Tdie temperature for Ryzen accounts for the 20°C temperature offset.  The charted temperatures are without the 20°C/27°C offset added on (making them 'real' Tdie readings). Some Ryzen idle temperatures are omitted due to inaccurate readings caused by sensor drift. Ryzen 7 1700 temperature data is omitted as the numbers are incorrect (sometimes sub-ambient).
Note: The asterisk denotes the use of a different CPU cooler for Ryzen Threadripper CPUs compared to other CPUs.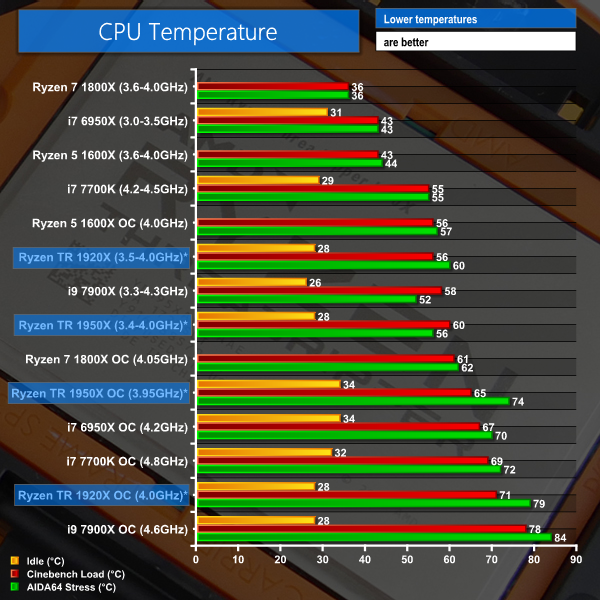 Thermal performance from the Ryzen Threadripper CPUs is good given the power draw and performance offered. However, there's no denying that the actual CPU temperatures are high. Using a 360mm AIO cooler with 1600 RPM fans, both chips hovered around 60°C when loaded at stock clocks. The 1950X would reduce its all-core frequency from 3.7GHz to around 3.475GHz under heavy Cinebench and AIDA64 loading, though this did not look to be temperature-induced.
Overclocking the chips to around 4GHz using 1.4V will push temperatures into the 70°C and 80°C range. Surprisingly, our overclocked 1950X ran a little cooler under AIDA64 load than the 1920X, despite consuming more power. This may be a chip-to-chip variation or it could be tied to thermal paste application or frequency differences. Intel's overclocked Core i9-7900X still ran hotter than both Threadripper CPUs but that chip was tested with a 280mm AIO and 2300 RPM fans as opposed to the 360mm AIO with 1600 RPM fans.
The results show that a 360mm cooler should be capable of taking the Threadripper CPUs to around 4GHz (depending on the silicon lottery). If you want to try for higher than 4GHz or need to put more than 1.4V through the CPUs to hit your overclocking targets, custom liquid cooling is the next logical progression. AMD's soldered heatspreader and proficient thermal packaging design should mean that custom liquid cooling will extract the heat effectively from the Ryzen Threadripper CPU (as opposed to thermal barriers created by Intel's TIM approach).