With clear IPC gains over the popular Haswell micro-architecture that it realistically replaces, the suggestion of consistently greater overclocking headroom, and the lure of a new feature-heavy platform chipset, it is easy to respect the improvements that Intel's Skylake processors bring to the market.
Let's not fool ourselves – Skylake's IPC gains over yesteryear's Devil's Canyon and its Haswell micro-architecture are nowhere near the same levels that we saw Sandy Bridge bullishly fetch to market all those years ago. But the Devil's Canyon iterations of Haswell were fast, powerful processors in their own right, so performance improvements towards a level of 10% are positive to see. Those performance boosts are significant enough to allow a stock-clocked Skylake Core i7-6700K to outperform a stock-clocked Devil's Canyon 4790K despite the former's 200MHz frequency deficit.
On the other hand, it could be argued that IPC improvements towards a level of 10% do not exactly spell huge innovation for a new architecture, process node shrinkage to 14nm, and a 2-year later release when comparing to Haswell.
Overclocking potential of the Skylake processors is very good. We managed to hit a straightforward 4.8GHz with our i7-6700K which, from what we have discussed, seems to be a consistent level for the i7 when a 1.4V core voltage is used. Our i5-6600K sample was a little less favourable on the overclocking gains, although 4.5GHz is a solid result and 4.6GHz was on the brink of stability. Our result seemed a little below the average. The new processors' ability to handle higher voltage levels without causing temperature concerns is a positive for overclockers, although that may not hold true for sub-zero usage.
And speaking of positives for overclockers, full control over the CPU BCLK brings back the old days of overclocking. There's now more overclocking control than we have seen at any time in the past four mainstream CPU generations. To many enthusiasts, Skylake will be the chips that put the fun back into overclocking. And for those who simply want to boost their system performance, the two launch chips both feature unlocked multipliers for straightforward frequency boosts.
The biggest improvement that I think Skylake provides is from the platform as a whole. The new Z170 chipset is excellent and its application of PCIe 3.0 lanes, albeit at a potentially higher latency than CPU-direct ones, is welcomed with open arms. Intel's new 8GT/s DMI 3.0 lanes for the processor-to-chipset link is also a sizeable, and long overdue, improvement over previous iterations found on the Z97 and X99 platforms. A pair of Intel NVMe SSD 750 drives, for example, can operate via the chipset PCIe lanes without being worryingly bottlenecked by the DMI.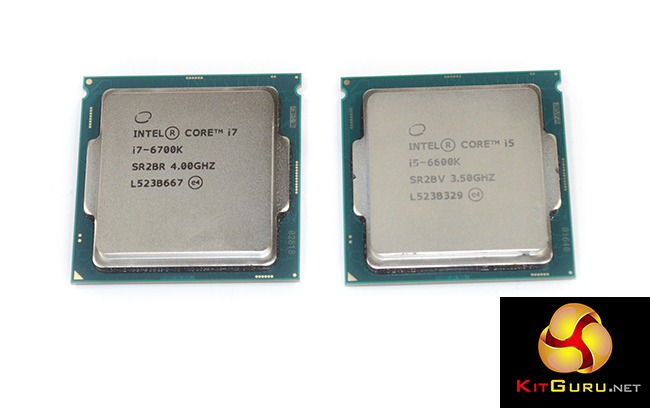 With Skylake introducing DDR4 to the mainstream platform, the processors open up a price conundrum of sorts. Since Haswell-E's August 2014 launch, one of the biggest deterrents from the X99 platform has been the expense of DDR4. That point is no longer true and it could translate into a difficult sell for many consumers considering the i7-6700K. With the CPU pricing almost identical to that of the faster six-core 5820K, users considering the 6700K, a 16GB kit of DDR4 memory, and a mid-range Z170 motherboard are likely to be better served opting for a 5820K and the X99 platform.
Differences in the i7 processor and DDR4 memory pricing are practically non-existent, so that only leaves a slightly higher cost motherboard for the X99 chipset as a point of additional investment. OverclockersUK's X99 motherboard range starts at £169.99 which is pretty much identical to Asus' £171.99 Maximus VIII Hero that we used for today's Skylake review. The lower starting price of Z170 motherboards is a benefit for buyers considering the mainstream chipset.
With a very small pricing difference between an i7-6700K system and one based around the i7-5820K, consumers must decide carefully whether they prefer the greater core count and PCIe connectivity of Haswell-E or the overclocking headroom and modern chipset for Skylake. For gamers, that's a tough choice. But to users with heavy workloads that benefit from CPU cores, the Haswell-E chip is the smarter buy.
Intel's focus on gaming enthusiasts is clear with the Skylake launch. As it does is every generation, the multiplier-unlocked Core i5 processor will be a fan-favourite amongst gaming users who want high frame rates and an easily overclockable CPU, without siphoning too much cash away from their graphics card budget. The Core i5-6600K delivers on those requirements and isn't hampered by its lack of hyper-threading when using a 1920×1080 resolution (although GTA V gives it a tough run).
The flagship Core i7 SKU will appeal to consumers who conduct fairly intensive work on their system, in addition to gaming. But that's not to say that the i7-6700K is a simple choice – the Skylake flagship has more competition right now from its similarly-priced HEDT competitor than any of its predecessors dating back to the Sandy Bridge days have experienced. The Haswell-E 5820K has cores, cache and PCIe connectivity on its side while the Skylake 6700K flaunts higher overclocked speeds, lower power usage, and a fundamentally better chipset.
The CPU guy inside me says go for the 5820K while the platform guy points towards the 6700K and Z170 chipset. It's a tough choice.

There are suggestions that supply of the Skylake processors is short, so it may be advisable to brace for a tough few weeks on the point of pricing and stock levels. OCUK have the Core i5-6600K available for £209.00 and the Core i7-6700K for £319.99. Z170 motherboards are likely to start at sub-£100 levels for entry-level SKUs, with the feature-packed mid-range parts occupying the £110-190 price brackets.
Skylake is faster than Haswell on a clock-for-clock basis, has lower power consumption, and brings with it a healthy new platform with DDR4 and enhanced PCIe 3.0 support. The Core i5-6600K is smart buy to gamers and users with less computationally-demanding workloads, while the Core i7-6700K will appeal to those who can make use of hyper-threading and extra cache. The latter, however, faces stiff competition from Intel's faster six-core i7-5820K and relies upon the excellent, more cost-effective Z170 chipset to put up a stern fight.
Discuss on our Facebook page HERE.
Pros:
Faster IPC than Haswell-based micro-architecture (which includes Devil's Canyon).
Largely consistent and positive overclocking frequency limits.
Plenty of options to tweak the CPU speed – fully unlocked BCLK and core multiplier.
Stable at higher voltage levels than Haswell and Devil's Canyon – 1.4V Core voltage can be cooled relatively easily.
Good air- and water-cooled thermal performance, despite using TIM under the heatspreader.
The Skylake/Z170 platform is excellent , especially the new DMI and chipset PCIe 3.0 lanes.
Support for DDR4, as well as DDR3 in its low-voltage flavour.
Good performance in gaming (excluding early software bugs), especially when factoring in the i5-6600K's pricing.
Cons:
i7-6700K has a very tough battle against the faster, six-core i7-5820K.
Resources and budget are still allocated to an iGPU that many gamers and enthusiasts will ignore.
20 PCIe 3.0 lanes on the CPU would have been better for two graphics cards and a low-latency PCIe SSD.
KitGuru says: Skylake is towards 10% faster than the Haswell architecture and offers consistently positive overclocking gains. Despite tough pricing competition for the flagship i7-6700K, the overall platform and its capabilities are where Skylake shines.