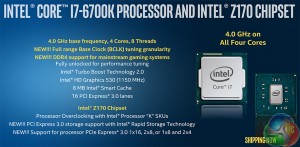 While the slide specifically references the Core i7-6700K, many of its points are true for the Z170 platform as a whole.
One of the key differentiators when it comes to overclocking is that Intel has decoupled the CPU BCLK and the PCIe clock for Skylake. With Sandy Bridge's 2011 introduction, Intel effectively locked down the BCLK and prevented its overclocking capacity. This gave users a very limited freedom (typical less than 8%) to adjust the BCLK, forcing reliance upon the CPU core ratios for overclocking. Intel has been a little more open about BCLK adjustments in recent generations – the 100MHz, 125MHz, 167MHz BCLK straps for Haswell and Ivy Bridge-E were useful.
Skylake's clock decoupling allows full adjustment of the CPU BCLK without having a negative effect on other system components. There's a full range of capabilities with 1MHz increments, which means that good 'ol fashioned BCLK overclocking is well-and-truly back. Some of the older overclockers accustomed to Intel's pre-Sandy Bridge platforms will be glad to see the return.
And to those who have delved into the scene of overclocking since the release of Sandy Bridge, the straightforward core ratio overclocking procedure still exists thanks to an unlocked multiplier for K series SKUs.
The Core i7-6700K uses Intel's HD 530 on-chip GPU. We do not actually have much information relating to the GPU, although we know that it is clocked at 1150MHz and is likely to be faster (and consume more power) than Devil's Canyon's iGPU. We aren't going to focus on iGPU performance today as the vast majority of gamers and enthusiasts will be opting for a dedicated graphics card.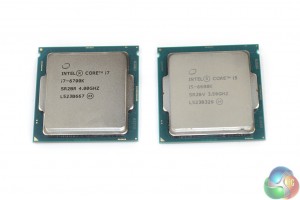 Another of the key differences when it comes to CPU operation is that Intel has pulled the on-chip voltage regulator (known as the Fully-Integrated Voltage Regulator, or FIVR for short) out of the CPU and handed this control back to motherboard manufacturers. This removes the requirement for a separate input voltage that drives the FIVR and therefore simplifies overclocking by removing one of the voltage settings.
Unlike the HEDT chips, Intel's mainstream CPUs, Skylake included, utilise Thermal Interface Material (TIM) rather than solder to bond the CPU die and heatspreader. This manufacturing method reared its ugly head with the initial Haswell CPUs which suffered from high operating temperatures due to the limited heat transfer capacity of the TIM and heatspreader/die bond.
Intel fixed the Haswell problem by implementing its Next-Generation Polymer Thermal Interface Material (NGPTIM) on Devil's Canyon, which resulted in a temperature decrease of more than 10% in our testing. That still doesn't deviate from the point that any form of polymer TIM is, almost certainly, less thermally conductive and effective than the solder that HEDT chips use.
With that said, we would hope that the shrink to 14nm transistors and lessons learned with Devil's Canyon will help Skylake to manage its thermal performance better than initial Haswell processors did.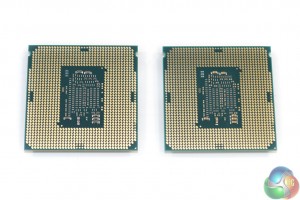 Skylake CPUs fit into Intel's newly-released LGA 1151 socket. Yes, that is a single extra pin over the LGA 1150 socket that it replaces. Consumers show frustration regarding Intel's short-lived CPU socket progression, so the company addressed this point at the Skylake press seminar.
The new socket forces users to invest in the accompanying motherboard (which will feature the latest chipset and its partnering features) if they want to upgrade their CPU, rather than just drop the new chip into an older motherboard. Everybody will have an opinion on this mindset, however Intel pointed out that their engineers and architects design the platform as a whole rather than segregate the CPU and motherboard (socket and chipset). That point is more understandable from a technological advancement perspective – it may be just one pin on the face of the situation, but there are significant under-the-hood changes to the CPU and platform.
Using a legacy motherboard with its older power delivery design and PCB traces could potentially make it impossible for some of the platform changes to be implemented. I highly doubt that Skylake's significant power delivery change, for example, would have been possible if reapplication of LGA 1150 motherboards designed for Haswell's FIVR was made a design criteria.
From left to right: Devils' Canyon i7-4790K, Haswell-E i7-5820K, Haswell-E i7-5960X, Broadwell i7-5775C, Skylake i5-6600K, Skylake i7-6700K.
Skylake's CPU sizing is practically identical to previous mainstream processors. That's important because it means that mITX motherboard designs are actually possible and can be recycled for the Z170 platform. The physically large Haswell-E CPUs present a significant challenge for motherboard vendors attempting to make a mITX X99 motherboard.
The only other significant physical differences between the LGA 1150 and LGA 1151 CPUs are a change to notch positioning and a significantly more dense power delivery system for Skylake chips.
There's also the cluster of extra pins (overlapping the area of pin absence on each side of the CPU) that could be used to unlock additional settings as we have seen with Asus' OC Socket design for LGA 2011-3 CPUs. A recent news article pointed towards LGA 1151 OC Socket designs, which will indeed be incorporated on Asus' higher-end SKUs. The effectiveness of such a design depends on whether or not motherboard vendors can extract any useful benefits from the pins.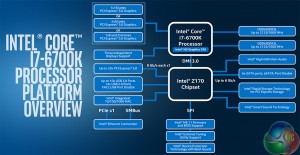 At the heart of the platform is the LGA 1151 Skylake CPU. Memory support is provided for DDR4-2133MHz and 1.35V DDR3L-1600MHz officially, however DDR4 speeds and DRAM divider support of up to 4133MHz have been claimed possible by Intel. This is the mainstream platform, so memory runs in dual-channel operation and most mATX and ATX motherboards will support up to four DIMM operation.
One of the most substantial upgrades comes from Intel's application of DMI 3.0. The latest version of the CPU-to-chipset Direct Media Interface uses PCIe 3.0 lanes which offer double the bandwidth of their PCIe 2.0 predecessors. Although Intel could not give us the official link speed, a look inside Asus' Z170 UEFI implies (we cannot certify it) that DMI 3.0 operates at a total bandwidth of 32Gbps via four 8GT/s lanes. If true, that translates into a 4GBps connection between the CPU and chipset, which is roughly enough speed to satisfy a pair of Intel SSD 750 PCIe drives in RAID 0. On that same point, the Z170 chipset and latest RST drivers support RAID for PCIe storage drives.
Running off the feature-healthy Z170 chipset are six SATA 6Gbps ports, up to 14 USB ports in total (up to ten of which can be USB 3.0), and up to twenty PCIe 3.0 lanes. Intel uses its flexible IO ports (FlexIO) to allow motherboard vendors to choose the combination of outputs that best suits their specific SKU. Intel told us that up to 26 of these flexible lanes are available, although the limitations as to the minimum number of a certain output were not disclosed. So, in theory, a configuration along the lines of six SATA 6Gbps connectors, four USB 3.0 ports, and 16 PCIe 3.0 lanes may be plausible. That opens up multi-GPU potential through the chipset's PCIe 3.0 lanes.
We asked Intel why USB 3.1 wasn't baked onto the chipset by default and the response was because they think that Thunderbolt 3 is the better solution. Obviously motherboard vendors disagree as the vast majority of their boards use add-on USB 3.1 chipsets from the likes of ASMedia, Intel, and EtronTech.
The Skylake CPUs support sixteen PCIe 3.0 lanes. That bank of sixteen can be deployed as 1×16, 2×8, or 1×8 + 2×4, making 2-card SLI (which demands a minimum x8 link) and 3-card CrossFire possible. That, if you ask me, is not a particularly future-proof decision on Intel's part. Users wanting 2-card SLI or high-bandwidth CrossFire in addition to a PCIe 3.0 x4 NVMe SSD (which are set to become far more commonplace over this platform's life-cycle), will be forced to handicap the ultra-fast storage drive by running it through the higher-latency chipset-fed PCIe 3.0 lanes. Outfitting the CPU with 20 PCIe 3.0 lanes would have been a smarter move.
Put simply, if you want to use two graphics cards with a PCIe 3.0 NVMe SSD, or more than two GPUs, the X99 platform and its plentiful PCIe connectivity is perhaps the best way to go.
The overall platform adjustments are, arguably, where Skylake shows its greatest improvements. While the platform may have its shortfalls, the chipset is a significant and welcomed improvement over yesteryear's Z97 offering. It is refreshing to see that Intel is finally equipping the chipset with PCIe 3.0 lanes, as this gives motherboard vendors extra flexibility to deploy add-on controllers (high-speed storage, USB 3.1, Thunderbolt, etc.) without siphoning off the CPU's limited number of lanes.