Cinebench
We used the 'CPU' test built into Cinebench R15 to test single and multi-core performance.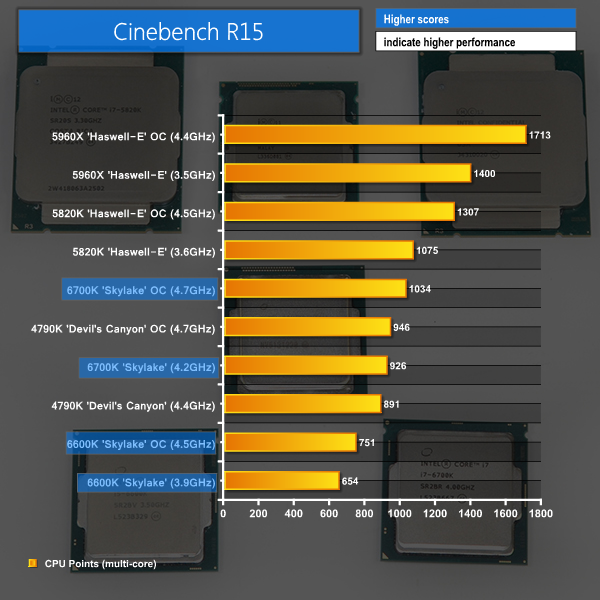 We used the 32M test in Super Pi to analyse single-threaded performance.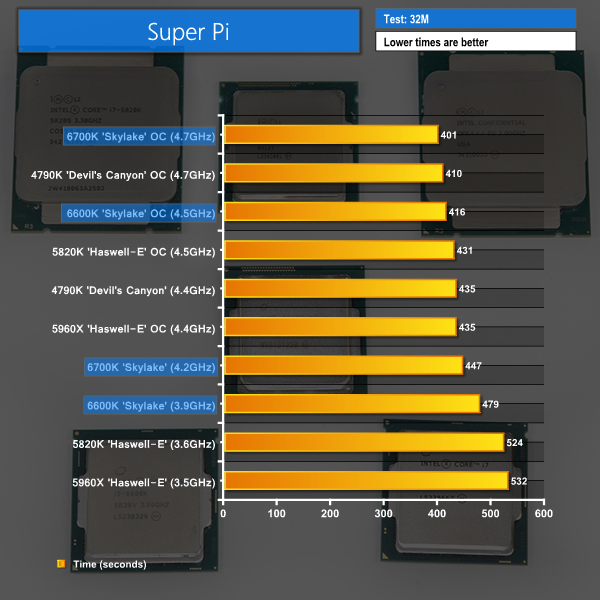 Handbrake Conversion
We measured the average frame rate achieved for a task of converting a 1.23GB 1080P game recording using the High Profile setting and MP4 container.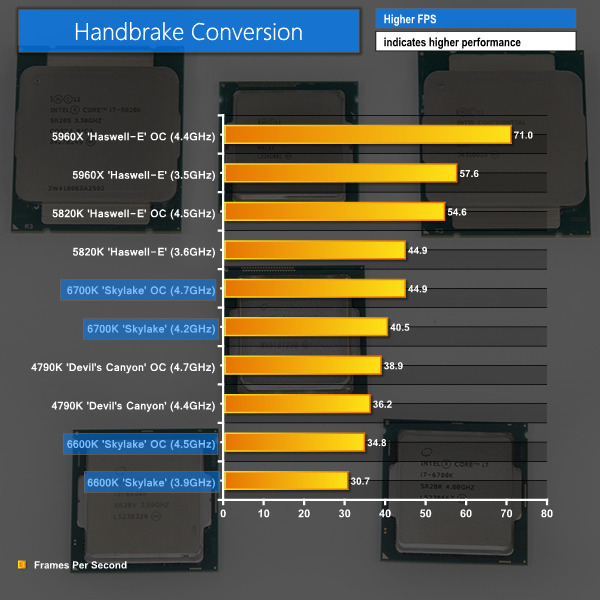 7-Zip
We used the built in benchmark to indicate theoretical 7-Zip performance and we also manually archive a 1.23GB MP4 game recording.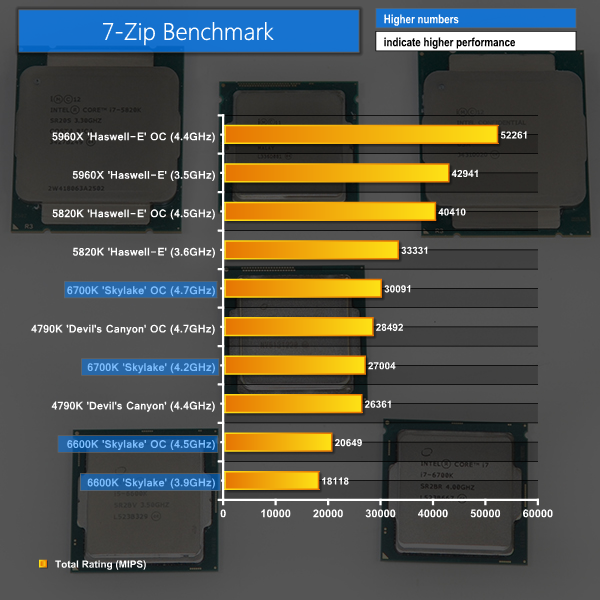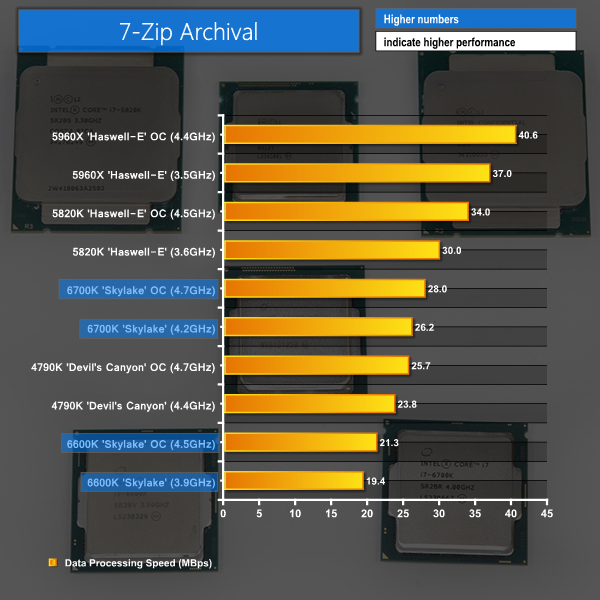 The Skylake CPUs make a positive start in Cinebench's multi-core rendering test. Despite its 200MHz speed deficit, the stock-clocked 6700K manages to outperform the Devil's Canyon 4790K by 4%. With the Skylake and Devil's Canyon i7 CPUs both overclocked to 4.7GHz, Intel's new 14nm part outperforms yesteryear's LGA 1150 fan favourite by just over 9%. The i5 puts in positive numbers, although Cinebench shows off the benefit that extra cache and hyper-threading cores deliver to rendering workloads.
Cinebench's single-core rendering test is perhaps one of the best ways to show Skylake's IPC improvements. The highly-overclocked 6600K and 6700K chips take assertive performance leads with only a 4.7GHz 4790K left to split them from the stock-clocked 6700K. Skylake's architectural benefits are indicated by the 3.9GHz i5-6600K nearing the performance of an £800 4.4GHz 5960X and the 6700K almost matching the overclocked 4790K while sporting a 500MHz speed deficit.
Super Pi's single-threaded workload continues to shine a positive light on the Skylake architecture. A high operating frequency wins the game with Super Pi, but Skylake manages to open a clock-for-clock lead over the Haswell architecture.
Our Handbrake conversion test registers the Skylake i7 with a distinctive performance lead over Devil's Canyon's 4790K. Pushed forward by its newer micro-architecture, the overclocked four-core i5-6600K is nipping at the heels of a stock-clocked, hyper-threading 4790K. Switching the reference point to pricing similarities, it takes a 1.1GHz operating speed benefit for the almost identically-priced 6700K to match the performance of a stock-clocked Haswell-E 5820K. Remove the frequency shackles from Haswell-E's lowest-cost, six-core chip and the beast opens up a comfortable performance lead of 22%.
7-Zip loves fast cores and functions well with hyper-threading. Unsurprisingly, the six- and eight-core Haswell-E chips top the performance chart, however Skylake's modern architecture and support for fast DDR4 memory allow the stock-clocked 6700K to leapfrog the overclocked 4790K in our archival test. The i5-6600K cannot match the performance of hyper-threading Core i7s, however its target audience is not necessarily consumers who will be running heavy, multi-threaded workloads on a regular occurrence.