Metro: Last Light
We used a 1920×1080 resolution and the Metro: Last Light built-in benchmark set to 'Very High' quality to offer an intense challenge for the hardware.
We have heard of additional comments suggesting that Metro: Last Light has a software bug that is hampering its performance with the Skylake-based platform by inducing consistent stuttering. We certified that this issue relates to Skylake platform drivers by running the same benchmark on a separate SSD that utilises our Z97 system drivers, not the Skylake/Z170-specific ones, and the performance was 113.0 FPS, which is roughly what we would expect.
The Z170 platform launch and new driver updates should fix the stuttering problem to restore CPU performance.
Update 13/08/2015: We have tested the i7-6700K CPU using ASRock's Fatal1ty Z170 Gaming K6+ motherboard and recorded an average frame rate of 117.7 FPS for Metro: Last Light. It looks like the necessary software issue has either been solved by an update, or is limited to a bug for the Asus motherboard. You can read the review HERE.
Grand Theft Auto V

We apply very near maximum settings in Grand Theft Auto V and a 1920×1080 resolution to push today's hardware. Our data was recorded using the built-in benchmark.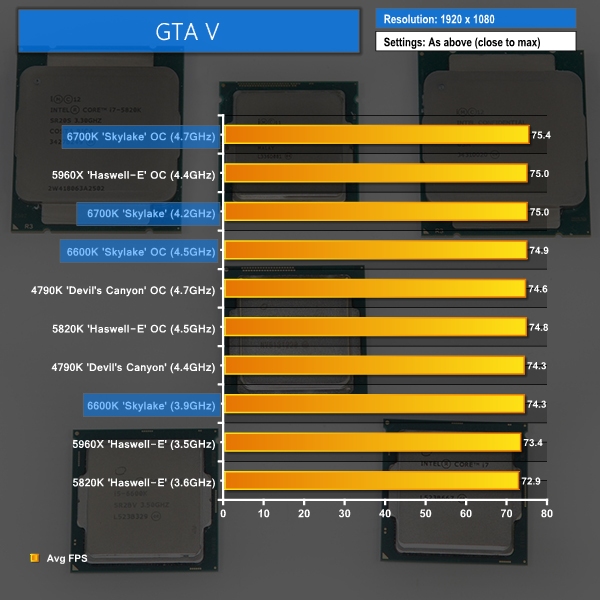 Middle Earth: Shadow of Mordor
We used a 1920×1080 resolution and the Middle Earth: Shadow of Mordor built-in benchmark set to 'Ultra' quality.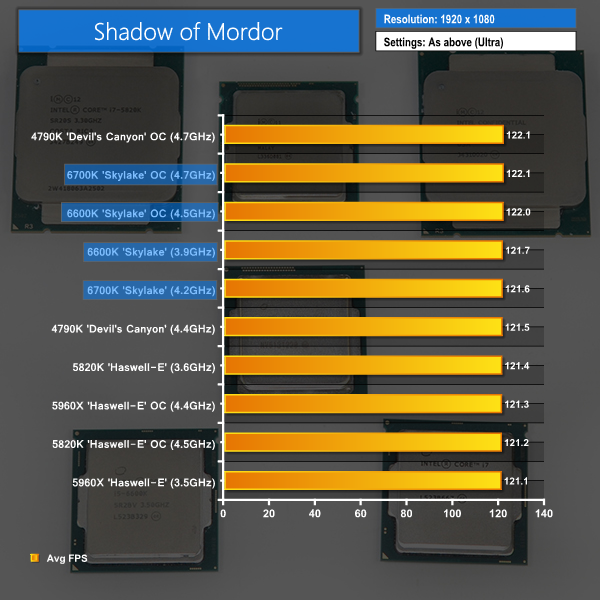 Tomb Raider
We used a 1920×1080 resolution and the Tomb Raider built-in benchmark set to maximum quality, with TressFX disabled.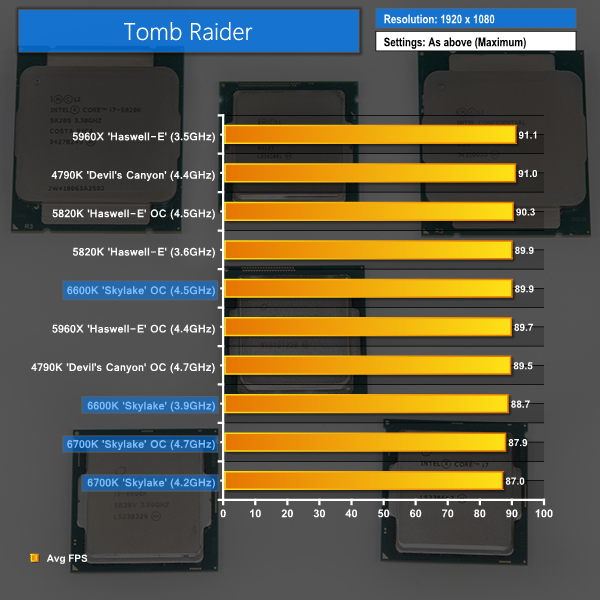 The Grand Theft Auto V game engine is, quite simply, a work of art. Hardware optimisations are excellent – we recorded the game spreading its workload across 10 threads on the 5960X and 5820K in order to reduce the utilisation of each core. But when tasked with a four-core, four-thread chip like the i5-6600K, the game is equally happy cramming its workload into the compute resources available.
GTA V's performance numbers suggest that the game likes fast cores. At 1920×1080, all CPUs achieve more-or-less the same performance. CPU utilisation varied drastically, however, with the i5-6600K regularly seeing 90%+ utilisation across all four of its cores, while the game engine's thread-balancing optimisations present a utilisation more towards 30-60% for the six and eight hyper-threading cores of Haswell-E CPUs.
Crank up the resolution and you increase the amount of AI interaction on-screen and therefore the amount of computational operations being processed. That's important to higher-than-1080P gamers and is something that we will examine to a greater extent in a future article.
What higher CPU utilisation of fewer cores, rather than lower utilisation of many threads, also spells is diversified difficulty for thermal and overclocking management. When running a CPU near its frequency limit, it is harder to maintain the stability of heavily loaded cores than it is for more threads running at a lower utilisation. That's also important when deciding which CPU satisfies your GTA V requirements.
Shadow of Mordor shows a fondness for the Skylake architecture but this only translates into a small performance improvement that is likely to be within the benchmark's margin of error.
Although not to the same extent as Metro: Last Light, Tomb Raider seemed to take a minor disliking to the early drivers on our Skylake test system. Frame rates were consistently slower, although only by small margins. The Tomb Raider benchmark can show differences of around 3-4% between consecutive runs, so that is also worth understanding when addressing the game's performance numbers.
What our gaming numbers show (accounting for early driver bugs) is that both Skylake CPUs are potent contenders when it comes to 1920×1080 gaming. At that resolution the i5-6600K comes out as a clear price-vs-performance winner and doesn't serve as a bottleneck to even the lightning-quick GTX 980 Ti GPU. But the computational demands of Grand Theft Auto V are clearly pushing the gaming-centric i5 very close to its limit in certain areas. It will be interesting to revisit this set of CPUs when we start seeing DX12 titles enter the market.