3DMark
We used 3DMark's 'Fire Strike Ultra' benchmark which is designed to be used on high-resolution gaming PCs.
PCMark 8
We used the 'Home' test with OpenCL acceleration in PCMark 8 to analyse the general-usage performance of each processor configuration.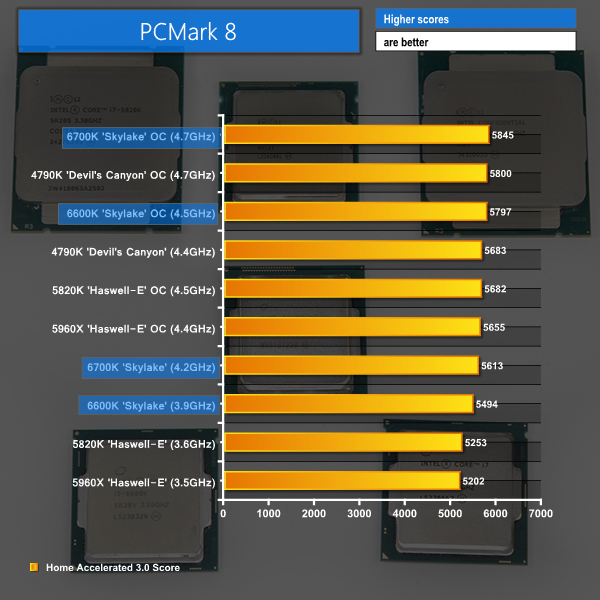 3DMark's Physics score rewards a greater number of fast cores. IPC benefits for Skylake take the 4.7GHz 6700K's physics score clear of that shown by the overclocked 4790K. Those same architectural improvements manage to offset two fewer cores for the 6700K with a 1.1GHz speed boost over the 5820K and allow the Skylake flagship to outperform Haswell-E's popular chip.
The i5-6600K and its flat-four threads put in a solid 3DMark Physics result at both stock and overclocked speeds, although the numbers cannot compete with those set by hyper-threading Core i7 chips. With the promise of greater CPU resource utilisation, one of which ways is by allowing a significantly greater number of draw calls, 3DMark's Physics scores may be a useful insight to what CPUs will offer upcoming DX12 games. On the other hand, that assumes that game developers will actually be able to leverage hyper-threading in an efficient, performance-boosting manner.
PCMark 8 and its OpenCL accelerated Home set of tests magnetise towards clock speed. The general workloads undertaken show very little care for cores or cache, but instead indicate that simplistic everyday tasks will run more effectively with a highly-clocked CPU (the 4.7GHz 6700K or 4.5GHz 6600K) than one with lots of cores (the stock-clocked 5960X).