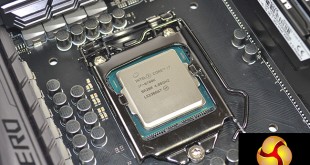 While Intel's High-End Desktop (HEDT) CPUs are fast and fun, it's on the mainstream platform where the chip manufacturing company really shifts volumes to gamers and DIY enthusiasts. Multiplier-unlocked Core i5 and i7 variants of the latest mainstream micro-architecture are the popularity champions on an annual basis; an affordable platform with good enough gaming and general performance from the CPUs translates into a recipe for success. Intel's latest-and-greatest in desktop CPU technology – Skylake – aims to continue that trend, but this time with a platform that is designed to drive the market forward.
Given that Broadwell was so late and, quite frankly, unpopular on the DIY builder scene, let's compare specifically to the Haswell-based predecessors (which includes Devil's Canyon chips). Skylake offers a process node shrinkage from 22nm to 14nm and sprinkles a new architecture into the pudding. The multiplier-unlocked i5 and i7 Skylake CPUs are still largely similar to their Haswell predecessors, however there should be an IPC improvement if Intel has crunched the numbers correctly.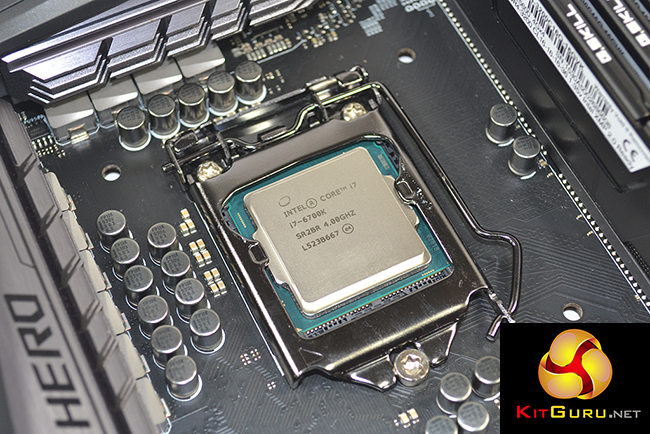 Intel hit somewhat of a recent sweet spot with last year's Devil's Canyon CPUs. High out-of-the-box clock speeds and consistent overclocking gains, tied in with a feature-healthy platform, made up for the relative disappointment that many people had with the initial hot and hard-work Haswell CPUs. Why is that important to Skylake? Because Intel has applied the same logic to its processor launch party.
But there's a lot more to the current situation than just the newly-released CPUs. Windows 10 has been met with open arms and there's also the promise of better utilisation of CPU horsepower with DirectX 12 once the first few games using the new API trickle to market this fall. SSD cost-per-GB ratios are lower than ever before and the same can be said for DDR4, which is now as closely priced to DDR3 as it has been since last year's inception of the memory technology.
Those factors are critical in driving the keenness of many DIY system builders to upgrade their 3+ year-old platform to something more in line with today's requirements. And that's where Intel is trying to cash-in with Skylake. But to reap the rewards of eager builders, performance has to be enough to tempt users away from their ageing, but possibly still satisfactory, platform.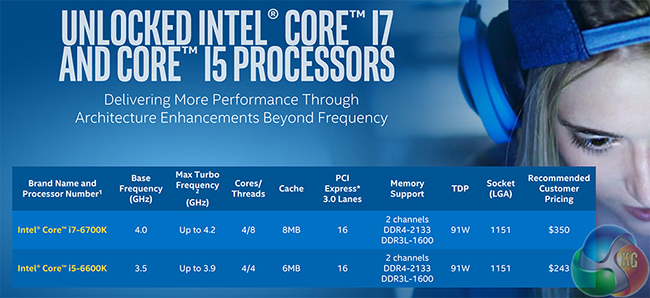 As a testament to the company's gaming focus, or so Intel suggests, the Skylake launch party consists of a pair of gamers' favourite SKUs. The supporting cast of desktop and high-performance laptop chips are expected to follow in the coming months.
Starting with the flagship Core i7-6700K, Intel dishes out a base frequency of 4.0GHz on all four hyper-threading cores with a maximum boost clock speed of 4.2GHz. That's the same base speed but a 200MHz boost deficit when comparing to the Devil's Canyon 4790K. There's the 8MB of cache that has become commonplace for Intel's mainstream unlocked Core i7 SKUs, and the chip commands a 91W TDP.
Switching focus to the Core i5-6600K, the comparison to last year's Devil's Canyon i5 becomes a lot closer. Base frequency is rated at 3.5GHz across all four cores with a maximum turbo speed of 3.9GHz. Factor in the 6MB of cache and the CPU's three main characteristics are identical to those for the i5-4690K.
With 91W TDPs, the chips' power consumption numbers are up 3W over the Devil's Canyon comparisons even though the process node has been switched to 14nm transistors and maximum clock speed is down by 200MHz for the i7. We asked Intel why this was and the somewhat hesitant indication was that the higher-performance on-chip GPU commands more power.
Dual-channel memory is supported, but this time in DDR3L and DDR4 types. More on that later. There's still the same set of sixteen PCIe 3.0 lanes built into the CPU. Skylake processors use an entirely new LGA 1151 socket, making them incompatible with previous generation motherboards. We will explain Intel's mindset on the constant demand for new sockets on the next page.
Retail pricing is almost identical to the Haswell and Devil's Canyon unlocked i5 and i7 SKUs. Expect the i5-6600K to sell for around £190-210 and the i7-6700K for around £290-320.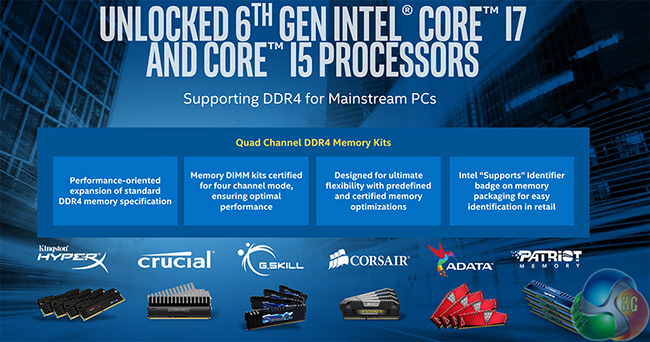 One of the biggest advancements brought to the table by Skylake is the introduction of DDR4 memory support to the mainstream platforms. Since August 2014, desktop-grade DDR4 has only been useful to consumers who invested in the more expensive X99-based HEDT platform. With the new memory technology being introduced to mainstream desktop platforms, the surge in demand should help to drive prices southwards.
In short, DDR4 has significantly greater operating frequencies than DDR3 but with a penalty of higher latency. The 288-pin DIMMs operate at a lower voltage than is standard for DDR3 (1.20V vs. 1.50V) and support higher capacity chips, such as the 16GB sticks currently available.
All of the major memory vendors have DDR4 kits available for Skylake's launch. Corsair and G.Skill, for example, have 3200MHz 16GB (4x4GB) kits available, spelling some of the highest-speed sets of memory that we have seen on general sale to date.
Perhaps to ease the upgrade cost to users jumping from an older platform, Skylake CPUs retain support for DDR3 memory in its low voltage – 1.35V – form. Intel and motherboard vendors are keen to push consumers towards DDR4 memory, but we have seen talk of some Z170 motherboards supporting DDR3. We haven't yet had a chance to examine DDR3L memory support for Skylake, but we are told that the 1.35V ceiling is pretty much fixed, so the chosen memory sticks must be able to operate at the lower-than-standard level.
This reminds me of the time when we were all told that 1.65V DDR3 would damage Sandy Bridge processors and 1.50V kits should be purchased. Nothing came of that, and 1.65V DDR3 memory proceeded to function correctly with Sandy Bridge CPUs, so it will be interesting for us to take a closer examination of Skylake's DDR3 support in a future article.
Without hesitation, let's take a closer look at the Skylake processors and the platform features.
Features (Core i7-6700K):
4.0GHz base frequency (up to 4.2GHz turbo frequency).
Unlocked core ratio multiplier.
Full range of BCLK tuning with 1MHz granularity.
4 cores, 8 threads.
8MB Intel Smart Cache.
Dual-channel DDR4-2133MHz and DDR3L-1600MHz native memory support.
16 PCIe 3.0 lanes.
Intel HD 530 GPU (1150MHz).
91W TDP.
LGA 1151 socket.
$350 recommended customer pricing.
Features (Core i5-6600K):
3.5GHz base frequency (up to 3.9GHz turbo frequency).
Unlocked core ratio multiplier.
Full range of BCLK tuning with 1MHz granularity.
4 cores, 4 threads.
6MB Intel Smart Cache.
Dual-channel DDR4-2133MHz and DDR3L-1600MHz native memory support.
16 PCIe 3.0 lanes.
Intel HD 530 GPU.
91W TDP.
LGA 1151 socket.
$243 recommended customer pricing.