Advanced Micro Devices is currently the only company to use high-bandwidth memory it co-developed with SK Hynix and other partners. While usage of HBM is clearly a competitive advantage that AMD has over its rivals, the company is encouraging others to use the new memory type and does not intend to collect any royalties for HBM.
It has taken AMD over 8.5 years to develop high-bandwidth memory and a set of technologies that enable new DRAM chips as well as their interface with host processors. In a bid to make HBM memory more affordable, more developers of graphics processors and other bandwidth-demanding chips have to use this technology. Once HBM gets less expensive than today, the industry in general will benefit from this.
Nvidia Corp. has publicly revealed that its next-generation "Pascal" architecture of graphics processors supports second-generation HBM memory and in 2016 graphics cards with GP100 GPUs and HBM2 DRAM will hit the market. In fact, HBM support is a key feature of Nvidia's "Pascal", which will help the company to triple the bandwidth available to its next-gen GPUs, thus significantly improving their performance.
Earlier this week a web-site reported that Nvidia will delay adoption of HBM because of royalties demanded by AMD for its HBM-related intellectual property. In particular, it is reported that 2.5D GPU packaging used for the "Fiji" graphics processing unit is covered by AMD's patents and Nvidia either needs to design its own package or pay licensing fees to its rival. According to AMD, this is not true.
"AMD is not involved in collecting any royalties for HBM," said Iain Bristow, a spokesman for AMD. "We are actively encouraging widespread adoption of all HBM associated technology on [Radeon R9] Fury products and there is no IP licensing associated."
Advanced Micro Devices owns a number of patents covering HBM, but as that intellectual property is a part of JEDEC's JESD235 standard, it has to be licensed to applicants desiring to implement the standard "either without compensation or under reasonable terms and conditions that are free of any unfair discrimination." Moreover, AMD and Nvidia have a broad cross-licensing agreement, which largely prevents royalty demands.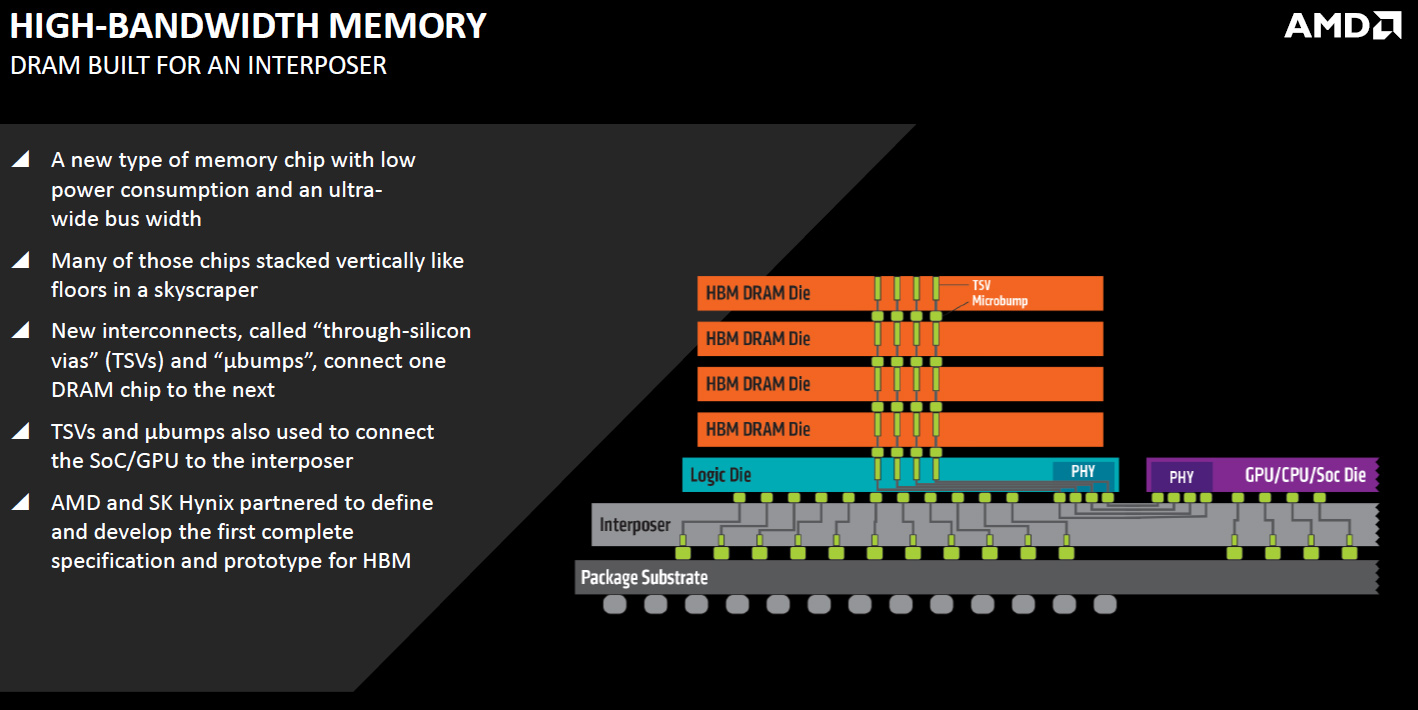 Nvidia did not comment on the news-story and called the information "rumours and speculation."
Discuss on our Facebook page, HERE.
KitGuru Says: Adoption of HBM memory by Nvidia may be slow-downed not by AMD, but by availability of second-generation HBM. Perhaps, SK Hynix and Samsung Electronics will only release next-gen HBM in the second half of 2016, which means that HBM2 will be available in mass quantities only in 2017.