The AMD Radeon RX 5700 XT ships in a compact box, with just the product branding visible on the front. Removing the outer sleeve, we can see the box is in two parts – the top lifts off to reveal the card sitting in a foam surround.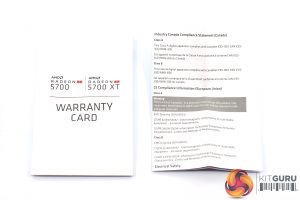 Just before getting a closer look at the card, however, it is worth pointing out a warranty card and an international compliance information leaflet are also included.
The RX 5700 XT itself certainly very distinctive in terms of its appearance. It has a dark grey aluminium shroud, but unlike the 5700 which is quite plain, this has a number of ridges – or lines – cut into the shroud itself, giving it a very textured feel. On top of that, you can already make out the signature 'dent' in the top side of the card, but we'll touch on that below.
Personally I think it is a visually appealing design. It's more than just a slab of aluminium, while the red and silver Radeon logo positioned in the middle of the shroud adds some sparkle. Aesthetics aside, it's obviously still one of AMD's blower-style coolers – where the fan draws air over the GPU and board before exhausting it out the back of a case. We'll have to see how effective this is later on in the review.
Both sides of the shroud keep the same ridged aesthetic, with some stickers just above the PCIe connector.
As for dimensions, I measured the card at 277mm long x 112mm tall, while it is a standard dual-slot thickness. No doubt we will see some beefy custom cards from the likes of Sapphire, ASUS and MSI, but the reference board is pretty compact.
Here we get a better look at the front side of the shroud, with its red stripe and the Radeon logo which is illuminated by red LEDs once the system is powered on.
The black backplate also looks good on the dark grey shroud, with some slight Radeon branding in the bottom corner. AMD has left a cut-out behind the GPU core, but aside from that the backplate covers the entirety of the card.
Above we get a closer look at the card's 'dent'. AMD officially calls this a 'thermal contour' which is supposedly meant to help airflow, but it seems to me to be more about product differentiation than anything else.
The rear of the card is also home to more Radeon branding, printed in red.
As for power connectors, the 5700 XT requires 1x 8-pin and 1x 6-pin. Total board power is rated at 225W, which is 10W more than Nvidia's 215W total graphics power (TGP) rating for its RTX 2070 SUPER.
Lastly, display outputs are set as 3x DisplayPort and 1x HDMI connectors, with most of the I/O bracket given over to ventilation.