Since the launch of the RTX 3060 Ti back in December, it was only a matter of time until Nvidia released the RTX 3060. Based on the new GA106 GPU, RTX 3060 is the cheapest Ampere GPU yet, with an MSRP of £299… although as we know, MSRP doesn't mean much these days. As there's no Founders Edition for the RTX 3060, for launch we have tested Gigabyte's RTX 3060 Gaming OC 12G.
In terms of performance, Nvidia is marketing the RTX 3060 as the ultimate 1080p graphics card, capable of playing the latest games at 1080p/60fps – including those with ray tracing. In terms of traditional rasterisation performance, at 1080p the RTX 3060 averaged at least 60FPS in every game we tested today – and bear in mind that includes a number of highly demanding games like Red Dead Redemption 2 and Cyberpunk 2077, all tested using Ultra settings.
1440p gaming is also viable with the RTX 3060, but you're not guaranteed a solid 60FPS. We saw frame rates exceed 60FPS at 1440p in less demanding titles like F1 2020 and Hitman 3, but Assassin's Creed Valhalla and Watch Dogs: Legion, among others, hovered in the 40-50FPS region. Based on that, for the smoothest experience I'd prefer to use the RTX 3060 at 1080p, but 1440p gaming certainly isn't out of the question.

In terms of relative performance, the RTX 3060 is on average 21% faster than the RTX 2060 at 1080p, though that does increase to 25% at 1440p. Against the RTX 3060 Ti, average performance is 21% slower at 1080p. At the same resolution, we saw RTX 3060 come in 5% slower than the 5700 XT, but also 8% faster than the RX 5700.
If you do want to game with RTX On, then RTX 3060 will accommodate you at 1080p. DLSS will obviously boost the frame rates if you choose to enable it, but even at native resolution, we saw the RTX 3060 more-or-less matching the RTX 2070 Super with ray tracing enabled, delivering 40-50FPS in games like Control and Watch Dogs: Legion.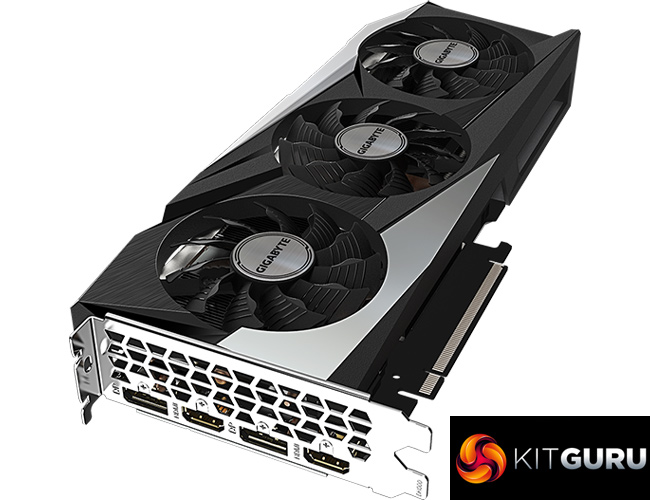 In lieu of a Founders Edition, we tested the thermal and acoustic performance of the Gigabyte Gaming OC, and it is a terrific model. Temperatures didn't exceed 61C, which is a very impressive result, while noise levels were absolutely not a concern. If anything, I'd say this cooler is overkill for the RTX 3060, and we are expecting to see some single-fan models over the coming weeks, so it will be interesting to see how they can deal with the GA106 GPU. Given the MSRP for the Gaming OC is £429.99 however, it is going to be a very expensive AIB model.
Despite being a factory overclocked card, Gigabyte kept the rated TGP at 170W, which is the same as Nvidia's reference spec. My power testing saw the card average 174W, meaning it is 10-15% less efficient than an RTX 3060 Ti Founders Edition, but still 10-15% more efficient than the RTX 2060. It's not a big jump in power efficiency, but I would also be keen to test a reference-clocked card and see how that would affect things.
Manual overclocking proved worth doing, too, as my sample was able to run at around 2100MHz without any instability. This saw overall performance increase between 6-8%, which still isn't loads, but for Ampere we'd definitely take it. Interestingly, raising the memory frequency by over 500MHz resulted in performance degradation, so that will be another thing to test in a future AIB card review.
All told, Nvidia's RTX 3060 is certainly a decent graphics card, but I wouldn't go further than that. My main lack of enthusiasm stems from the fact the gen-on-gen gains are just not that big with the RTX 3060, and certainly not as big as we've seen from the other Ampere GPUs. At 1080p for instance, which I think is its best resolution, this GPU is on average 21% faster than the RTX 2060, and that increases to 25% at 1440p. Contrast that against the RTX 3060 Ti, which is 35-40% faster than the RTX 2060 Super, we're not looking at such a large jump forward.
Relative to the RX 5700, too, RTX 3060 is 8% faster at 1080p. We obviously can't make any definitive conclusions or judgements without testing it ourselves, but based on that information, the RX 6700 wouldn't need to be much faster than its predecessor to outperform the RTX 3060. That is hypothetical for now, but based on last night's teaser, we may not have to wait too long to see what AMD can bring to the table.
To be clear, RTX 3060 isn't a bad GPU, as it offers a solid level of 1080p gaming horsepower in an efficient and what would be good value package, were it not for the current availability woes which have already driven prices of this GPU up. It doesn't excite quite like the other Ampere GPUs though, so for now we have to say the ball is in AMD's court.

RTX 3060 is due to be available at 5pm GMT today (February 25th). Overclockers UK has a range of cards currently listed HERE. Nvidia also shared two models which are expected to retail at MSRP: the Zotac Gaming Twin Edge (Scan HERE and Ebuyer HERE) and the ASUS Dual (Ebuyer HERE). Gigabyte has informed us the MSRP for its Gaming OC model is £429.99.
Discuss on our Facebook page HERE.
Pros
Solid 1080p gaming performance.
Performs similarly to RTX 2070 Super when ray tracing is enabled.
Reasonably efficient.
Gigabyte Gaming OC runs quiet and cool.
Our sample overclocked to around 2100MHz.
Cons
Not as big of a generation leap as other Ampere GPUs, like the RTX 3060 Ti.
Just 8% faster than RX 5700 at 1080p.
Less efficient than RTX 3060 Ti.
This Gaming OC model is very expensive.
KitGuru says: RTX 3060 can be described as a perfectly fine GPU, but we wouldn't go further than that. It does, however, make for an interesting few weeks as we wait and see what AMD can bring to the table with its RX 6700 and RX 6700 XT.