Despite being first announced almost three months ago, things had gone strangely quiet on the RTX 3090 Ti since its unveiling at CES 2022, with rumours swirling around potential issues with the GDDR6X memory. Whatever the case may have been, the RTX 3090 Ti is now here and launches today, cementing its place as the fastest consumer graphics card on the market.
'Well, how fast is it really,' I hear you ask. Over the twelve games I tested, the RTX 3090 Ti delivered a 12% performance uplift compared to the original RTX 3090, when gaming at 4K. At the same resolution, it comes in 16% faster on average than AMD's flagship RX 6900 XT.
As we have come to expect from Ampere however, it's not quite as strong at the lower resolutions, with a 10% average gain over the RTX 3090 at 1440p, while that shrinks to 6% versus the RX 6900 XT. It's also worth noting that we focused our testing on the MSI Suprim X model, which is a factory overclocked card, so the difference would likely be slightly smaller if we tested a reference-clocked card.
Still, those numbers do conclusively make the RTX 3090 Ti the fastest consumer graphics card that money can buy, and for those wondering we saw similar, if not slightly larger, performance uplifts during ray traced workloads, with Metro Exodus Enhanced Edition putting the RTX 3090 Ti 17% ahead of its non-Ti brethren at 4K. It should go without saying by now that also means the 3090 Ti is clearly faster than AMD's 6900 XT for ray tracing performance, as RDNA 2 just cannot match Ampere in this regard.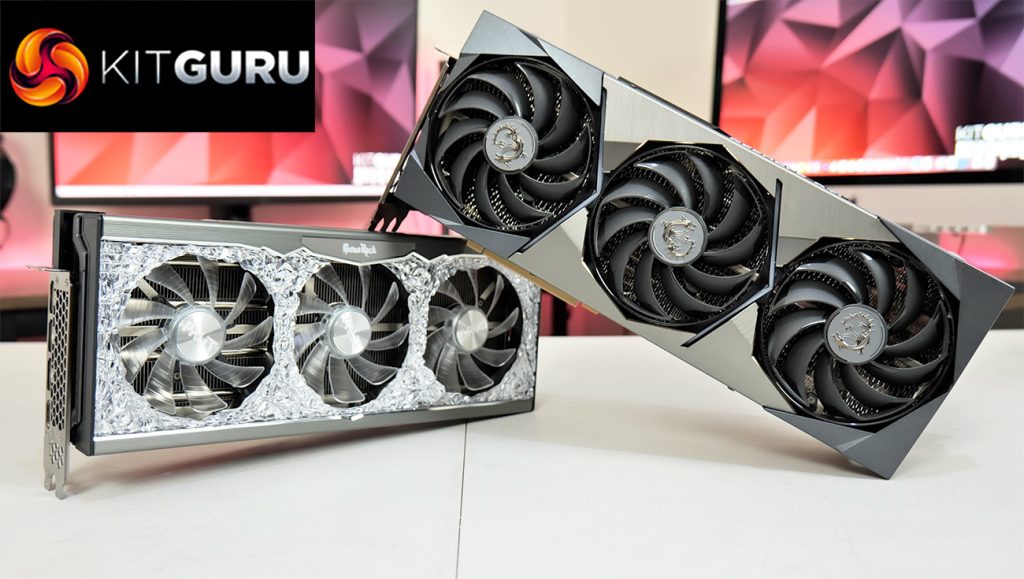 We'll take a moment to discuss the two aftermarket cards we have tested today – the MSI Suprim X and the Palit GameRock OC. Both are very competent cards, though they are also exceptionally large, and I'd expect this to be consistent across every third-party model. Nvidia pushing the power as high as they did requires some cooling to say the least, and noise levels are also slightly higher than what we have seen from previous models in the Suprim X and GameRock series.
On the topic of power draw, there's no other way around it, the RTX 3090 Ti is the single most power hungry GPU I have ever tested. We observed total system power draw exceeding 710W, while power draw for the graphics card only averaged at 463W for the Suprim X, but went as high as 500W in Cyberpunk 2077 at 4K. It is quite staggering really to see a 30% increase in power when compared to the RTX 3090, which wasn't exactly frugal to begin with, particularly in the face of rising electricity prices.
Such monumental power draw has negative implications for overall efficiency too. At 4K, performance per Watt for this new GPU lags behind the competition, as it is 9% less efficient than the RTX 3080 but 26% less efficient than the RX 6900 XT. This is an area where Nvidia had the upper hand for years but times have now changed, and we have to wonder if power efficiency is even a consideration any more, or if the goal is simply to deliver as much performance as the silicon will allow. The idea of Nvidia releasing a 450W GPU would have been almost unimaginable only three years ago, but here we are.
And then we come to pricing. Nvidia set the UK MSRP at £1879, which on paper marks a 34% increase over the £1399 MSRP of the vanilla RTX 3090. The aftermarket cards we have reviewed today however, are priced higher still, with the Suprim X's MSRP set at £1979.99, and that increases to £2179 for the GameRock OC. Considering the RTX 3090 Suprim X is still listed at £2000, while the 3090 GameRock is also selling for £2099, we can only imagine that real-world street pricing will be even higher. In short, this is a graphics card for only the most cash rich of enthusiasts.
Viewed through an objective lens then, the RTX 3090 Ti has more than its fair share of downsides. The extra performance on offer versus the RTX 3090 just doesn't come close to matching either the increase to price or power draw, and while an extra 12% performance on average is certainly not nothing, it's not exactly going to set the world alight.
But I can't shake the feeling that none of those downsides really matter to this card's target audience. And that's because, despite all its shortcomings, the RTX 3090 Ti has met its primary goal of being the fastest consumer graphics card on the market, and for those who this card is aimed at, I think that is all that really matters.
To be clear, its value is very poor, it is excessively power hungry and its efficiency lags behind the RX 6900 XT. But if you just want the best of the best, and don't care about anything else, then the RTX 3090 Ti is the GPU to buy. Just don't be surprised when that all changes with the launch of the RTX 40 series later this year.

You can view the RTX 3090 Ti range on Overclockers UK HERE.
Discuss on our Facebook page HERE.
MSI RTX 3090 Ti Suprim X
Pros
Fastest GPU we have ever tested.
Beautiful design.
Dual-BIOS.
Reasonably quiet under load.
Cons
Extremely large.
Power draw is sky high.
Efficiency has gone out the window.
Palit RTX 3090 GameRock OC
Pros
Basically as fast as the Suprim X.
Bling-tastic design is a real point of difference.
Dual-BIOS.
Slightly less power hungry than the Suprim X.
Cons
Very large.
Power draw is still extremely high.
Efficiency has gone out the window.
KitGuru says: For the vast majority of people, the RTX 3090 Ti isn't worth thinking about as anything more than a technical curiosity. For the richest few who only want the fastest card that money can buy, it will serve its purpose.
Be sure to check out our sponsors store EKWB here