With the Palit GTX 1650 StormX OC being the second GTX 1650 to pass through our labs, it's been interesting to take a further look at the 1650 as a whole. The first model we looked at was from Gigabyte, yet it still had an extra 6-pin PCIe power connector – the Palit, however, is one of the 75W models which draws all of its power through the PCIe slot.
This has allowed Palit to create an absolutely tiny card, as this measures just 145mm long. It's not a low-profile design, but you are almost guaranteed to not run into any issues with the length of the card.
The cooler, too, is very basic – it looks like a slightly smaller Intel stock cooler that's attached to a plastic shroud, but as our testing shows it can do the job for a GTX 1650. It proved one of the quietest cards we've tested, and the GPU only ran at 63C under load. Unsurprisingly, it also draws the least power for any card we've tested today.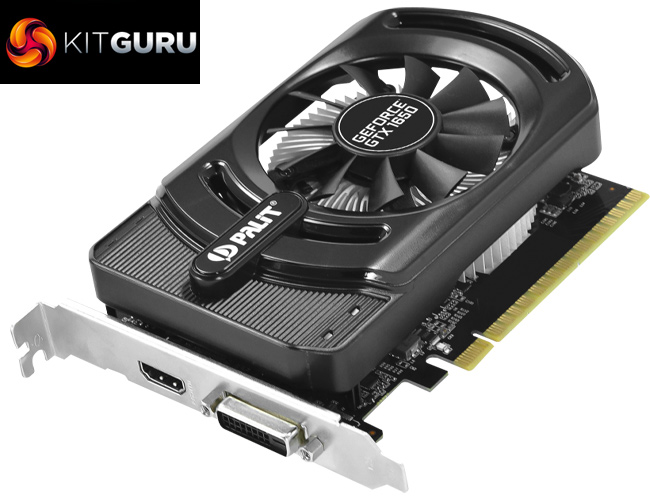 As for how it performs – well, it is pretty much in-line with the Gigabyte GTX 1650. Across all of our benchmarks it was at most 1.3FPS slower, and most of the time the difference was less than a single frame. Considering this is a card with no PCIe power connector – when the Gigabyte does have that extra 6-pin – it's actually quite impressive how little it seems to affect the Palit card.
That is, until we bring RX 570 back into the equation. This is still, far and away, the faster card – performing on average 15% better than this Palit GTX 1650. It's also cheaper, too, as you can buy overclocked RX 570s from £125, when this GTX 1650 retails for £150. Considering it is both faster and cheaper, RX 570 is surely a no brainer.
The only possible shred of hope for this 1650 is the fact it doesn't need an additional power connector, meaning it could be an easy upgrade for older OEM systems or anything that doesn't have a decent power supply. I really don't think that's a very compelling argument, however, as how many systems from the last few years realistically don't have a 6-pin power connector? Certainly you'd have to expect anything that could be classed as a gaming machine would have at least a 6-pin connector – and machines that don't would be more likely to be old office systems with slow CPUs.
Ultimately, we have to look at the big picture – GTX 1650 is slower and more expensive than RX 570, so 6-pin connector or not – I just can't recommend it for gamers on a budget. If it were priced closer to £100, then that might change things – but as things stand, that just isn't the case.

If you do want to pick up the Palit GTX 1650 StormX OC we found it on Overclockers UK for £149.99 HERE.
Pros
Very small.
Runs cool and quiet.
Performs effectively the same as the Gigabyte 1650 we reviewed – which is bigger and requires a power connector.
Minimal power draw.
Cons
Slower and more expensive than RX 570.
No DisplayPort means the card can't be used with a FreeSync monitor.
No fan-stop mode.
KitGuru says: Even without the need for an additional power connector, GTX 1650 makes little sense when RX 570 is both cheaper and faster.