Palit's RTX 3080 GamingPro OC is the fifth RTX 3080 to come through our doors, as we have already looked at RTX 3080 Founders Edition, MSI's Gaming X Trio, Gigabyte's Eagle OC, and the ASUS TUF Gaming OC. That means the Palit really had its work cut out to impress me, as some of those other partner cards performed incredibly during our testing.
Starting first with gaming performance, the GamingPro OC is actually the slowest RTX 3080 we have tested so far, proving 1% slower on average when compared to Nvidia's Founders Edition, while that margin increases to 5% when compared to the MSI Gaming X Trio. In all honesty though, I don't think this matters at all. We're talking margins of just one or two FPS at 4K, so in the real world you just wouldn't be able to tell the difference. There's no getting around it, the GamingPro OC is objectively slower, but I don't think that should be the basis used as to whether or not you buy this card.
On the subject of performance, at the beginning of this review we looked at the instability issues many RTX 3080 users have been reporting, and this is something we experienced with the GamingPro OC. Do check back to page 4 of this review if you want the full analysis, but suffice to say Nvidia's 456.55 driver fixed the issue for me (and appears to have done the same for many others), without any difference to performance, so until I see evidence to the contrary, I would consider that matter closed.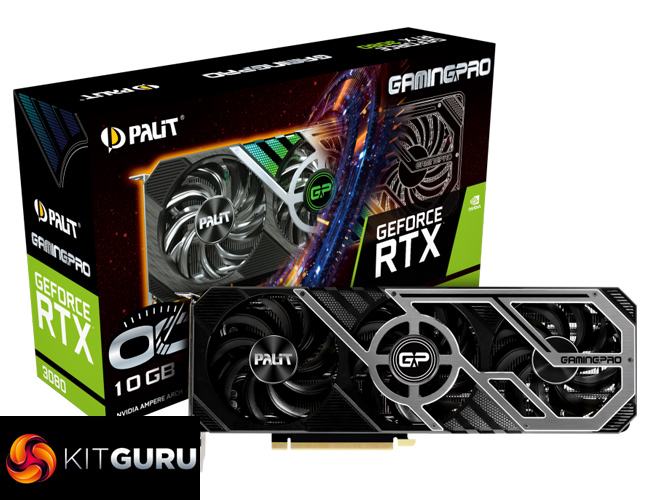 Elsewhere, Palit's cooler design has proved to be pretty competitive. For starters, it runs cool, hitting a peak temperature of 70C during our testing. This is 3C cooler than the MSI Gaming X Trio, and 6C cooler than the Founders Edition, though Gigabyte's Eagle OC and the ASUS TUF Gaming do better in this regard.
Similarly, for noise levels, the GamingPro OC is on par with the Eagle OC, and only very marginally louder than the Founders Edition. The TUF Gaming, when using its Quiet BIOS, is noticeably quieter however, but the GamingPro OC could not be described as a loud card and it did not bother me in the slightest during my testing.
One slight annoyance I had with the overall card design was in terms of the disassembly, where we saw the thermal pads used for the memory completely torn in two – just by removing the heatsink from the PCB. I can't say this would happen with all of the GamingPro OC models out there, but if you would plan on disassembling the card for whatever reason, I would advise having some backup thermal pads on hand should you need them.
All told, the Palit RTX 3080 GamingPro OC is a solid card, no doubt about it. Objectively speaking, it doesn't do much wrong. The only reason we are not being overly effusive about it is because it is up against some very stiff competition. The ASUS TUF Gaming RTX 3080 OC, for instance, is measurably better in terms of its thermals, noise levels and operating frequency, while that card also has the benefit of its dual-BIOS functionality and all-aluminium shroud.
That's not to say you shouldn't buy the Palit, but I think a lot of it will depend how the pricing and availability situation unfolds. Palit told us the SRP for the GamingPro OC is £739.99, which would be about £50 more than the ASUS TUF Gaming, if cards were actually available at that price point. Considering demand is expected to outstrip supply for at least the rest of the year, it's very hard to say how real-world pricing of these cards will pan out. Objectively speaking, there are better performing RTX 3080s out there, but if you can find the GamingPro OC at a good price in the coming months, it will still do the job very nicely.

Right now, the GamingPro OC is listed for pre-order on Overclockers UK, priced at £749.99 HERE.
Discuss on our Facebook page HERE.
Pros
RTX 3080 performance is highly impressive for 1440p and 4K gaming.
GPU hit a peak temperature of just 70C.
Easy on the ears (even if it is marginally louder than the Founders Edition.)
Cons
Up against some very stiff competition from the likes of ASUS and Gigabyte.
Limited overclocking headroom.
KitGuru says: It may not have blown our socks off, but this is still a very capable graphics card. Let's hope we will see it come into stock soon.