While we wait for Nvidia's RTX 3080 Ti to enter the scene – if it ever does – those looking for something with more 'oomph' than the RTX 3080 are stuck with the RTX 3090. Today we have assessed Palit's RTX 3090 GameRock OC offering, and it is one of the most eye-catching cards I have ever seen.
Starting with the performance of this card, Palit's decision to push the power target up to 420W has its benefits. We found the GameRock OC ran up to 5% faster than the RTX 3090 Eagle OC when testing at 4K, but on average the difference is 3%. It's certainly something, but it's not a huge boost.
Still, RTX 3090 remains the fastest consumer card going, and this Palit model adds a few percent to its lead over the RX 6900 XT and the RTX 3080. The only thing to consider is that the efficiency of the GPU is very much reduced, considering the 5% gain (at most) to frame rates, balanced against a 70W, or 20%, increase to power. However, I can't imagine that is much of a concern to anyone prepared to spend almost £2000 on a graphics card.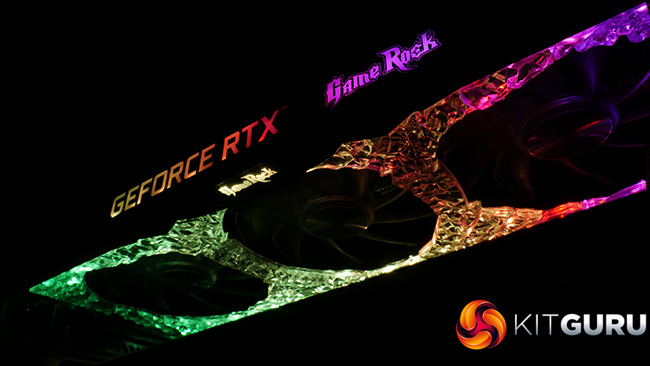 Where the GameRock is most let down is by the cooler. I want to make clear that it's not a bad design, in that the card operates below 80C and it's not nearly as loud as Vega 64 or Radeon VII. It is, however, warmer than we'd expect from a custom card of this size – hitting temperatures up to 75C using the Performance BIOS. It did so while also producing 44dBa of noise, making this the noisiest 30-series GPU we have tested to-date.
It's clearly not ideal, and it would seem some compromise has to be made to get the GPU running at its 420W power target. Users can even push the power draw up by almost another 50W when manual overclocking, which for us saw gains of between 6-7% at 4K. Like most RTX 3080s or RTX 3090s, this isn't stellar, but we have seen worse.
Factor in the pricing, which is currently £1889.99 at OCUK, the Palit RTX 3090 GameRock OC would be tricky to recommend if it were any sort of conventional GPU. The thing is, I really do believe the key attraction behind this kind of graphics card is that it has got the 'wow' factor. Sure, ASUS and MSI – among others – have made good-looking RTX 3090s, but I've not seen anything quite like the Palit GameRock.
In my view, this GPU would be a prime candidate for vertical mounting in a high-end showcase system. If you don't like RGB, it is clearly not for you. If you want value for money, it is clearly not for you. There are, however, some consumers out there who don't care about the price, and just want something unique. After all, it is fast, and it is rather something to behold, so that alone delivers the GameRock OC our 'worth buying' award, even if the cooler leaves room for improvement.

The GameRock OC is listed for £1889.99 at Overclockers UK HERE , and at the time of writing it is showing 9 in stock. There is also a non-OC GameRock for £1799.99, and while the shroud design is the same, this non-OC version has a reduced 370W power limit which could impact performance slightly.
Discuss on our Facebook page HERE.
Pros
One-of-a-kind aesthetic.
Higher power target allows for increased GPU frequency.
Dual-BIOS.
Cons
Not the coolest or quietest.
Very expensive.
Design is likely to prove very divisive.
KitGuru says: I've never seen anything like it. It may not be the best RTX 3090 in an objective sense, but it's fast and is sure to grab attention like no other card on the market right now.