The Asus R9 390X STRIX DC3 OC graphics card uses a well-designed cooling system and enhanced power delivery components to deliver a solid solution.
Asus ships the card with an out-of-the-box factory overclock of 20MHz, although we were able to push the GPU core up to 1150MHz and also unlock an extra 200MHz (800MHz effective) on the 8GB of GDDR5 VRAM. With that said, there are faster out-of-the-box R9 390X cards available from the likes of XFX and MSI although this is unlikely to be a concern for gamers who understand overclocking.
The triple-fan DirectCU III cooler does a good job at keeping temperatures in check with minimal noise emissions. The noise output was actually so low and unobtrusive that I would have liked to see higher fan speeds being used in order to force down the gaming GPU core temperature of 84°C, and almost 90°C when overclocked. Setting a custom fan speed profile is a simple task, though, and the operating dynamics of the 0dB fan modes are generally smart.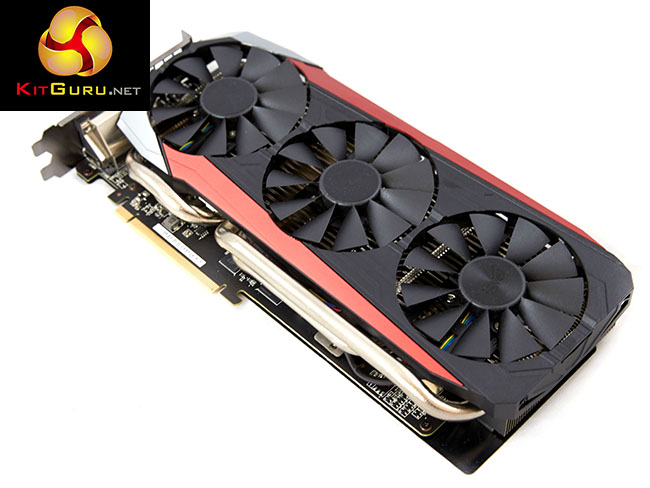 The black and red card design and dark backplate create what is an attractive graphics card. Asus positions a pulsating LED in the side of the cooler, although I did not spot a method of controlling the operation or switching the colour from white.
Asus' choice of display outputs is smart as it permits the use of more than one 4K monitor. I also like the decision to use a dedicated MOSFET heatsink, as the important power delivery components are regularly forgotten about by graphics card manufacturers.
Pricing and performance of Asus' R9 390X STRIX puts the card between Nvidia's GTX 970 and GTX 980 offerings, albeit significantly closer to the latter. Asus' card, unsurprisingly, retains the high power draw numbers from the underlying R9 390X (Grenada XT) GPU.



Priced at £359.99 on OverclockersUK, the Asus R9 390X STRIX DC3 OC 8GB is one of the more expensive R9 390X partner cards. The well-designed, quiet DirectCU III cooler and enhanced power delivery components make Asus' card a competitive option and does help justify the higher price tag.
Discuss on our Facebook page, over HERE.
Pros:
Quiet operation from the DirectCU III cooler.
Wing-blade design fans support 0dB mode.
Enhanced – 8-phase – power delivery system.
Good selection of display outputs for multiple high-res monitors.
White, pulsating STRIX logo may appeal to some.
Well-designed, effective backplate.
One of the higher factory overclocks for R9 390X solutions.
Cons:
High power usage from the R9 390X GPU.
Fans could run a little faster, by default, for lower gaming temperatures.
Overclocking headroom for the R9 390X GPU is small, despite Asus' power delivery enhancements.
KitGuru says: A solid card for 1440P gaming and one of the more competitive R9 390X options available.