Metro: Last Light takes place one year after the events of Metro 2033, proceeding from the ending where Artyom chose to call down the missile strike on the Dark Ones. The Rangers have since occupied the D6 military facility, with Artyom having become an official member of the group. Khan, the nomad mystic, arrives at D6 to inform Artyom and the Rangers that a single Dark One survived the missile strike.
4A Games' proprietary 4A Engine is capable of rendering breathtaking vistas, such as those showing the ruined remnants of Moscow, as well as immersive indoor areas that play with light and shadow, creating hauntingly beautiful scenes akin to those from modern-day photos of Pripyat's abandoned factories and schools.
We opted for the High quality setting at 4K and Very High for 1440P testing. AA was kept off, AF was applied as 16x, and tessellation was set to normal. The minimum FPS readings do not highlight anything more important than very occasional drops in one of the three runs.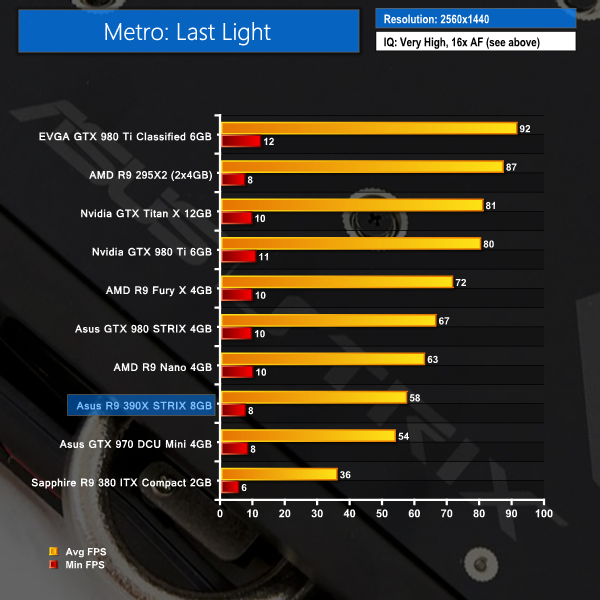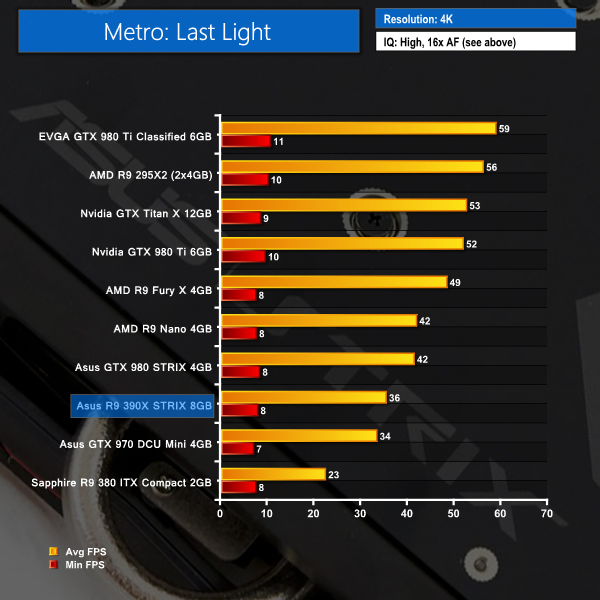 Pricing of Asus' R9 390X STRIX DC3 OC sits between that of a GTX 970 and GTX 980, and that's exactly where we see its performance levels in Metro: Last Light.