While we've known for some time now that Intel is working on its own discrete graphics cards under the leadership of Raja Koduri, there are still a lot of mysteries left to be solved. We know that the Intel Xe architecture will cater to both data centres and gaming PCs, and this week, real-time ray tracing was also announced to be part of the plan.
Intel isn't set to launch its own graphics cards until some time in 2020. As part of an update to the Intel IT peer network, the company announced that the Xe GPU architecture will be built with ray tracing hardware acceleration support, for data centres at least: "We are designing the Intel Xe architecture as a cohesive acceleration companion to our continuing roadmap of Intel Xeon processors. I'm pleased to share today that the Intel Xe architecture roadmap for data center optimized rendering includes ray tracing hardware acceleration support for the Intel Rendering Framework family of API's and libraries."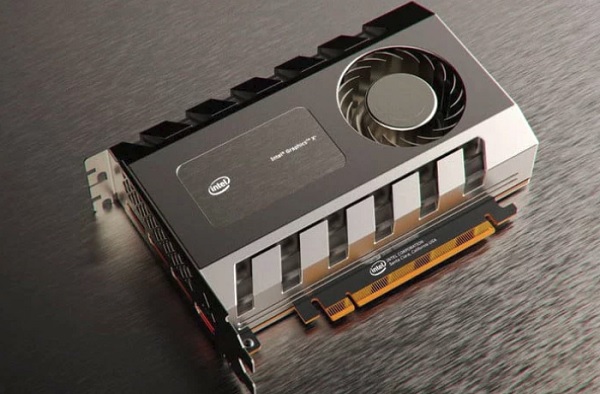 Image: Concept design for Intel Xe GPU. Credit: Intel Corp. 
So we know that Intel Xe will be built with hardware capable of producing ray-tracing at a speedier rate. Whether or not this will work as well as Nvidia's RT Cores remains to be seen though and for now, talk from Intel's end is purely focused on the data centre segment.
Last year, real-time ray tracing began working its way into gaming discussions, with AMD, Nvidia and Microsoft all announcing plans to support the technology. DirectX 12 now has an API for ray-tracing and Nvidia has become the first to take advantage of it with the RTX series of graphics cards. There are only a few games that currently support ray-tracing but that number will grow over the course of 2019 and beyond. Next year, Sony plans to release the PlayStation 5, which Sony claims will support ray-tracing on some level. With all of that in mind, it would be difficult to believe that Intel isn't also working on some form of ray-tracing support for Xe GPUs outside of the data centre.
KitGuru Says: Intel has been amassing quite the team to bring its discrete graphics ambitions to life. We still have a lot to learn about Xe and how it works, but hopefully by this time next year, we'll know a lot more.