We regularly like to check in with our readers for their thoughts on upcoming tech. Recently, we did a heat check on Nvidia and AMD, seeing whether our readers are planning to buy AMD's upcoming RDNA 2 GPUs or Nvidia's next generation of GeForce RTX graphics cards. Having had over 3,300 responses in just one day, we now have a good idea of which way KitGuru readers are leaning.
We ran this particular poll over on our Facebook page. Out of the 3,000 votes, two thirds of them went towards buying a next-gen Nvidia graphics card, with the remaining 1,000 votes going to AMD.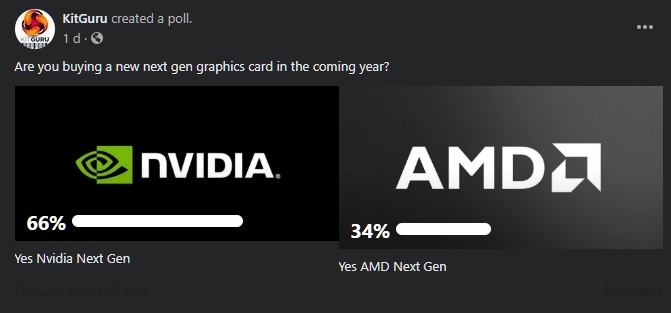 So, what do we know (or think we know) about these upcoming next-gen GPUs from Team Red and Team Green? We will break it all down below.
AMD RDNA 2 and Radeon RX 6000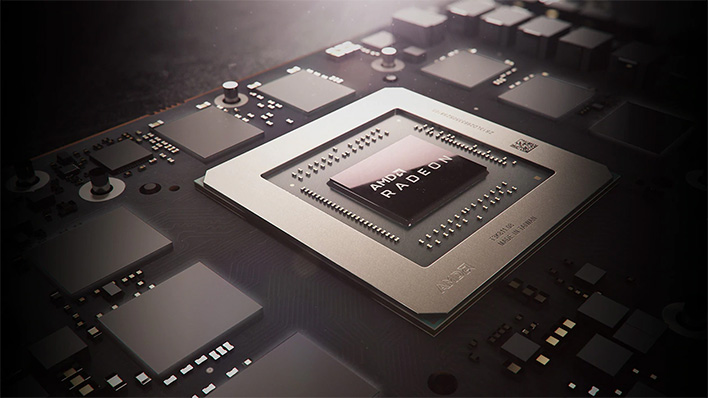 We have known about RDNA 2 since AMD unveiled its updated GPU roadmap last year. This architecture is already set to power the new Xbox Series X and PS5 consoles, but it will also be coming to PC graphics cards.
All we know officially is that RDNA 2 GPUs will support real-time raytracing, Mesh Shaders and Variable Rate Shading with enough horsepower to push into high-end 4K gaming. AMD has also confirmed that RDNA 2 is on track to be delivered on time later this year with a 50 percent boost to performance per watt compared to RDNA 1.
Through unofficial channels, such as data mining driver updates, we know that AMD has at least one high-end 'Big Navi' GPU that has yet to launch, in addition to something called Navi 2X. Right now, it is rumoured that Navi 2X and Big Navi are one and the same. One AMD employee has also previously confirmed through Reddit that next-gen graphics cards will not ship with blower-style reference coolers, indicating a more powerful chip in need of additional cooling out of the box.
If AMD delivers a 12 TFLOP RDNA 2 GPU like the one found in the Xbox Series X, then we may see PC graphics cards from Radeon that match the current Nvidia RTX 2080 Super. We should get an update on RDNA 2 graphics cards from AMD in the next few months.
Nvidia Ampere and GeForce RTX 3000
On the Nvidia front, there is much more unofficial information compared to official details. Nvidia did announce the Ampere architecture earlier this year, but the company has not confirmed that this will be the same architecture seen in the next GeForce series of GPUs. However, rumours are strongly pointing in that direction.
As we saw in a series of leaks in June 2020, there are a few variations of the GA102 GPU floating around with differing amounts of VRAM and CUDA cores, indicating specs for new RTX TITAN and RTX 3080. It is speculated that the next RTX TITAN will use a GA102-400-A1 GPU with 5376 CUDA cores and 24GB of GDDR6 VRAM. Meanwhile, the RTX 3080 is rumoured to be based on the GA102-200-A1 GPU with 4352 CUDA cores and 10GB of GDDR6 running at 19Gbps.
Meanwhile, other leaks suggest that there will be an RTX 3070 and RTX 3070Ti, one equipped with a GA104-300 GPU and the other with a GA104-400. In this scenario, the RTX 3070 would feature 2944 CUDA cores and 8GB of GDDR6 memory, while the RTX 3070Ti would have 3072 CUDA cores and 8GB of faster memory.
As we dive deeper into rumour territory, there is also talk of a raytracing co-processor, which could drastically improve real-time raytracing performance across the board for a new series of RTX graphics cards. There is also talk that Nvidia may introduce a new 12-pin power connector for Ampere GPUs, ditching the old dual power connector design.
Finally, we cannot forget about the leaked cooling shroud images from earlier this year, showing a complete overhaul compared to current 'Founders Edition' GPU coolers.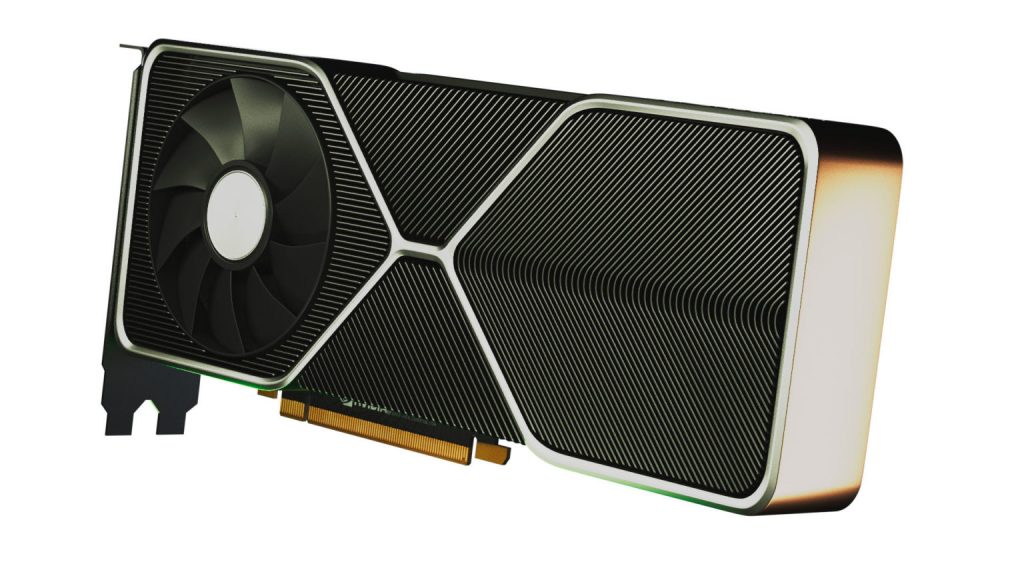 The cooling shroud shown above is reported to cost roughly $150 to produce, with an unusual PCB design that has an additional cut-out, putting it into a V-shape. A massive heatsink is then connected and extends to fill the cut-out on the PCB. Finally, a cooling fan sits on either side of the card, one on the front and one on the back. We are not sure what benefits this may bring yet, but it is an approach to cooling that we have never seen before on a reference GPU cooler.
If all these rumours prove to be accurate, we will be looking at up to a 30 percent boost in traditional rasterization performance compared to the Turing-based RTX 2000 series.
Conclusion
Two thirds of KitGuru readers are more interested in Nvidia's next-gen GPUs compared to AMD. As we look back at the landscape of news, one could speculate that a good chunk of that comes down to the fact that there are way more leaks and rumours on Nvidia's side driving momentum.
With AMD RDNA 2, a lot of the conversation has been focused on next-gen console hardware, with little shared about standalone PC graphics cards. While on the Nvidia side, we have lists of SKUs and specs to go with them, in addition to more wild rumours, like the raytracing co-processor, new 12-pin power connector and $150 cooler design.
One thing is for certain – Q3 is going to be huge for graphics card news. Currently, all signs point to announcements coming from both AMD and Nvidia within the next few months, giving us plenty to look forward to.
Discuss on our Facebook page, HERE.
KitGuru Says: Are you excited to see new GPU launches this year? Are you leaning more towards next-gen Nvidia or next-gen AMD?