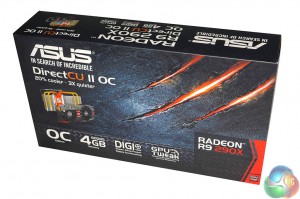 The Asus R9 290X Direct CU II OC ships in a familiar looking box featuring red claw marks.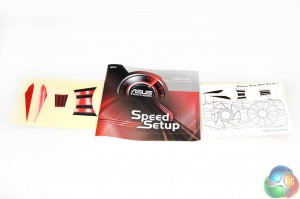 Our bundle included a 'speed setup guide' and some stickers which can be adhered to the card.


ASUS supply these stickers to let the end user customise the appearance of their card, allowing them to match the colours of the motherboard. Only useful if your motherboard has red or gold heatsinks. That said, you could just leave it plain black, like we did in this review.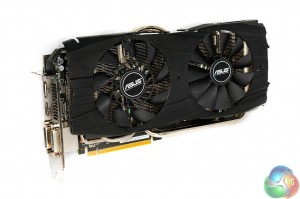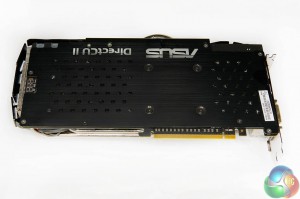 The Asus R9 290X Direct CU II is a heavy card, due to the weight of the metal heatsink and massive heatpipes. The rear of the PCB has a backplate which will help reduce operating temperatures and offer some protection.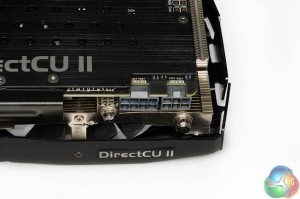 The Asus R9 290X Direct CU II OC takes power from an 8 pin and a 6 pin power connector. This is identical to the reference design.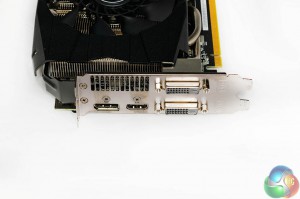 The card has a DVI-I, DVI-D, full sized HDMI and DisplayPort connectors.
R9 Series graphics cards can now support up to three HDMI/DVI displays for use with AMD Eyefinity technology. A set of displays which support identical timings is required to enable this feature. The display clocks and timing for this feature are configured at boot time.
As such, display hot‐plugging is not supported for the third HDMI/DVI connection. A reboot is required to enable three HDMI/DVI displays.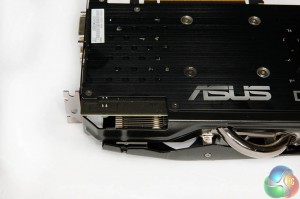 There is no Crossfire connector on the R9 290X. The 290X and 290 offer Bridgeless Crossfire capabilities.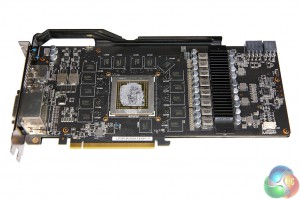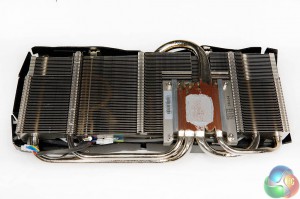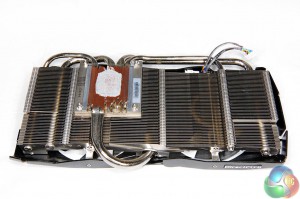 Above, the Asus R9 290X Direct CU II OC disassembled. It is an unusual design – there are five direct touch nickel plated heatpipes which run into the base. Four of the thinner heatpipes run along one side into the two separate racks of aluminum fins. A single, very thick double width heatpipe runs in the opposite direction into the main rack of fins.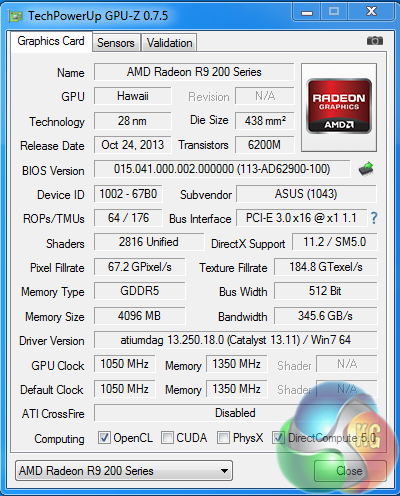 An overview of the Asus R9 290x Direct CU II OC. The Hawaii CPU is built on the 28nm process and has 64 ROPS, 176 Texture units, and 2816 Stream processors. The 4GB of GDDR5 memory is connected via a wide 512 bit memory interface. Asus have overclocked the memory from 1,250mhz to 1,350mhz (from 5Gbps effective to 5.4Gbps effective), and the core receives a boost from 1,000mhz to 1,050mhz.