Nvidia's mid range GTX960 has been some time coming – almost a year after Maxwell was introduced with the GTX750ti. The GTX960 specifically targets the gaming audience with a budget restriction of £200. For many this is the gaming 'sweet spot'.
Pricing information started to reach us on Wednesday and Nvidia confirmed that reference grade GTX960 solutions will be sold around the £159.99 inc vat mark in the UK. They didn't send us a sample of a reference card, placing the focus on custom, third party partner solutions.
According to Nvidia prices of custom partner cards in the UK will vary between £159.99 and £189.99. The Gigabyte GTX960 G1 Gaming is going to fit in at the top of the pricing scale.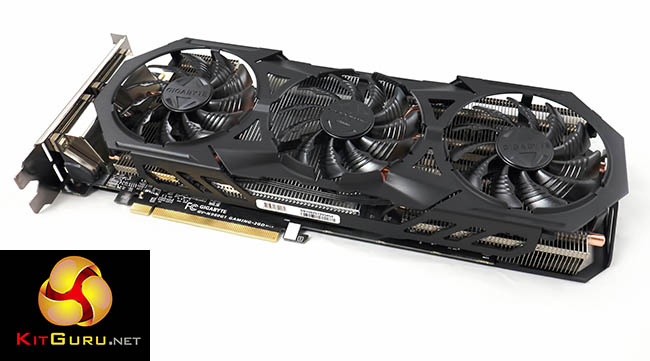 The Gigabyte GTX960 G1 Gaming is a big, beefy graphics card that could be visually mistaken for a flagship GTX980. Having tested so many high end cards lately, it was a nice change of pace to analyse GTX960 solutions today. If you are in the market for a new graphics card to pair up with a HDTV or 1080p panel, there are certainly no shortage of options available.

Noise levels from the three fan Windforce cooling solution are low, and when tasked with a lighter load, the fans disable completely. In reality, under most load situations you would be hard pressed to actually know the card is working hard. It is only when dealing with the more demanding Direct X 11 game engines that the fans will all activate to maintain a specific thermal curve.
As we have seen today, the GTX960 isn't redefining performance in the sub £200 sector. It delivers similar performance to an overclocked R9 285 which we tested back in September 2014. It does however significantly outperform the GTX760 and if you want to upgrade from a previous generation mid range Nvidia GPU it does make a lot of sense.
Placing a focus only on frame rate delivery is somewhat missing the point of the Maxwell architecture. The GTX960 runs much cooler and quieter than either R9 285 or GTX760 under load.
The Gigabyte GTX960 G1 Gaming is a slightly different take on the architecture when compared to the ASUS GTX960 Strix OC which we also reviewed today. Gigabyte have added an extra 6 pin power connector and increased the power demand a little to enhance overclocking stability. The G1 Gaming did moderately outperform the Asus solution when both were manually overclocked to the limit, although the caveat is that the Gigabyte card requires around 10-20 watts more under the same load situation.
Discuss on our Facebook page, over HERE.
Pros:
Maxwell architecture is very efficient.
all metal construction.
very quiet under load, silent when idle.
low power consumption.
overclocks well.
Cons:
Isn't outperforming an overclocked AMD R9 285 at much the same price.
Could be clocked much higher out of the box.
Kitguru says: This is a big, serious looking graphics card that is more than capable of delivering smooth frame rates at 1080p with the latest Direct X 11 games.