The new GTX960 incorporates Nvidia's GM206 GPU. The GM206 features all the primary architectural innovations we discussed when the GTX980 launched last year. The Maxwell GPU uses a new SM design that has been designed to enhance efficiency.
The Maxwell SMM is partitioned into four 32 CUDA core processing blocks (128 CUDA cores per SM), and each of these has its own dedicated resources for instruction buffering and scheduling. Nvidia's design is based around keeping the GPU CUDA cores fully utilised more often to improve workload efficiency, and to reduce wasted power.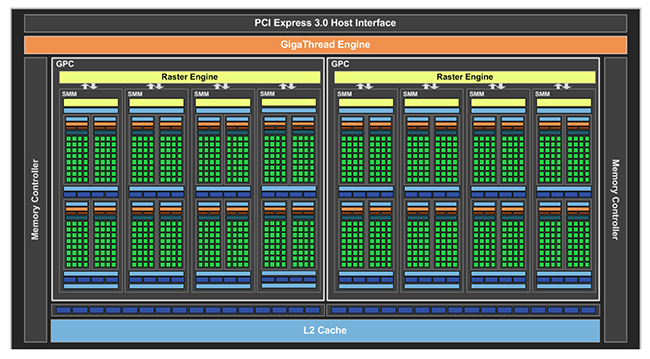 Each of the GM206 SMM units have their own 96kb shared memory, and the L1/texturing caching functions are combined into a 24kb pool of memory per pair of processing blocks (48kb per SMM). Previous Kepler GPU's had a smaller 64kb shared memory function which was also shared as a L1 cache.
Nvidia have calculated that each GM206 CUDA core can deliver 1.4 more performance per core compared to the GM106 Kepler core, with a 2x performance ratio per watt.

While many will negatively focus on the 128 bit memory interface of the new GTX960, Nvidia have added a new memory compression engine.
This third generation colour compression engine offers new modes for colour related compression which will have a positive impact on how the GPU effectively uses available memory bandwidth. Nvidia say that the GM206 uses approximately 25% fewer bytes per frame compared to previous generation Kepler products. Nvidia claim that the 128 bit, 7Gbps memory interface in GM206 is able to provide more bandwidth than its direct predecessor, the GK106. (148.8GB/sec effective in GTX 960 vs 144.2GB/sec in GTX 660).
The GTX960 will support resolutions up to 5k with up to four simultaneous displays, and support for up to four 4k MST displays. The card also fully supports HDMI 2.0.
While the GTX750ti seems an ideal partner for a media center build, Nvidia also claim in their literature that the GTX960 is a good choice for the same task. The GM206 has support for H.265 (HEVC) encoding and decoding. The GTX980 NVENC video engine offers native support for H.265 encode only, no decode. GM206 also fully supports HDCP 2.2 content protection over HDMI.
We never received an Nvidia 'reference' sample today, and in this review we are focusing on the Gigabyte GTX960 Gaming G1, which is supplied in an overclocked state.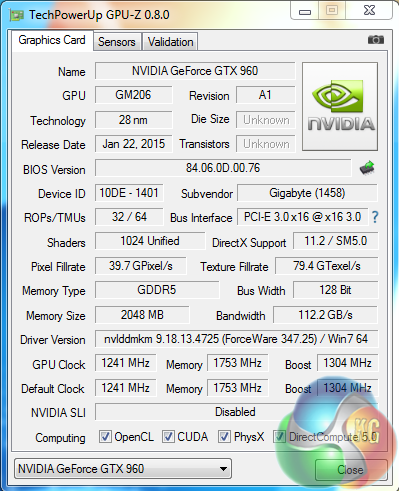 Based on the reference Nvidia specifications of 1,125mhz core and 1,750mhz memory (7Gbps effective) Gigabyte have overclocked the GM206 core by 10.3 percent to 1,241mhz. They have not touched the memory, holding it at 1,753mhz (7Gbps effective). The rest of the hardware we have already discussed on the opening page of this review. The GM206 is built on the 28nm process and it has 32 ROPS, 64 texture units and 1,024 CUDA cores. The 2GB of GDDR5 memory is connected via a 128bit memory interface.
As the majority of our readers are likely to buy a GTX960 to run in a highly overclocked state, we felt we would break with tradition and get the overclocking section out of the way, first. Throughout this review we will run all tests with the Gigabyte GTX960 G1 Gaming in its 'out of box' state, and with our final maximum overclocked tweaked settings.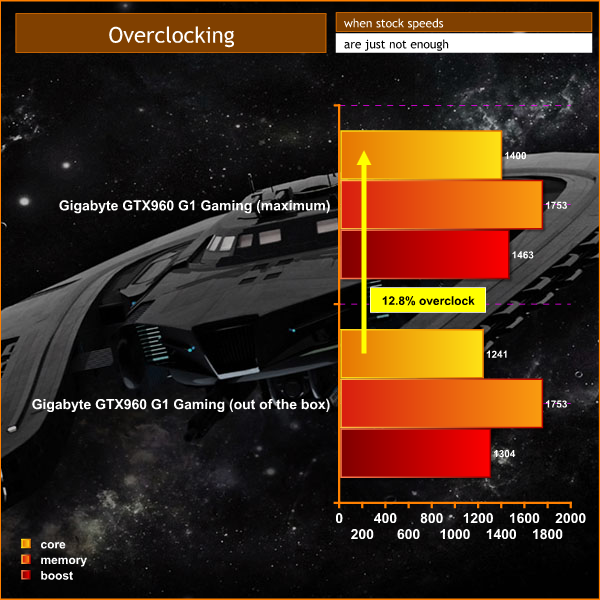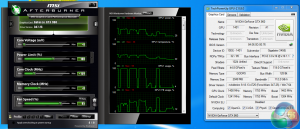 We managed to get the Gigabyte GTX960 G1 Gaming SOC stable with the Boost speed peaking at 1,463mhz. Any higher than this and we noticed some artifacting and eventually hard locking. We had to increase the fan speed a little to get rock stability. Nvidia's reference boost speed is 1,178mhz so this overclock translates into a total 24.1% increase. Not too shabby.
We didn't push the memory any higher as it has a minimal impact on game performance.