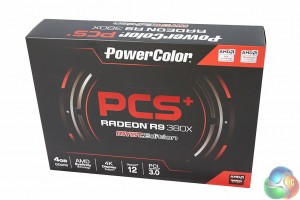 Powercolor box artwork is rather obscure – no images of the hardware on the front. This is a shame as it is actually a very good looking card.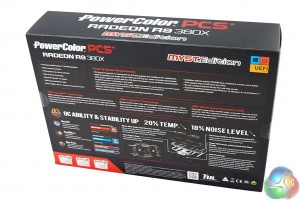 Powercolor focus on the cooling solution on the rear of the box. We will take a closer look at this shortly.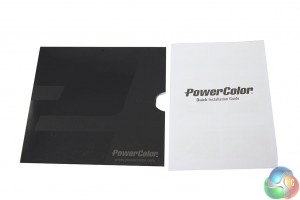 The box includes some literature on the product.
The Powercolor PCS+ 380X Myst Edition is a very attractive card, the two tone black and silver accenting works well, and they haven't skimped on the components – adding a back plate as well to improve cooling and PCB protection. Thick heat pipes are visible running along the top of the PCB.
The solution takes power from two 6 pin power connectors, shown in the image above right.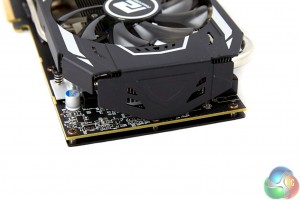 One side of the cooler has a protruding metal part with plenty of physical space available to suck in cool air.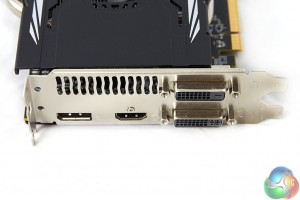 The I/O plate of the R9 380X is home to a DVI-I and DVI-D connector, as well as a full sized HDMI (v1.4) and DisplayPort connector. Sadly as this is not a HDMI 2.0 capable port, there is no support for Ultra HD 4K at 60hz over the HDMI connector.
Three very thick heatpipes run into two separate racks of aluminum fins on either side of the cooler.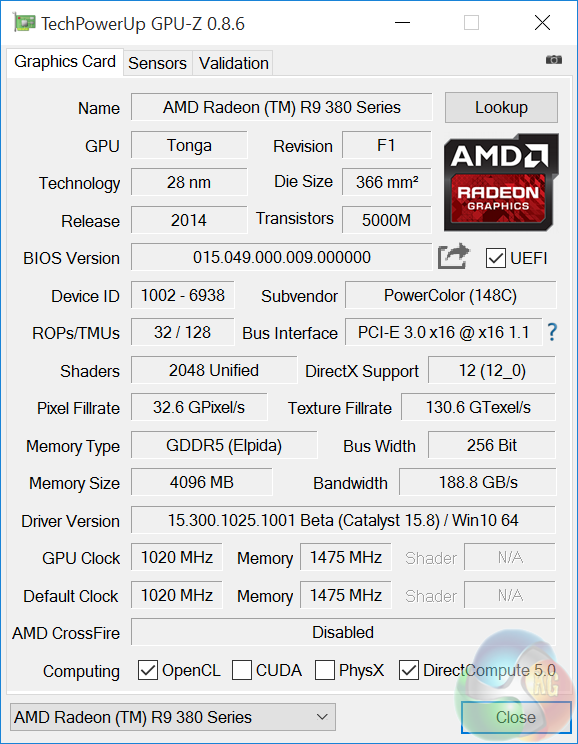 Above, a GPUz overview of the R9 380X hardware which we highlighted in detail on the previous page. We can see the R9 380X is based on the 28nm Tonga core which was originally released in August 2014 and first seen on the R9 285 with our launch review on 2nd September 2014 (HERE).
The R9 380X incorporates 32 ROPS, 128 Texture units, and 2,048 Stream Processors. The 4GB of GDDR5 Elpida memory is connected via a 256 bit memory interface.
Powercolor have overclocked the core on this R9 380X to 1,020mhz and the memory is also enhanced, from 1,425mhz (5.6Gbps effective) to 1,475 mhz (5.9Gbps effective).