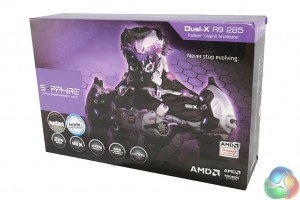 The Sapphire R9 285 Dual-X OC arrives in a purple coloured box, highlighting a cool looking 3D rendered robot.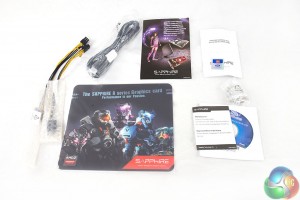 The bundle is quite good. Sapphire include a high grade HDMI cable, literature, software CD and a power converter cable. They also include a branded sticker for a chassis.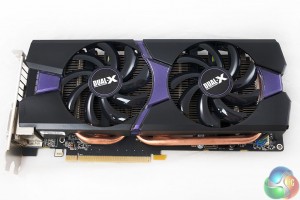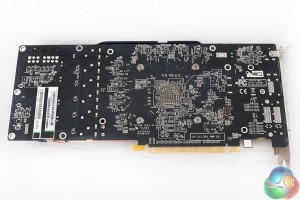 I could be wrong, but if my memory serves me, this is the first Sapphire card I have reviewed with purple accenting on the cooler. Not sure I like it as much as the blue or orange colour schemes they have been using recently, but that is very much personal taste.
Sapphire have incorporated two large fans with 'DUAL X' stickers in the middle. There are two large copper heatpipes visible along the lower length of the black PCB. Unsurprisingly, this is a dual slot card.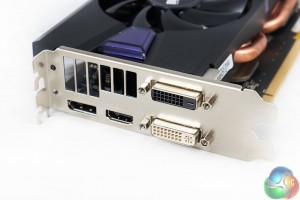 The Sapphire R9 285 Dual-X OC card has two DVI connectors (DVI-I and DVI-D), a full sized DisplayPort and HDMI connector.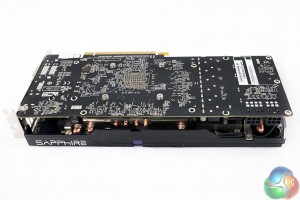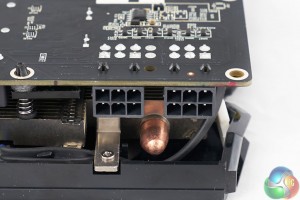 The Sapphire R9 285 Dual-X OC takes power from two 6 pin PCI power connectors. No Crossfire headers on this card – it will work directly in the slot with more than one card, without a connector. Bridgeless Crossfire has been a welcome feature on the 290 series now for some time.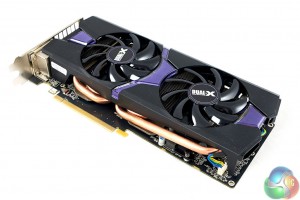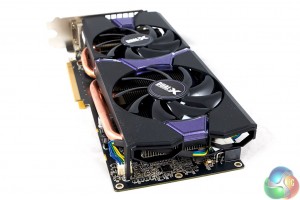 A couple of pictures taken from different angles – it is a substantial cooler for a mid range card.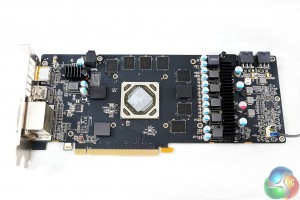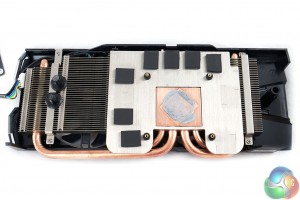 Sapphire are using Elpida GDDR5 memory on the PCB. The cooler incorporates 4 thick copper heatpipes which run out into the aluminum fins on either side of the copper base.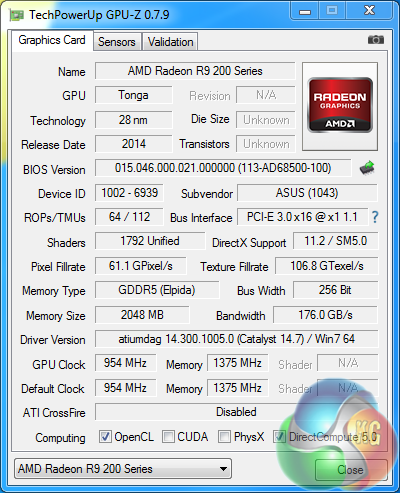 An overview of the hardware in the latest version of GPU-z. The new Tonga core is built on the 28nm process. It features 32 ROP's, 112 Texture units and 1,792 Stream Processors – all identical to the R9 280 before it. The 2GB of GDDR5 memory is connected by a 256 bit memory interface.
The core is overclocked to 965mhz, and the memory is overclocked to 1,400mhz (5.6Gbps effective). This is faster than the Asus R9 285 STRIX we reviewed earlier this week (954mhz core / 1,375mhz memory).