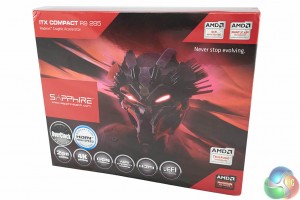 The Sapphire R9 285 ITX Compact box artwork is the stuff of nightmares. Not the kind of chap you would want to meet in a dark alleyway at night.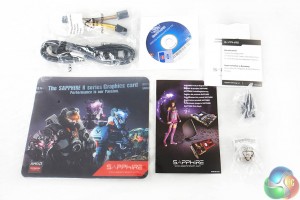 Sapphire have not left any stone unturned – the bundle is fantastic. They supply multiple video converter cables, including a mini DisplayPort to DisplayPort adapter. They also include a high grade HDMI 1.4a cable which is ideal for connection to a HDTV. Considering the Sapphire R9 285 ITX Compact targets the HTPC market specifically, it is a welcome addition. Other extras include a mouse pad, literature, software disc, Sapphire branded case sticker and some power converter cables.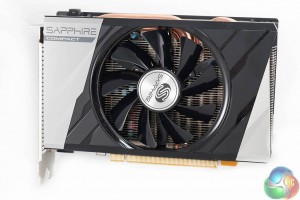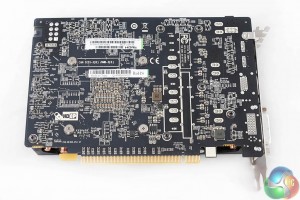 The Sapphire R9 285 ITX Compact Edition may be tiny, but it is still quite the looker – built around a black PCB with a black and silver two tone cooler. A large fan is positioned in the centre of the card. This is a dual slot card and it measures 171 x 110 x 35mm (LxWxH).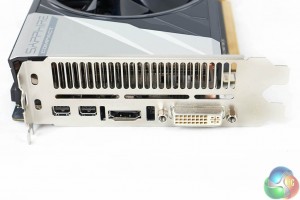 The Sapphire R9 285 ITX Compact Edition ships with a DVI-D, HDMI and two Mini DisplayPort connectors.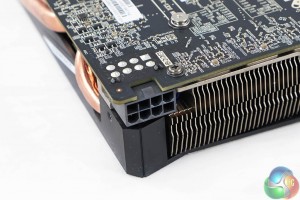 The card demands power from a single 8 pin power connector. The R9 285 has bridgeless Crossfire support.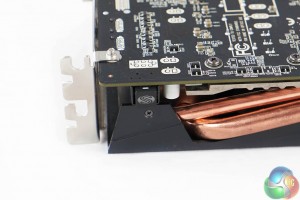 The Sapphire button switches between UEFI BIOS and standard modes.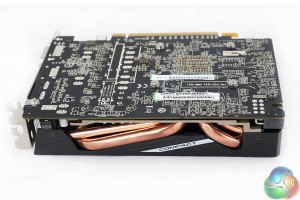 Looking down on the card from the top, we can see the compact cooling system, with several thick copper heatpipes.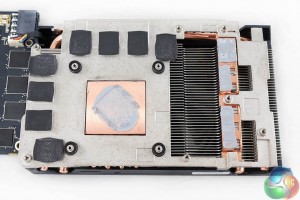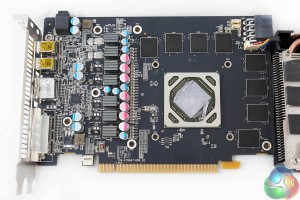 The cooling system is hidden behind a metal plate – which offers active cooling for the 2GB of GDDR5 memory. There are 2 thick copper heatpipes which connect to the copper heatsink and they run into aluminum fins on either side. Sapphire are using Elpida GDDR5 memory.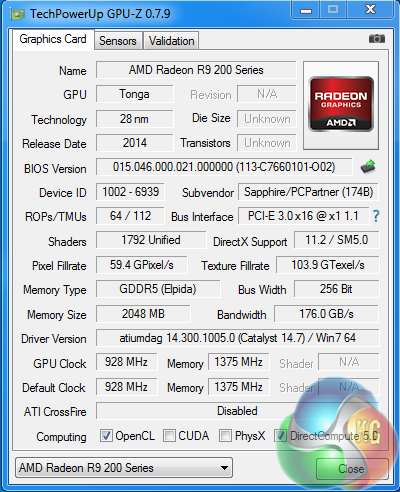 The R9 285 is built on the 28nm process. It has 64 ROPS, 112 texture units and 1,792 Stream processors. The 2GB of GDDR5 memory is connected via a 256 bit memory bus. The core is overclocked to 928mhz, and the memory is running at 1,375mhz (5.5Gbps effective).