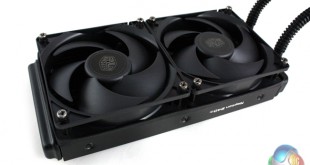 Today we are going to take a look at the latest all-in-one liquid CPU cooler from Cooler Master – the Nepton 240M. While Cooler Master may not be the first manufacturer that comes to mind when you think of all-in-one water coolers, they are starting to build a range of different product options in this category.
With the release of the Nepton 240M, Cooler Master's all-in-one water cooler range encompasses all four of the most popular radiator sizes; 120mm, 140mm, 240mm and 280mm.  This puts it in a great position to compete with the more established players in the market, namely Corsair.
Cooler Master have adopted a different strategy to most other manufacturers who have entered the all-in-one liquid cooling market.  Rather than simply brand an off-the-shelf design from Asetek, they have created their own product which is different from the competition. Can they compete?